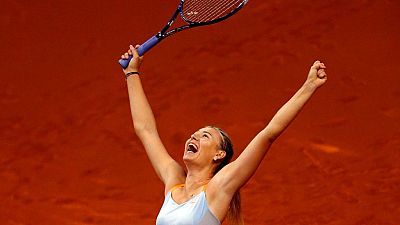 Russian tennis star Maria Sharapova played in a charity match on Monday on her first return to the tennis court since her drug ban.
Sharapova joined a host of stars for the World Team Tennis 'Smash Hits' event in Las Vegas, which raised money for the Elton John Aids Foundation.
Sharapova first teamed up with 16-year-old Taylor Johnson in a doubles match against Martina Navratilova and Liezel Huber, who won.
The five-time grand slam champion then joined John McEnroe to beat Navratilova and Andy Roddick.
Sharapova is now ranked 93rd in the world and can return to competition in April next year, one month before the French Open, but hopes to play more exhibition events before then.
Reuters