The Cameroon government admits it is facing a rolling security crisis in the Anglophone regions. A fact emphasized by incumbent Paul Biya's admission that it was only he that could solve the deadly crisis.
A crisis that has claimed lives of state actors and separatists alike, in between ordinary citizens have been killed, villages reportedly burnt down and thousands internally displaced or seeking asylum in neighbouring Nigeria.
The majority of Cameroon's 22 million plus people are French-speaking, while about a fifth is English-speaking. The anglophone minority has long complained about marginalization which led to protests by teachers and lawyers over a period of time.
Then came October 1, 2017; when separatists decided to make a symbolic proclamation of independence for the so-called Ambazonia, the name of the state they want to create. A heavy army deployment and subsequent clampdown was the whistle blow that kicked off an armed insurgency.
We look back at some major events that have defined a bloody year for residents of the Anglophone regions – North-West (capital, Bamenda) and South-West (capital, Buea) of the Central African country.
October 1, 2017: Independence declaration
President Paul Biya ordered the army to go to the region and face off with secessionists, the ensuing duel with protesting residents led to deaths, an initial death toll of eight will rise to double figures according to Amnesty international.
November 9, 2017: Cameroon issues arrest warrant for 15 separatist leaders
Yaounde issued international arrest warrants for fifteen leaders of an Anglophone separatist party, the Southern Cameroon National Council (SCNC). The main man being Sisiku Ayuk Tabe, the self-proclaimed president of the Anglophone consortium fighting for the Ambazonia cause.
The day before, two soldiers had been murdered in the North-West capital and government confirmed that it was through the guerilla style attacks of separatists.
December 2, 2017: President declares war after attacks on state forces
Paul Biya described separatists as criminals and vowed to halt their deadly attacks. His comments carried on national radio came on the back of an attack that killed two policemen. Earlier that same week, four soldiers had been killed.
"I learned with emotion of the murder of four Cameroonian soldiers and two policemen in the south-west of our country. I think that things are now clear to everyone. Cameroon is the victim of repeated attacks by a band of terrorists claiming to be part of a secessionist movement.
"Faced with these attacks of aggression, I assure the Cameroonian people that all measures are being taken to end these criminals' ability to do harm."
The separatists hit back days later calling the president's bluff.
January 7 – 29, 2018: Separatist leaders arrested and extradited
The situation remained fluid with increasing spate of deadly attacks by separatists and fightback by state security forces, until early January when separatists leaders were arrested in neighbouring Nigeria.
Within three weeks, Abuja had agreed to hand over the arrested party to Yaounde despite a court order against the move. Cameroon confirmed receipt of Ayuk Tabe and 46 others from Nigeria – the move was criticised by the UN refugee agency.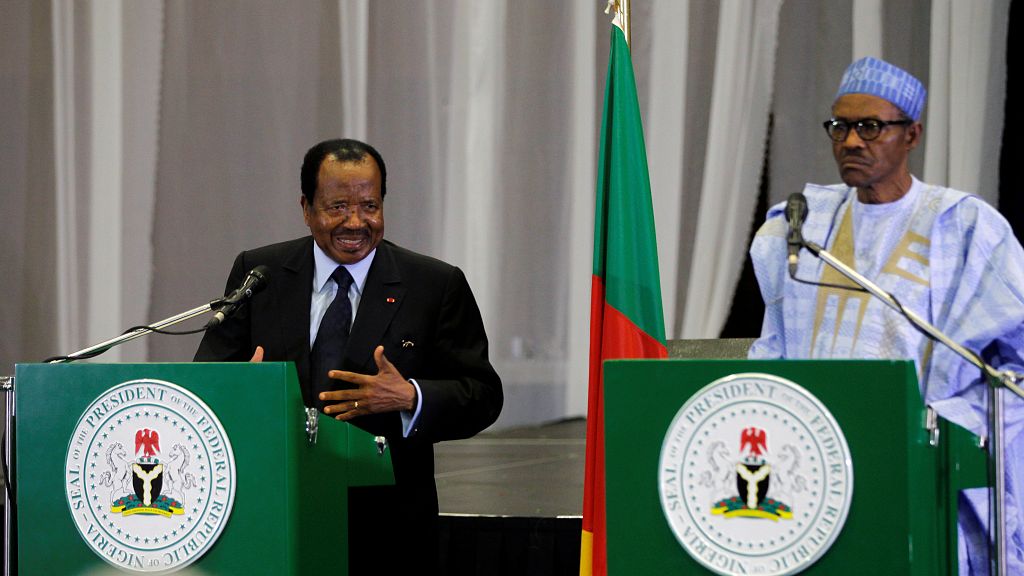 January 29, 2018 U.S. congress resolution knocks Yaounde over Nganang and crisis
A United States Congressman took happenings in Cameroon's restive Anglophone region to the House of Representatives (HOR) seeking a formal condemnation of Yaounde's handling of the crisis.
According to House Resolution 718 submitted on January 29, 2018 by Congressman Lee Zeldin of New York's 1st Congressional District, the Cameroon government must be condemned for actions taken against author Patrice Nganang who was detained and subsequently deported for allegedly 'insulting' President Paul Biya.
February 11, 2018: Separatists name new leader, declares era of self defense
Weeks after the arrest and deportation of its leaders, separatists named a new leader in the person of one Sako Ikome Samuel.
In his first address posted on YouTube, Ikome Samuel in his capacity as Acting President of the Federal Republic of Ambazonia declared that the movement had now entered an era of individual and communal self defense.
"Now is the era of self-defense. From effective personal self defense to legitimate Ambazonia community protection programs to stop the wanton destruction of lives and our property in Ambazonia.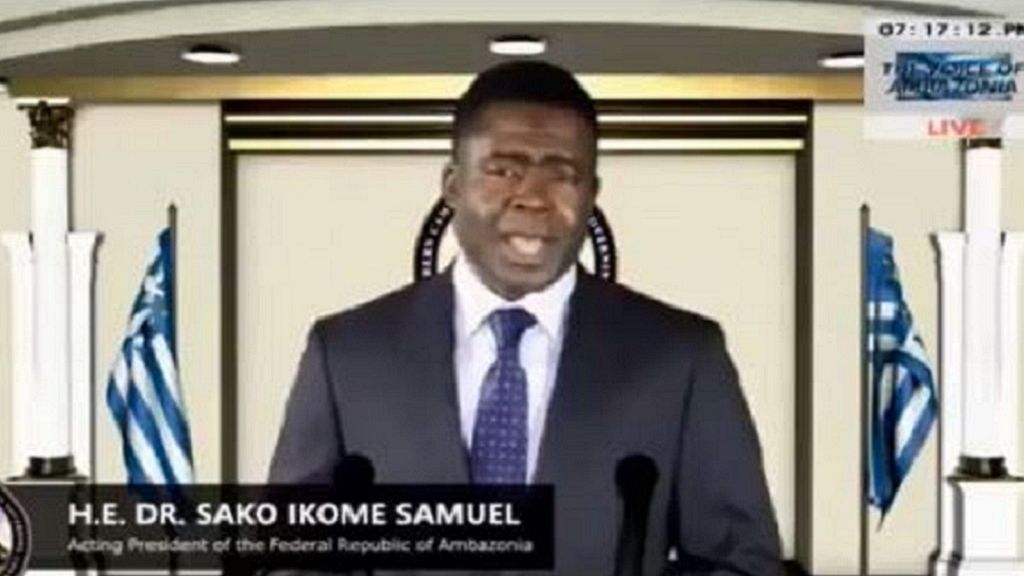 February 22, 2018: New military region set up in NorthWest, Bamenda
Government in what was seen as a clear plan to deal with the separatists announced the formation of a new military region created to cater for security needs in the west and northwest region, the state-owned CRTV reported.
Biya signed directives reorganizing the country's defense forces leading to the splitting into two of the former military region [Région militaire interarmées – RMIA] RMIA 2 which was based in Douala.
The new region became the fifth (RMIA 5) and is currently headquartered in capital of the northwest region, Bamenda. It is headed by General Agha Robinson Ndong while General Julius Caesar Ellie was been appointed commander of its Gendarmerie region (RG5).
In the concluding part of this piece, we look back at government's 'treatment' of the deported separatist leaders, the Catholic Church's involvement in seeking peace. The jail breaks, trial of Mancho Bibixy and how two Anglophones finally made it into Paul Biya's cabinet.
Shaban Abdur Rahman Alfa
Digital journalist
Pointe-Noire, Republic of Congo
alfa.shaban@africanews.com
Twitter: @AlfaAfrican