It has been a year since Donald Trump took office as President of the United States of America. Trump replaced Barack Obama – the first African American president of the U.S.
Many Africans saw a Hillary Clinton victory in the November 2016 election as a continuation of the Obama government relations with the continent but that was not to be as Trump emerged winner having won the electoral college yet lost the popular vote.
A year on, Trump's engagement with Africa remains unclear to many political analysts within and outside of the continent. It is becoming increasingly clear that he wants relations with Africa, but far less than previous administrations have had.
U.S. – Africa relations took a hit in recent weeks when Trump reportedly made reference to some African countries and Haiti as "shithole" countries. A statement he has since denied but which led to a huge diplomatic uproar.
Whiles the "shithole" episode is yet to die down completely, this article looks back at the Trump White House and its relations with Africa in the areas of diplomacy, security, humanitarian assistance etc.
Trump makes 'shithole' reference to African countries and Haiti https://t.co/wJJJa4ou9g

— africanews (@africanews) January 12, 2018
Security – Travel ban, fight against terrorism
Three African countries were affected in travel bans issued via Executive Order by the U.S. leader very early on in his tenure, they were Somalia, Libya and Sudan. When the ban was revised, Sudan was dropped and Chad added to the list despite Washington's security cooperation with Niamey in combating terrorism.
The Trump administration has, however, shown that it will continue the fight against violent extremism on the continent.
The U.S. agreed to sell combat planes to Nigeria in the early days of the Trump administration with the president pledging in phone calls with Nigeria's Buhari and Kenya's Kenyatta that he was ready to help fight against Boko Haram and Al-Shabaab respectively.
The U.S. military also confirmed the deployment of troops to Somalia in the fight against Al-Shabaab. They have also conducted a series of airstrikes against the group. The deployment was the first in over two decades given that the last U.S. troops in the Horn of Africa country left in 1993.
According to the U.S. Africa Command, whiles carrying out special operations, the about 40 troops of the 101st Airborne Division will also help train the Somalia National Army (SNA).
In October 2017, four U.S. special forces were killed in Niger. Trump's call to the widow of one of the four officers stoked condemnation as it was thought to be insensitive.
The slain officers were: Special Forces Sergeant Jeremiah Johnson, U.S. Special Forces Sgt. Bryan Black, U.S. Special Forces Sgt. Dustin Wright and U.S. Special Forces Sgt. La David Johnson.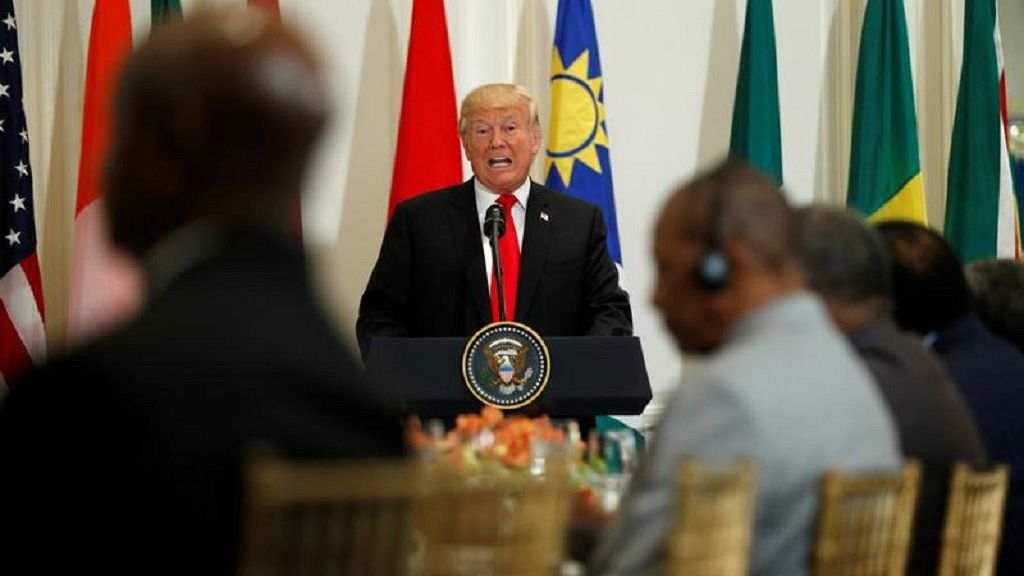 Ethiopia, Egypt, DRC worst hit in Africa by Trump visa lottery push back https://t.co/2kgEqxkQdB

— africanews (@africanews) November 8, 2017
Diplomacy and Presidential meetings
Trump over the course of 2017 spoke to a number of African leaders via telephone. Amongst them were Nigeria's Buhari, South Africa's Jacob Zuma and Kenya's Uhuru Kenyatta.
In each case, the need to strengthen bilateral ties and cooperation in areas of mutual interest was high on the agenda.
His first meeting with an African leader was when Egyptian leader Abdel Fatteh Al Sisi met him in Washington DC. There again, Trump spoke about the desire to help fight Islamic State militants. He hinted that his first stop in Africa could be Egypt but no date was mentioned.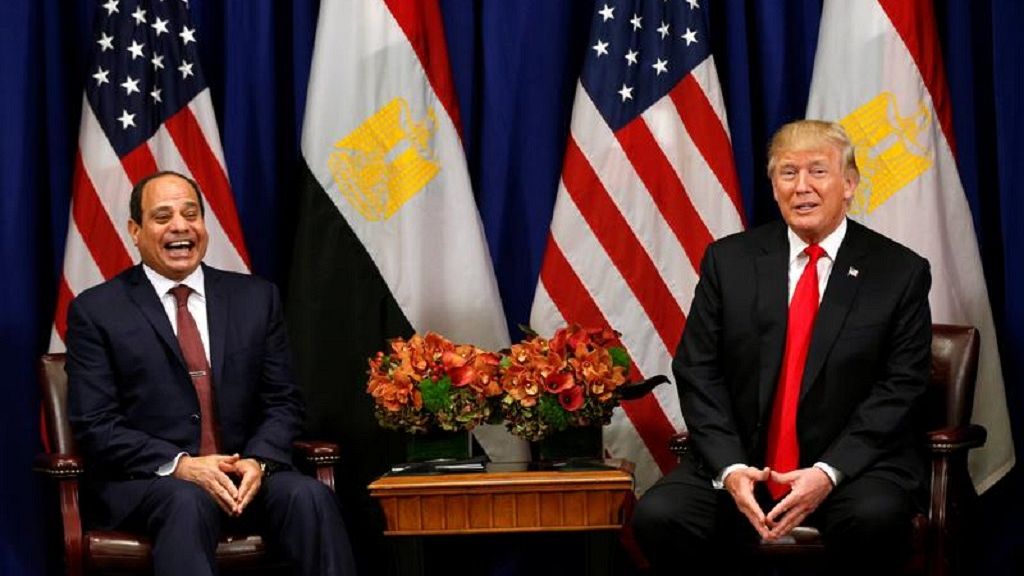 Then on the sidelines of the United Nations General Assembly in September 2017, Trump met a select group of African leaders over lunch. The meeting became famous for two reasons – Trump's comments that his friends came to Africa to get rich and his mispronouncing of Namibia.
He told his colleague presidents: "Africa has tremendous business potential, I have so many friends going to your countries trying to get rich. I congratulate you.
"They are spending a lot of money, but it does, it has tremendous business potential and representing huge amounts of different markets and for American firms it has really become a place that they have to go, that they want to go."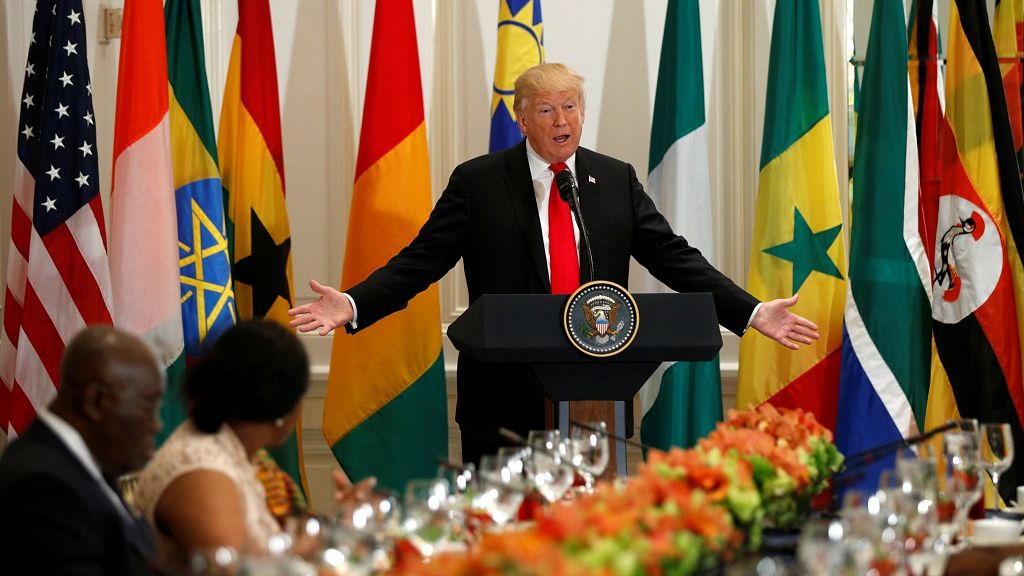 #Nambia jokes aside, have you ever heard of Namibia before Trump's blunder? https://t.co/9RShcyX5ZI

— africanews (@africanews) September 21, 2017
Meeting African leaders at G20 summit and Chibok Girls at White House
In June 2017, Trump, and his daughter, Ivanka, met with two Chibok girls at the White House. They were among the over 50 girls that managed to escape in the early days of the abduction.
The two – Joy Bishara and Lydia Pogu, were part of the over 200 girls abducted by insurgent group Boko Haram in April 2014. Over 100 others are still being held captive by the group after a number of negotiated mass releases.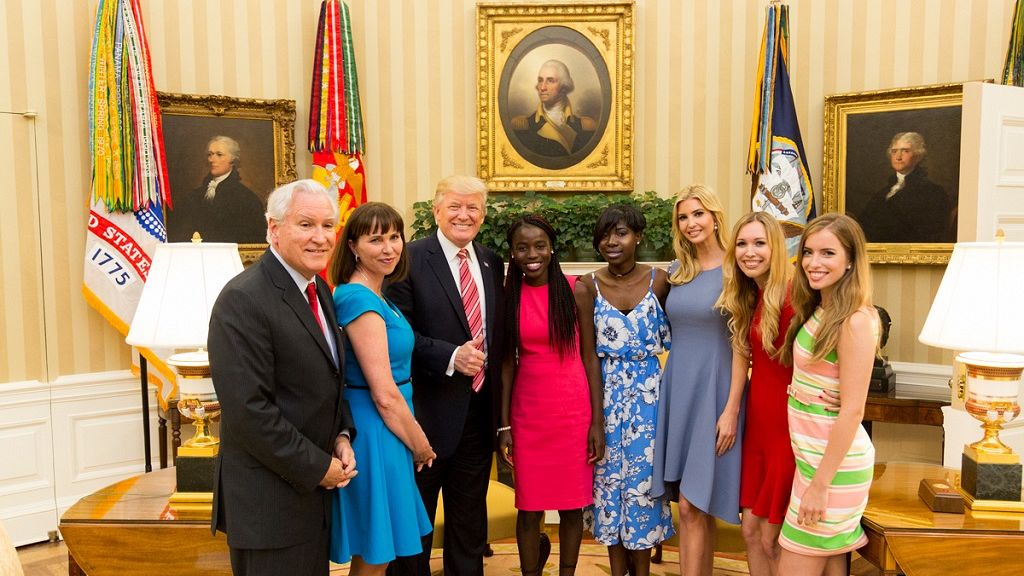 Trump was also pictured with a number of African leaders who attended the G7 summit held in the Italian city of Sicily.
The African list was as follows:
Ethiopian Prime Minister, Hailemariam Desalegn
Kenyan President, Uhuru Kenyatta
Tunisian President, Beji Caid Essebsi
Chadian President, Issoufou Mahamadou
Guinean President, Alpha Conde – who doubles as African Union chairman
Nigeria's Acting President, Prof. Yemi Osinbajo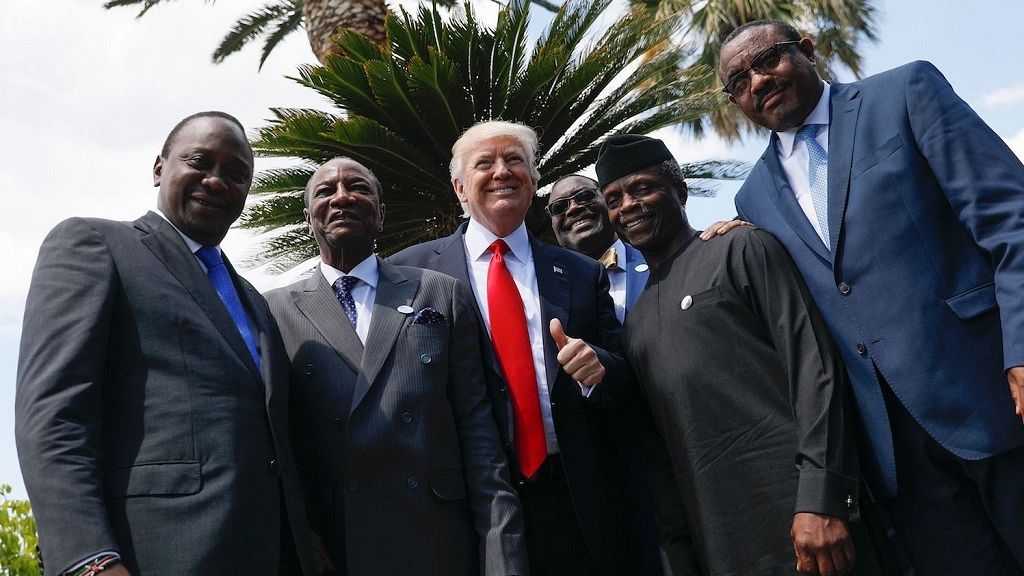 Trump in Africa – Haley visits South Sudan, Ethiopia, DRC
The closest Trump came "physically" to the continent was in December 2017 when he sent the U.S. envoy to the U.N. Nikki Haley on a visit to three African countries – South Sudan, Ethiopia and the Democratic Republic of Congo.
In an article for the CNN describing why Trump sent her to Africa, Haley wrote: "The United States has many interests in these war-torn African countries. Our interests are certainly humanitarian, but they are also economic and strategic.
"Throughout the world, we have seen that desperate situations can lead to dangerous results. For this reason, President Donald Trump recently asked me to travel to the region to get a first-hand picture of what can be done.
"I will also visit Ethiopia — which hosts both the headquarters of the African Union and one of the largest communities of South Sudanese refugees in the world."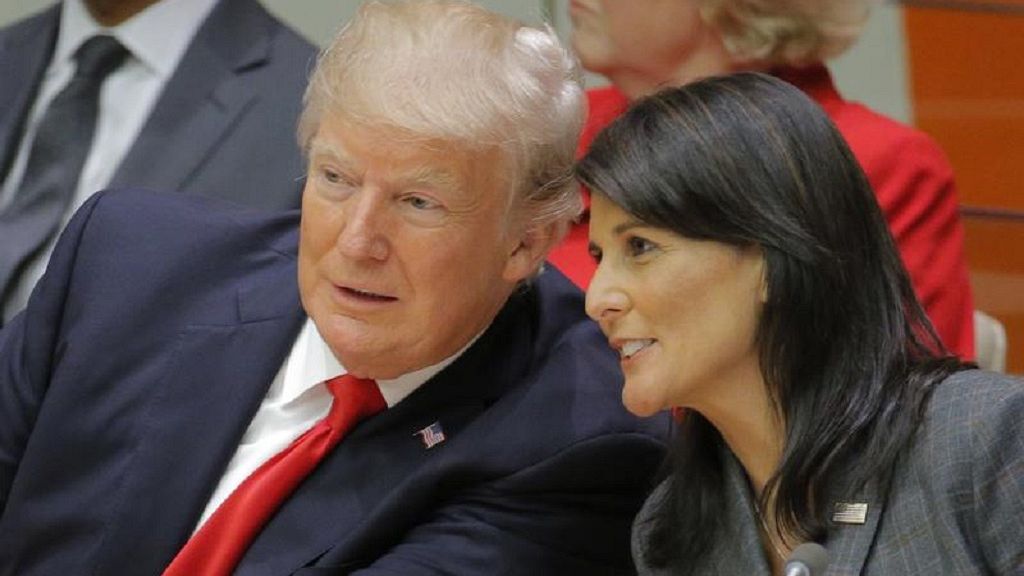 Trump's Jerusalem move and the African vote
Togo in December last year voted with the United States in Washington's resolution to recognize Jerusalem as the capital of Israel. The "surprise" vote came on the back of the African Union's common position of rejecting the U.S. move.
But at the end of the day, it was Togo, the United States and seven others against the motion whiles 128 other countries voted in favour of the motion rejecting the U.S. move.
Out of the 35 countries that chose to abstain, there were a number of African countries including Rwanda, Cameroon, Equatorial Guinea, Benin, Malawi, South Sudan and Uganda.
The United States ahead of the vote had issued a threat that it was going to take note of all the countries that voted against their move. Botswana is the only African country so far to have officially responded calling the U.S. bluff.
There were several protests in Muslim dominated African countries against Trump's call. Protesters in Somalia, Sudan and others in north Africa all hit the streets in solidarity with the Palestinian people.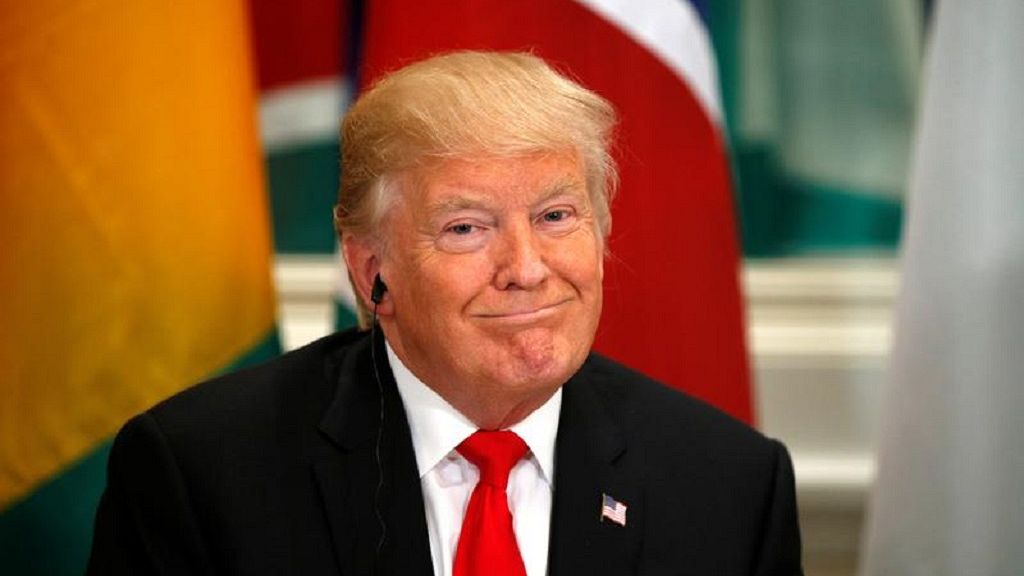 Threat to cut aid to U.N.: Africa to be affected
The Trump administration over the past year stuck to its pledge to cut down on its financial commitments to the United Nations. The U.S. has pulled out of a number of agreements and is no longer a member of UNESCO.
The U.S. is the biggest financial backer of the global outfit and a cut was seen as having dire implications for the world but Africa particularly.
Conflicts and instability on the continent have made Africa one of the major beneficiaries of UN support in humanitarian aid and conflict resolution investments.
The United Nations has such great potential but right now it is just a club for people to get together, talk and have a good time. So sad!

— Donald J. Trump (@realDonaldTrump) December 26, 2016
Shekau, Museveni, Mugabe all express views on Trump
In November 2016, Boko Haram's factional leader, Abubakar Shekau, released a message posted on YouTube reacting to Trump's poll victory. Shekau said they will "not be fooled by people like Donald Trump or anyone in the coalition who is fighting our brothers in Iraq, Syria, Afghanistan or anywhere else."
"We're done with Obama, now we're going to start with Trump … We remain convinced by our faith and we will not stop. For us, the war is just beginning," he said in the Hausa language.
Robert Mugabe, former Zimbabwean leader, in commenting on Trump's victory said he preferred Trump over main rival Hillary Clinton.
"When it comes to Donald Trump, on the one hand talking of American nationalism, well America for America, America for Americans – on that we agree. Zimbabwe for Zimbabweans. I do not know him. Give him time."
Mugabe will, however, send a message to Trump at the UNGA at a time Trump's politics was becoming a source of concern across the world.
"Some of us were embarrassed if not frightened by what appeared to be the return of the biblical giant gold Goliath. Are we having the return of Goliath to our midst who is threatening the extinction of other countries?"
"May I say today, the President of the United States Mr Trump; please blow your trumpet. Blow your trumpet in a musical way towards the values of unity, peace, cooperation, togetherness, dialogue which we have always stood for and which is in the charter of the United Nations," Mugabe said.
Barely a month after Trump was sworn-in as President, Ugandan leader, Yoweri Kaguta Museveni also spoke about Trump during a meeting with a group of US Senators who paid him a visit.
I have heard H.E. Trump talk about "America first". It is okay but he shouldn't close America off the unique opportunities Africa presents. pic.twitter.com/83sOWkYLTO

— Yoweri K Museveni (@KagutaMuseveni) February 23, 2017
Just two months on, the Ugandan leader sent out another tweet about why he loved Trump and asked Africans to take their destiny in their own hands.
He was commenting at a security summit held in Ethiopia. "That's why I love Trump. He's told you he is not your uncle. This is good. For Africans who feel orphaned, sorry. Let's mind our own affairs."