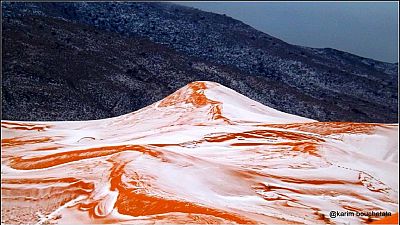 Algerian amateur photographer, Karim Bouchetata, shot beautiful images of snow in the Sahara desert that fell in his town of Ain Sefra in the Naâma Province of Algeria on December 19.
The pictures showed the first snow fall in the town since February 1979, with the red dunes covered with white snow patches. The snow is reported to have last for only a day.
Karim Bouchetata captioned the images he posted on his Facebook page "today…my beautiful city".
Photo Credit: Karim Bouchetata