Kenya Airways has embarked on an aggressive campaign for cost savings and premium passengers, after years of losses following a slump in tourism and large debts incurred to buy new aircraft.
The campaign is being championed by the airlines' new chief executive officer who took over the helm in June last year, Sebastian Mikosz.
One of Mikosz's first decisions was to shut the airlines' outlet in the capital Nairobi's downmarket Accra Road, which served thousands of small traders who fly to the Far East to buy cheap goods in bulk.
We still have to prove that we can produce an operating profit.
Polish native Mikosz, who helped turn around flag carrier LOT Polish Airlines as its chief executive, needs to stem those losses before it can begin to pay down $2 billion of debt restructured in November to stave off the airline's collapse.
To achieve this mission, the airline is banking on some upcoming projects:
A new economy plus class to be rolled out by the end of the year designed for business and wealthy leisure travelers, including growing numbers of American tourists and executives from dozens of Nairobi-based U.S. Firms.
The airline also plans a direct route to the Indian Ocean luxury tourism island of Mauritius.
The "$100 million project", which is named for the revenue expected from direct flights to New York starting in October.
Add a second daily flight to Amsterdam in high season alongside KLM.
The new economy plus project will require new seats with the same capacity by using space between them.
"We are working on a pretty big reshape of the onboard experience," Mikosz said.
The U.S. route will compete with indirect flights from established players such as Emirates [EMIRA.UL], British Airways and Ethiopian Airlines [ETHA.UL] and test Kenya Airways' ability to reshape its image from an Africa-focused carrier.
"We still have to prove that we can produce an operating profit," Mikosz said in an interview in his office overlooking airport service hangers.
"That is the biggest challenge that we have in an environment where you have a lot of competition."
Twenty five foreign airlines operate out of Nairobi's main airport, including Turkish Airlines which is expanding in Africa and state-owned Emirates, South African Airways and Ethiopian.
Mikosz describes this state-backed competition as his biggest fear as he tries to turn around a publicly listed firm owned 48.9 percent by the government and 7.8 percent by Air France/KLM (AIRF.PA) and attract a strategic investor.
"It is really sometimes very frustrating when you see that somebody can have much lower costs thanks to this protected environment and you have to face a real free market economy," he said.
Africa aviation forecast
Kenya Airways' plans mark a shift from a focus on African air passenger demand, which the International Air Transport Association (IATA) sees growing by almost 6 percent a year over the next decade due to increasing economic output and poor road and rail links.
Kenya hosts regional hubs for 48 U.S. or U.S.-based businesses like Google (GOOGL.O) and IBM (IBM.N) and the United States is the fastest-growing source of tourists, many changing planes in Europe or the Gulf in more than 20-hour trips.
Jan Mohamed, chief executive of TPS Eastern Africa (TPSE.NR), which runs the Serena chain of luxury hotels and safari lodges, said people would pay extra for direct flights, which take about 15 hours.
Tickets to New York have begun retailing for around $1,000 return, compared with about $1,500 for an indirect flight.
A former executive at Kenya Airways, who helped return it to profitability after years of losses in the early 1990s, said the new strategy was sensible, but held some risks.
"The money is in the business part of the operation. The leisure side will give you volume but it gives you volume at low rates," he said, cautioning that the airline must be careful not to undermine Sky Team Alliance partners like Delta (DAL.N) and Air France KLM, which feed it passengers from America.
Forty-year-old Kenya Airlines, which flies to 53 destinations with 38 Boeing and Embraer planes, has not said when it will return to profit.
It lost 80 engineers to higher paying Mideast rivals before the restructuring and Mikosz, who says the U.S. route will create 150 new jobs, fired 140 technical staff after a strike in November.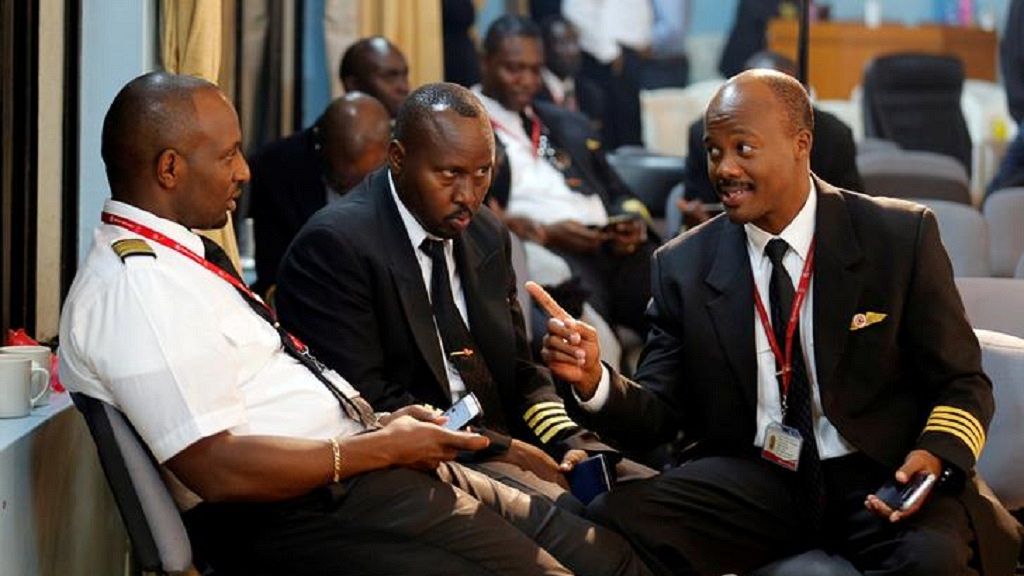 Sell more tickets and cut costs
Kenya only got U.S. security clearance a year ago after a major refurbishment of Nairobi's main airport and the United States extended a warning last week over the threat to aviation from militant activity in eastern Kenya, which borders Somalia.
The company, which reports full-year results in June, had a $251 million loss in the financial year 2016-17 and negative equity of 45 billion shillings.
The government restructured its debt in November, converting loans to build up its stake from just under a third to preserve a national carrier that serves the vital tourism sector and growing foreign investment.
Shareholders found their holdings diluted 95 percent by the restructuring but shares more than tripled to 18.50 shillings ($0.1829) before dropping back by around four shillings.
The government has guaranteed some of the airline's debts and Mikosz and his team have 10 years to clear them.
"Sell more tickets and cut costs," said the CEO, who has headed up major Central European online travel agent eSky.pl as well as helping to rescue LOT from bankruptcy.
"It's always the same game."
REUTERS