He was a former World and African footballer of the year, he played in three top European leagues – England, France and Spain.
He is Liberia's new president. He is George Manneh Weah and as expected, the football world is challenging the diplomatic world as he takes office – if you like kicks off his presidency.
The BBC reports that a number of former African players are in Liberia for Weah's swearing-in: Among others: Ivory Coast and Chelsea legend Didier Drogba, Cameroon's Samuel Eto'o and Nigeria duo of Sunday Oliseh and Taribo West.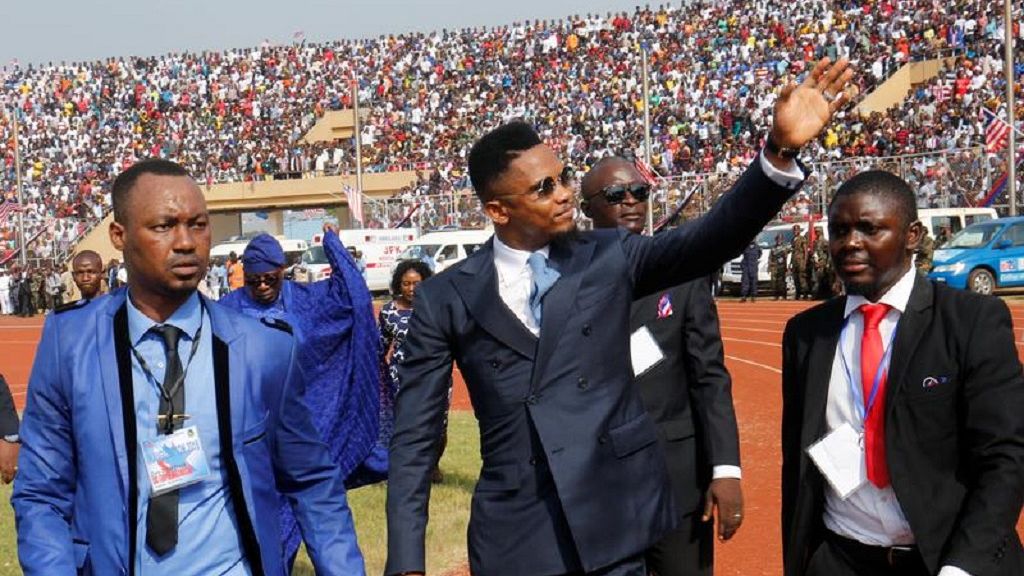 African and world football made a strong showing in Monrovia as CAF president, Ahmad Ahmad, and FIFA General-Secretary, Fatma Samoura joined the ceremony. CAF shared photos of their meeting with President George Weah.
CAF President Mr. Ahmad at the inauguration of Liberia President George Weah pic.twitter.com/EWNy4l672j

— CAF (@CAF_Online) January 22, 2018
Samuel Eto'o au Libéria avant la cérémonie d'investiture de George weah#Cameroun #Libéria #Liberia #Cameroon #Afrique pic.twitter.com/zkVBf1lVF9

— Aminata Sidibe (@MissSidibe26) January 22, 2018
Weah finally won the presidency after three straight attempts. HE lost to candidate Sirleaf in 2006 when he stood as a candidate. He won the main vote and lost the run-off.
In 2011, he partnered a former U.N.-executive, Winston Turnbull, but in the capacity of vice-presidential aspirant, that ticket was unsuccessful as Sirleaf won a second term.
George Manneh Weah will become its president – the first African footballer to achieve that feat while Ellen Johnson Sirleaf – Africa's first democratically female president will leave office after over a decade in charge.
Weah won presidential elections last year to emerge the successor to Sirleaf beating then vice president Joseph Boakai twice in a space of three months.
In the first round of voting in October 2017, Weah came top but failed to garner the necessary votes. He went into a runoff with Boakai in December and emerged winner with over 60% of votes cast. This will be Liberia's first democratic handover of executive power in decades.
You can follow our LIVE blog of proceedings.