Human rights organisation, Amnesty international, has decried the use of child labour in the Democratic Republic of Congo mines.
In a report into cobalt mining in the country, it found children as young as seven working in dangerous conditions.
The DRC produces at least 50% of the world's cobalt. Miners working in the area face long-term health problems and the risk of fatal accidents, according to Amnesty.
It claimed that at least 80 miners had died underground in southern DRC between September 2014 and December 2015.
It also collected the testimonies of children who allegedly work in the mines.
Paul, a 14-year-old orphan, started mining when he was 12 and told researchers: "I would spend 24 hours down in the tunnels. I arrived in the morning and would leave the following morning … I had to relieve myself down in the tunnels … My foster mother planned to send me to school, but my foster father was against it, he exploited me by making me work in the mine."
The Amnesty report, which was jointly researched with African Resources Watch (Afrewatch), traced how traders buy cobalt from areas where child labour is rife, selling it on to firm Congo Dongfang Mining (CDM), a wholly-owned subsidiary of Chinese mineral giant Zhejiang Huayou Cobalt Ltd.
Amnesty contacted 16 multinationals who were listed as customers of the battery manufacturers, who in turn source minerals from Huayou Cobalt.
Mark Dummett, business and human rights researcher at Amnesty said that mining was "one of the worst forms of child labour".
"The glamorous shop displays and marketing of state of the art technologies are a stark contrast to the children carrying bags of rocks and miners in narrow man-made tunnels risking permanent lung damage," he said.
UNICEF estimates that there are approximately 40,000 children working in mines across southern DRC.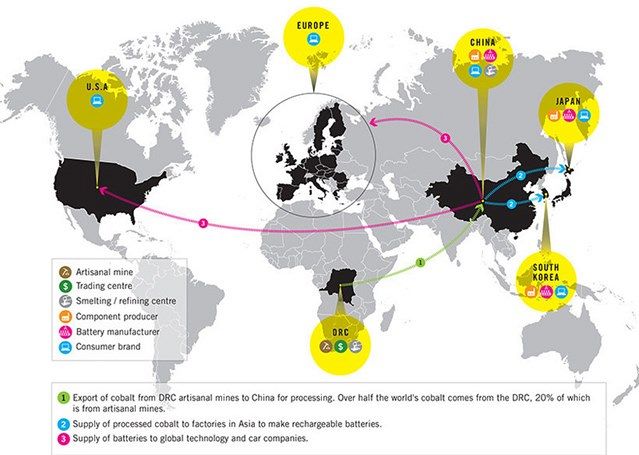 How cobalt moves from mine to the global market