Kofi Annan, the former United Nations (U.N.) Secretary-General died over the weekend in Switzerland aged 80. The news of his demise was greeted largely with shock and praise across the world for a man who stood for peace and social justice.
From presidents to prime ministers, sportsmen and women to entertainment stars, top global civil servants across the UN and beyond have all shared fond memories of Annan's impact on global diplomacy and peace efforts.
Africanews begins a series on 'The Kofi Annan effect' looking at how he impacted on different sections of everyday life during his years in the diplomatic limelight.
To start off, we look at reactions of African presidents over a dozen of who shared kind words about the impact Annan had on diplomacy and his role in positioning Africa on the global diplomatic map.
Key dates in the life of Kofi Attah Annan
1 – 1938: Born in Kumasi, Ghana's second city, seat of the Ashanti kingdom
2 – 1962: Starts working at the United Nations in Geneva, Switzerland
3 – 1965: Weds Titi Alakija. They have two children, a boy and a girl
4 – 1984: Marries Nane Lagergren, having divorced a year earlier
5 – 1991: Twin sister Efua dies
6 – 1993: Becomes head of U.N. peacekeeping operations
7 – 1997: Appointed seventh Secretary-General of the United Nations
8 – 2001: Wins Nobel Peace Prize
9 – 2006: Steps down as secretary-general after 10 years
10 – 2012: Becomes UN/Arab League Joint Special Envoy on the Syrian crisis
11- 2013: Made chair of The Elders, a peace and human rights advocacy group
12 – 2016: Leads the Advisory Commission on Rakhine State, Myanmar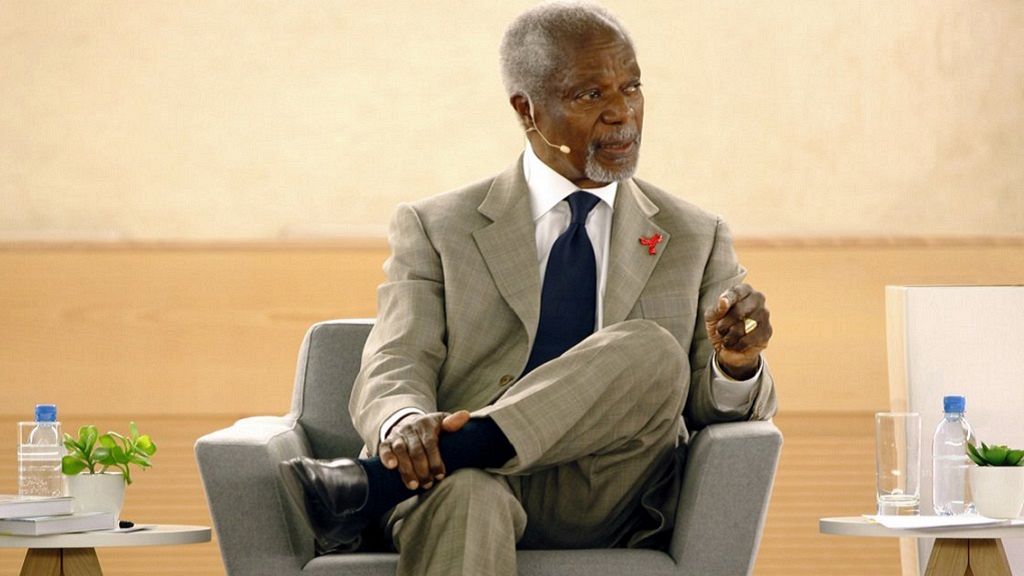 I extend, on behalf of the entire Ghanaian nation, our sincere, heartfelt condolences to his beloved widow, Nane Maria, and to his devoted children, Ama, Kojo and Nina, on this great loss. 2/7

— Nana Akufo-Addo (@NAkufoAddo) August 18, 2018
President Buhari, who called President Nana Akufo-Addo from London, said all Nigerians & ECOWAS member countries share in the deep loss, considering the strategic influence of the former scribe in global affairs and his vision for the repositioning of the West Africa and Africa.

— Presidency Nigeria (@NGRPresident) August 18, 2018
The news of former United Nations Secretary General Mr. KofiAnnan's death comes as a great shock to us as we were with him only a few weeks ago when he visited South Africa. It is indeed a great loss to us and to the global community. pic.twitter.com/rNxr4ghNGf

— President Cyril Ramaphosa (CyrilRamaphosa) August 18, 2018
Ramaphosa added: "A diplomat extraordinaire, we will remember Mr Kofi Annan for his commitment, his leadership and his tireless efforts to advance the African agenda. Our thoughts are with his wife, Nane, his family and loved ones during this difficult time."
I learned with great sadness the death of KofiAnnan, Nobel Peace Prize laureate and former UN Sec-Gen. Africa and the world have lost a key leader of our time, a tireless peacemaker and a great defender of humanist values. My sincere condolences to his family and loved ones. pic.twitter.com/pl2fxwoKQq

— Alassane Ouattara Officiel (AOuattara_PRCI) August 18, 2018
My thoughts & prayers are with Ghana, Africa & the whole world on the demise of one of Africa's greatest. KofiAnnan was a leader of global peace, who has made Africa proud for all the right reasons.
He'll be remembered for his relentless search for global peace and security. pic.twitter.com/EYdMacGCvE

— President Barrow (BarrowPresident) August 18, 2018
"In the face of much difficulty and conflict, we looked up to him for inspiration and hope. He's demonstrated utmost commitment to peace, and firm belief in Africa and African unity, stability and prosperity. He stood by The Gambian people during difficult times in 2016/17," Gambian president Adama Barrow added.
Africa and humanity as a whole has lost one of its most prodigal sons. Kofi Annan will forever go down in the annals of contemporary history for his intellectual honesty and his propensity to always assert the imperatives of a world diplomacy tinged with humanism and objectivity. pic.twitter.com/e9qohPYseC

— Ismail Omar Guelleh (@IsmailOguelleh) August 18, 2018
Kofi Annan, 7th Secretary-General of the UN & Nobel Peace Prize Laureate was an inspiration. I had the honour to spend time with him in the build up to our recent elections. His message of democracy, peace & harmony must continue to reverberate, both in Africa & around the world

— President of Zimbabwe (@edmnangagwa) August 18, 2018
HE PM Abiy Ahmed joins in mourning the passing of Mr Kofi Annan—a champion of peace & a proud son of #Africa Mr Annan was a true friend of #Ethiopia. He lived in Addis as a young ECA_OFFICIAL staff. He advocated tirelessly for peaceful resolution of conflicts in Africa & beyond.

— Fitsum Arega (fitsumaregaa) August 19, 2018
Avec la disparition de Kofi Annan, le monde perd un grand défenseur de la paix, et l'Afrique devient orpheline d'un diplomate hors pair qui a oeuvré inlassablement avec brio et courage, au rayonnement du continent dans le concert des Nations. RK

— Roch M. C. KABORE (@rochkaborepf) August 18, 2018
Kofi #Annan s'en est allé. Il a voué sa vie à la paix et à la concorde entre les peuples. Il a rendu fier notre continent en tant que SG de l'ONU et Prix Nobel de la Paix. Pour moi, il était plus qu'un modèle, un illustre aîné. Son héritage continuera de nous inspirer. #RIP pic.twitter.com/NN41xY5Vqv

— Ali Bongo Ondimba (@PresidentABO) August 18, 2018
Au nom de la nation togolaise et en mon nom propre, je présente nos émouvantes condoléances à sa famille et à l'ensemble du peuple ghanéen.

FEG

— Faure E. Gnassingbe (@FEGnassingbe) August 18, 2018
C'est avec une grande tristesse que j'apprends le décès de #KofiAnnan, ancien SG UN et Prix Nobel de la Paix.
Au nom du peuple nigérien, je présente mes condoléances à sa famille et au peuple ghanéen.
Le monde perd un grand homme qui a dévoué sa vie à la paix et au dialogue. -IM

— Issoufou Mahamadou (IssoufouMhm) August 18, 2018
Profondément engagé au service de la paix entre les peuples, #KofiAnnan incarnait ces idéaux de justice et d'unité. C'est une grande tristesse que de perdre cet homme qui, sa vie durant, a œuvré pour faire de ce monde un endroit meilleur.

— Macky SALL (@Macky_Sall) August 18, 2018
La disparition de KofiAnnan plonge l'#Afrique dans la tristesse. Je garde de lui, le souvenir d'un homme de paix, qui aura apporté sa contribution précieuse, à la volonté commune du #Nigeria et du #Cameroun, de régler pacifiquement leur différend frontalier.#RIPKofiAnnan

— President Paul BIYA (PR_Paul_BIYA) August 19, 2018
Décès de #KofiAnnan : SassouCG "La République du #Congo perd, à travers cet évènement tragique, un frère qui a marqué de son empreinte personnelle la consolidation de la paix à la suite des troubles socio-politiques survenus dans notre pays" ?https://t.co/jMbmWFTFN8 pic.twitter.com/Z72Wu1XJPw

— ICIBRAZZA (ICIBrazza) August 19, 2018
#RDC
Le Président de la République S.E. Joseph #Kabila Kabange rend hommage et salue la mémoire de l'ancien Secrétaire Général des Nations Unies et Prix Nobel de la paix, M. Kofi Annan, décédé samedi 18 août 2018. pic.twitter.com/QAD0f5ssec

— Présidence RDC ?? (@Presidence_RDC) August 19, 2018
Over in Kenya, even president Uhuru Kenyatta has yet to tweet about the event, former Prime Minister Raila Amolo Odinga who was a party to a political struggle that Annan mediated eulogized Annan as a man that saved Kenya from implosion.