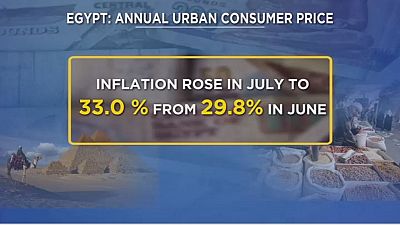 Egypt released new figures on consumer price inflation.
Egypt's Central Agency for Public Mobilization and Statistics revealed Thursday the annual urban consumer price inflation rose in July to 33. 0 from 29.8 percent in June , its second highest rate on record.
The Import-dependent country hiked fuel prices by up 50 percent in July to help meet the terms of a $12 billion International Monetary Fund loan agreement.
Egypt's inflation hit a three-decade high after the central bank floated the pound currency in November as part of the IMF deal.
The nation's central bank raised its key interest rates by 200 basis points in July, seeking to ease the inflationary pressure.