The Louvre Abu Dhabi is celebrating its one year anniversary.
The museum opened in November 2017 as part of a 30-year agreement, valued at $525 million, between the governments of Abu Dhabi and France.
Since then, many revered artworks have been displayed in the Middle East region for the first time, including Vincent Van Gogh's self-portrait and a statue of the Egyptian Pharaoh Ramses II.
ONE MILLION VISITORS IN ITS FIRST YEAR. WILL THAT MARK BE TOPPED IN 2019?
In its first 12 months, the Louvre Abu Dhabi met its target of one million visitors, and organisers are hoping to top that number in the coming year.
To achieve this goal, 11 acquisitions and 40 new loans have been added to the museum's current collection of 657 works.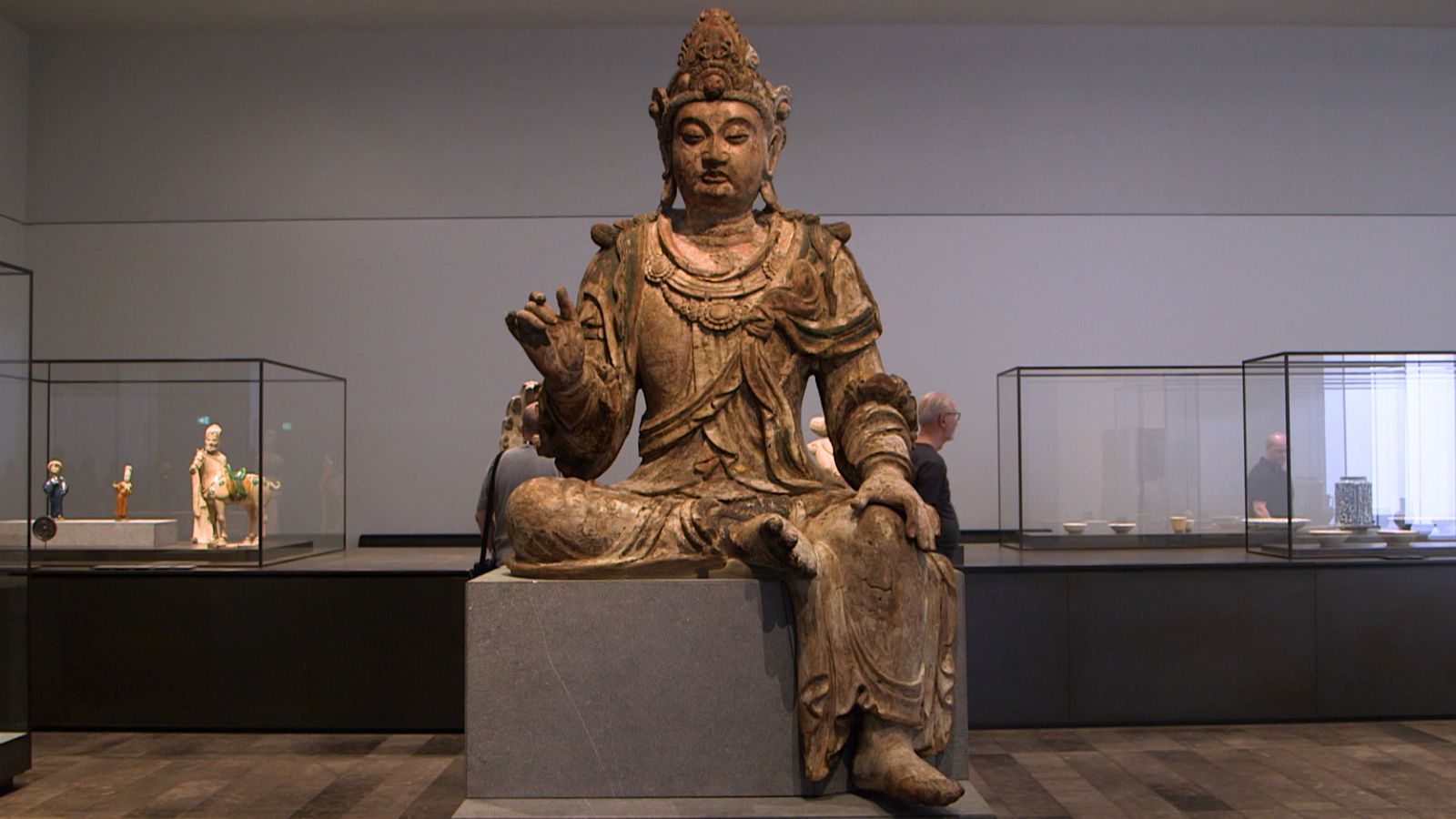 Amongst the new inclusions is a 1.75m medieval Buddhist sculpture from China
Some of the new inclusions are ancient masterpieces from around the world, such as a Japanese Samurai suit of armour from the 18th century and a medieval Buddhist sculpture from China.
Also recently opened is a brand-new exhibition called 'Roads of Arabia', which showcases antiquities and recent finds from the Arabian Peninsula.
Our new exhibition #RoadsOfArabia is now open! Explore the fascinating story of the Arabian Peninsula from antiquity to modern times. scthKSA MuseeLouvre

More info here: https://t.co/1QyWpHod4X pic.twitter.com/jcj9B9TQ4m

— Louvre Abu Dhabi (@LouvreAbuDhabi) November 8, 2018
Mohammed Al Mubarak, Chairman of the Abu Dhabi Tourism & Culture Authority, hinted to Euronews that an additional, and highly-prized, artifact from the region is on its way to the Louvre.
"I'll give you a little secret, a little surprise," he says, "We've just acquired an unbelievable piece. I can't name it yet – but it's a piece of ancient history."
WHAT'S IN STORE FOR ABU DHABI'S CULTURE AND ART SCENE?
Al Mubarak goes on to say that thanks to the government's long-term commitment to the arts, visitors can expect more historical treasures and attractions in the capital shortly.
"On December 7, we are opening the culture foundation, and more importantly the Qasr Al Hosn Museum," he announces, "[The new museum] will have everything from theatre, music art programs, art exhibitions and a state-of-the-art large children's library for children."
"It's going to be a fantastic hub for culture that will ooze art," he adds.
ONE YEAR CELEBRATIONS
As part of its first birthday festivities, the Louvre Abu Dhabi featured pop-up performances of spoken-word art and a series of workshops dedicated to young minds.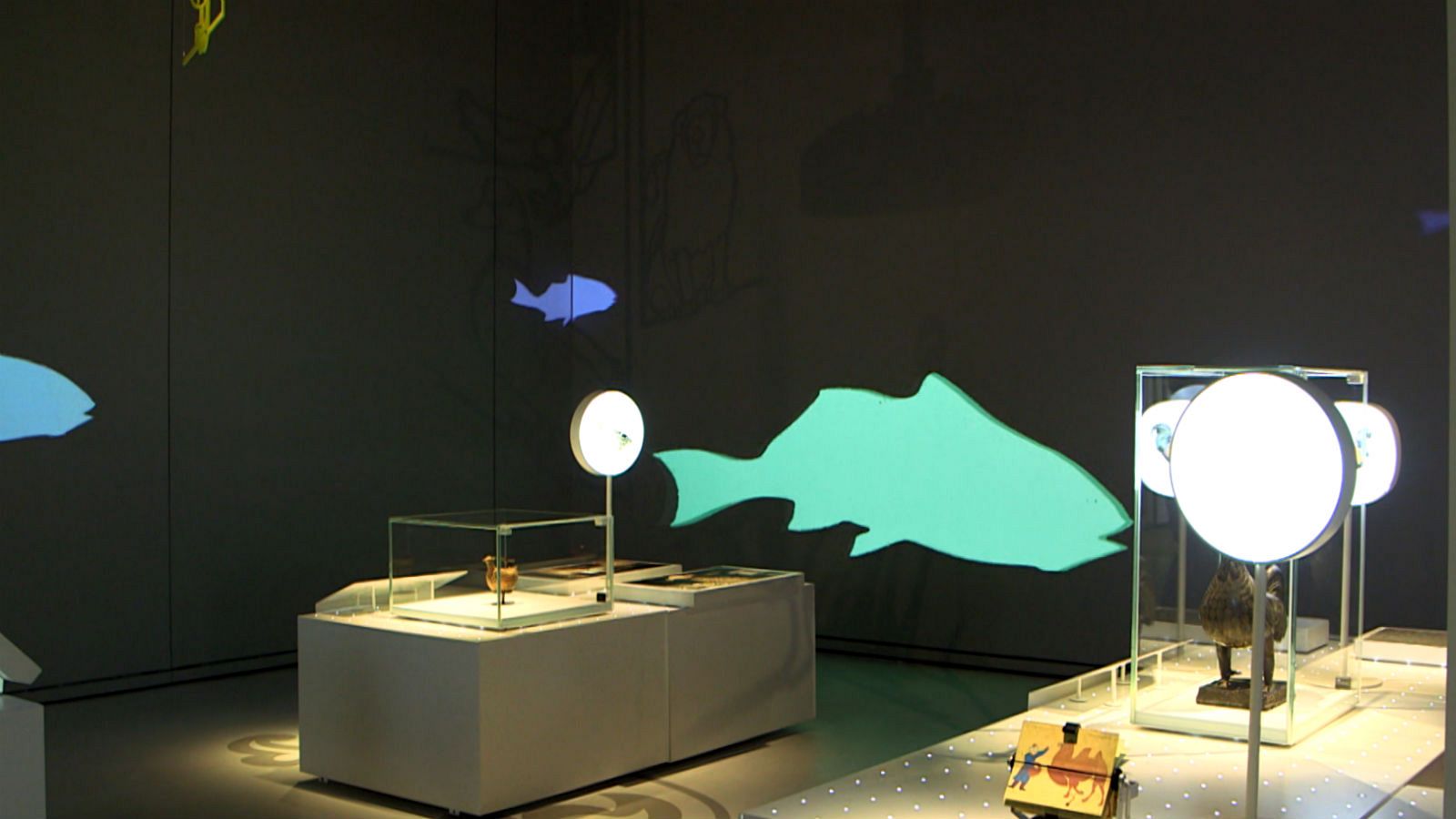 Interactive displays for children were set up as part of the Louvre Abu Dhabi's one year anniversary
Interactive displays allow children to see how artists have used imagery to represent animals throughout different eras.
Elsewhere, a modern Japanese manga lab is teaching young art enthusiasts to express themselves with crayons and coloured pens on the walls.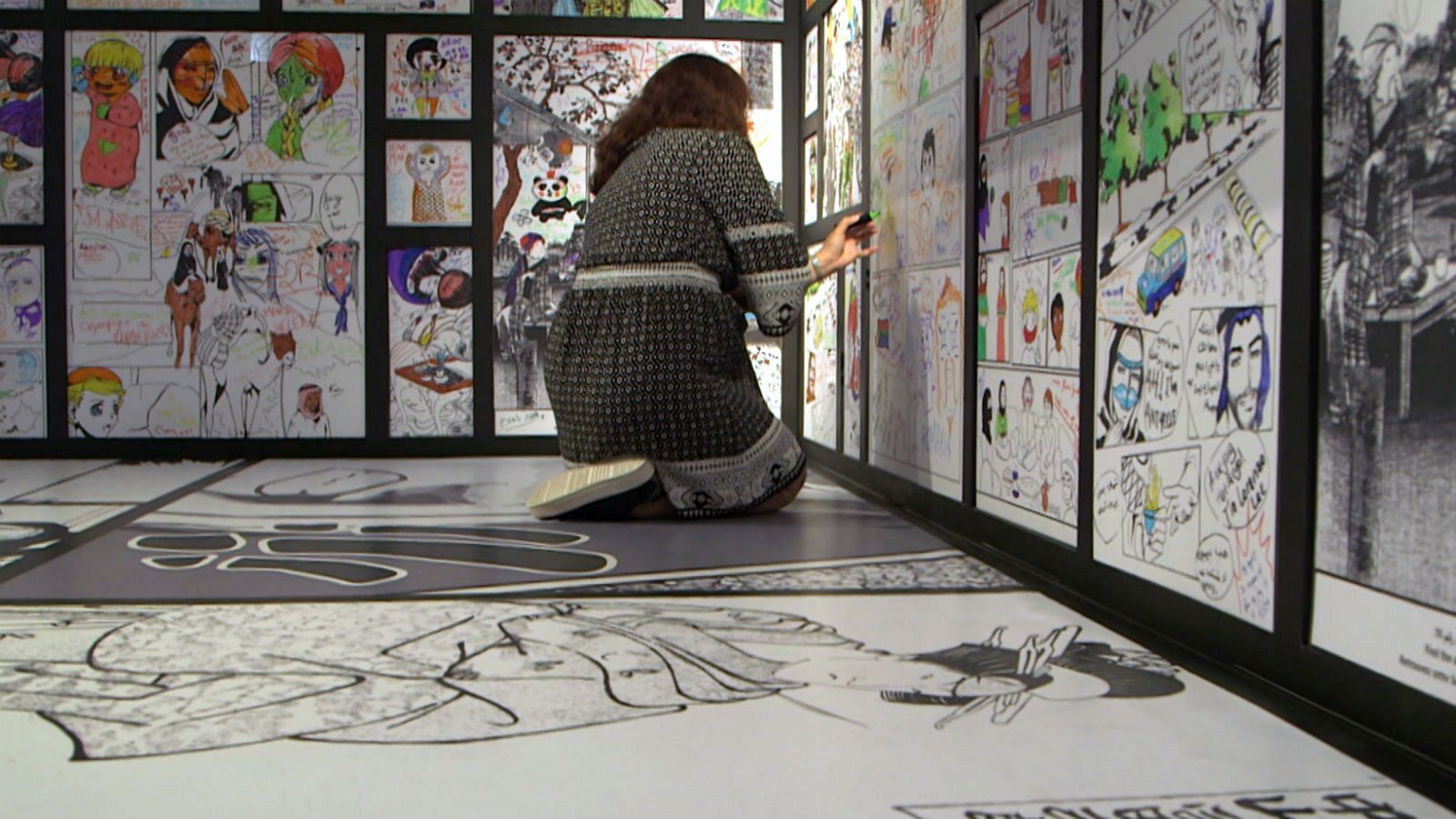 Young artists can draw manga-inspired cartoons on the walls
Adding to this, a star map installation called 'Constellations' by Emirati designer Salem Al Mansoori, made use of visitor statistics to Abu Dhabi's Louvre during its first year.
International travellers made up around 60% of attendees and each cluster of the digital art piece represents the countries from which they've mostly come.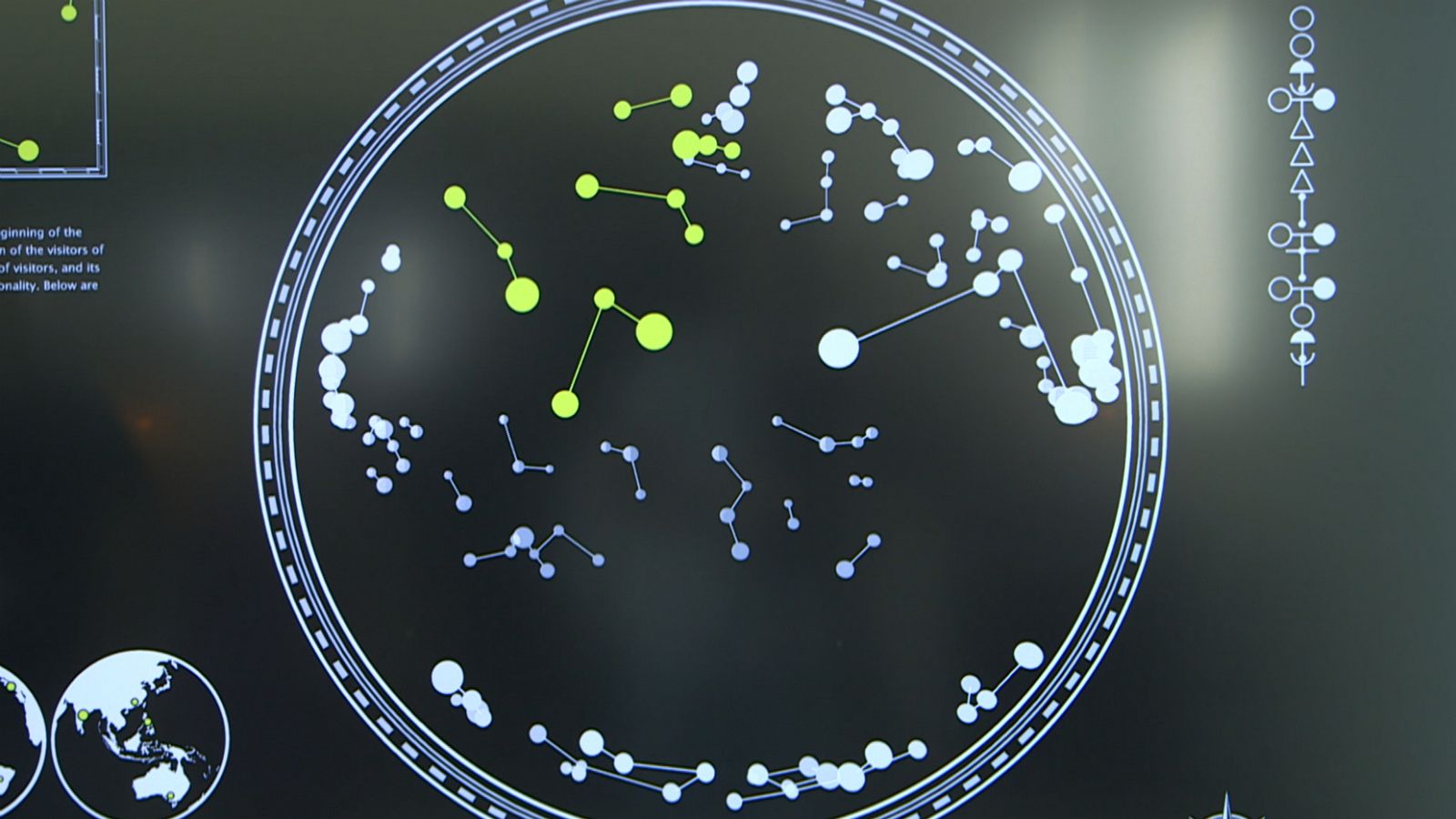 Constellations is an interactive piece by Emirati designer Salem Al Mansoori
"You can look at the history of humanity through art, so this is why we wanted to concretely and explicitly use the visitors as the main component of the data visualization," explains Al Mansoori.
Another forward-thinking display provides guests with mixed reality glasses which allow them to step inside a virtual world filled with relics from the past.
Visitors to the VR museum can touch and rotate the artefacts – which are hundreds of thousands of years old – allowing them to learn and connect with history in a futuristic way.
SOCIAL MEDIA USERS SHARE THEIR PASSION FOR ART IN THE MENA REGION
Evan from the Philippines spent an animated afternoon at The Manga Lab in Louvre Abu Dhabi.
View this post on Instagram ANY MANGA FANS???!! ??? Louvre Abu Dhabi launches its first ever space for teens and young adults , The Manga Lab, dedicated to the Japanese culture and popular art of Manga. ????

A post shared by Evan Benedicto (@evanbenedicto) on Oct 10, 2018 at 2:18am PDT
Habib from Syria – was excited to visit the now reopened Museum of Damascus, having fond memories of visiting there with his late grandfather.
View this post on Instagram مع إله النحس بعد محادثات و محاورات طويلة #دمشق ١٧ ? المؤتمر السابع عشر لإقناع إله النحس بالحل عن حظوظ الهمكيين وصرف نحسه إلى غير امتحاناتنا #همك #متحف #إله_النحس

A post shared by Habib Zreik (@habib.zreik) on Jul 22, 2017 at 11:37am PDT
And Abdousalem, walked in the footsteps of Pharohs at Giza's Grand Egyptian Museum.
View this post on Instagram

A post shared by [Feb 15, 2018 at 2:26pm PST](/?utm_source=ig_embed&utm_medium=loading" style=" color:#c9c8cd; font-family:Arial,sans-serif; font-size:14px; font-style:normal; font-weight:normal; line-height:17px;" target="blank"> سالم (@abdousalem) on