Game of Thrones star Hafthor Bjornsson has won the World's Ultimate Strongman (WUS) competition in Dubai.
The strongman athlete and actor plays the role of Gregor Clegane, aka 'The Mountain', in the popular HBO series Game of Thrones.
The 29-year old from Iceland pitted his strength against 11 of the world's mightiest men to scoop the top prize money of $75 000 (scroll below to find out more about the event).
FROM MUSCLE TO 'MOUNTAIN'
Bjornsson started his career as a basketball player before turning to strength athletics and becoming Iceland's Strongest Man in 2010.
After many other accomplishments, this year has arguably been a standout for the athlete who became the only person to be crowned the World's Strongest Man, winner of the Arnold Strongman Classic and Europe's Strongest Man; on top of setting a new world record for deadlifting a barbell of 1,041 pounds.
"I want to try to become the strongest man to ever walk the earth," he tells Euronews, "I want to win more titles."
Standing tall at six-foot-nine and weighing in at 200 kg, the Icelander admits to eating steak and rice six times a day, "with some carrots, peppers and chicken stock."
Whilst his main focus at the moment is strongman competitions, Bjornsson says that he's also eager to build upon his acting skills.
"After it all, I'll focus more on TV," he tells Euronews. "So far, it's been working very well for me. I've been able to [earn a role] in one of the biggest television shows in the world. I'm ver honoured to be a part of Game of Thrones."
Playing 'The Mountain' since 2013, Bjornsson says he was very nervous when he first got the part.
"I think anyone would be, without any acting experience, but especially being part of such a big show," he says.
THE ULTIMATE FIGHT SCENE IN GAME OF THRONES
Bjornsson's character is best-known for a gruesome fight scene in the fourth season of the show, during which – and much to the shock of fans worldwide – he crushed his enemy's skull with his bare hands.
"I remember when I had to do that part, I was like "this is a bit crazy!'", he recalls. "To have to squeeze someone's eyes out, even though it wasn't a human, it felt very real – it was weird."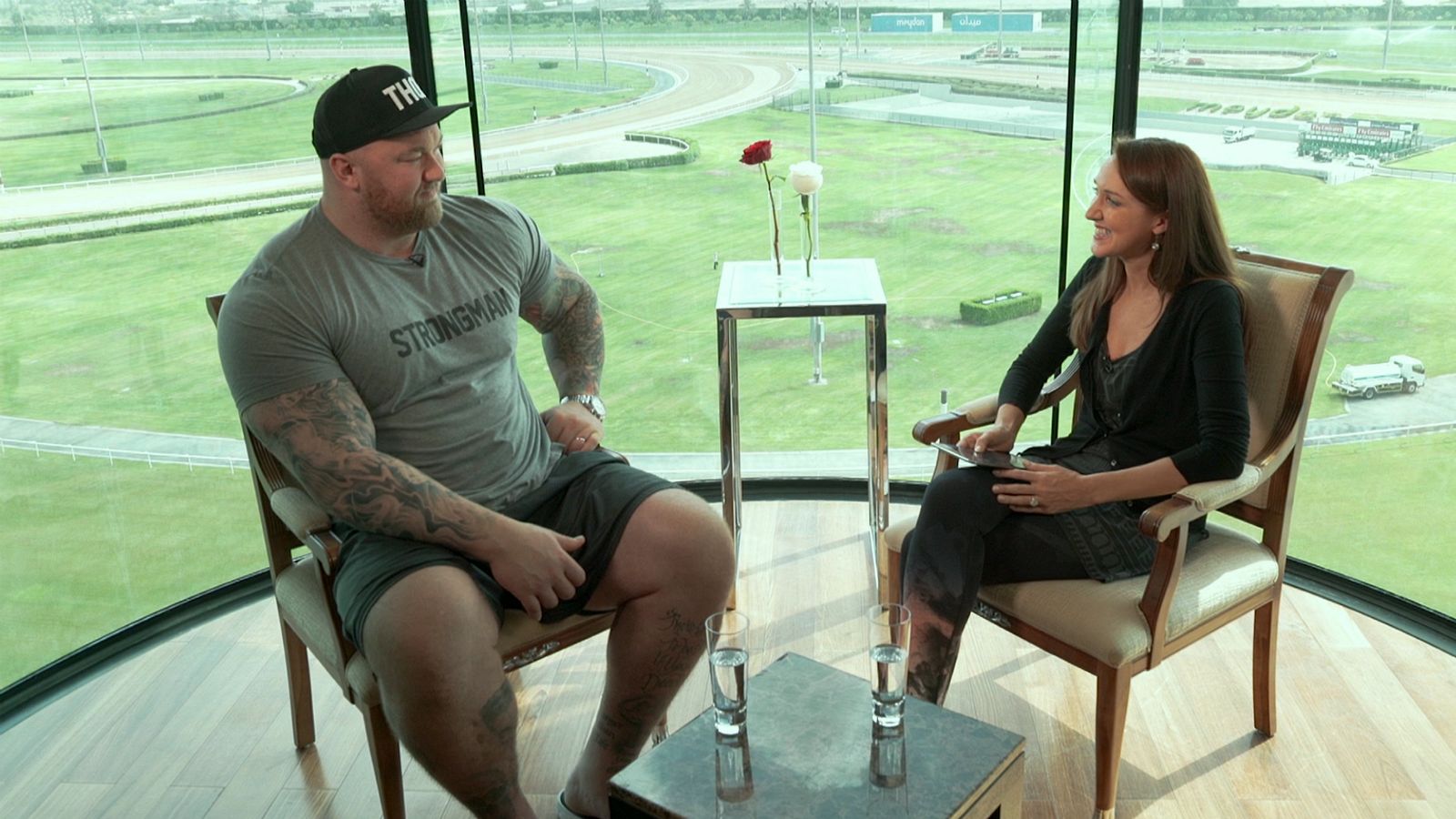 Hafthor Bjornsson, aka 'The Mountain', talks to Euronews' Rebecca McLaughlin-Duane about his career as a Strongman athlete and his first experiences when filming Game of Thrones
This was one of the first scenes that Bjornsson filmed and, despite the nervousness he faced whilst shooting, he was pleased with the impact that it had on viewers.
"People talked about it as the best fighting on television has ever seen," he smiles.
As for the future of the series, which will air its final season in 2019, Bjornsson hints that fans might be treated to more Game of Thrones content soon.
"I have heard some rumours that they might do some spinoffs," he revealed. "That's going to show the story before everything that's happened."
THE WORLD'S ULTIMATE STRONGMAN: HOW IT HAPPENED
The World's Ultimate Strongman gathered 10,000 spectators onsite in the desert of Dubai.
Nicknamed 'Beasts in the Middle East', the event saw athletes pull a 30-tonne truck, perform 520kg deadlifts and a 580kg yoke walk, as well as the heaviest atlas stone run to date.
Watch highlights of the event captured on the ground:
See below for some key facts and figures:
MAX STRENGTH SNAPS ON SOCIAL MEDIA
Raising the bar for fitness in Jordan is powerlifting enthusiast Safi who says that training keeps him healthy and young.
Abderrahman from Algeria says that he exercises to be the "best version of himself" and to motivate others to be the same.
And Omani CrossFit fan Sami posted this video of his burpees and bar work saying that he's constantly competing against himself.