The University of Ghana – Legon (UG), the country's premier varsity has made history after it appointed the first woman chancellor for a public institution in the person of Mrs. Mary Chinery-Hesse.
The retired international civil servant who served for a decade as Deputy Director General of the International Labour Organization will be replacing another former United Nations appointee who last held the role Kofi Annan – two-term Secretary-General.
Chinery-Hesse's investiture took place on August 1, 2018 at a well attended event in the capital, Accra. President Nana Addo Dankwa Akufo-Addo who was at the event said authorities had picked a perfect replacement for Kofi Annan.
"I thank Mr. Kofi Annan, who served the two terms of his mandate, for his invaluable service to the nation. It is not every day that one picks up the mantle of leadership from such as Mr. Kofi Annan So, Madam Chancellor, I am sure that you know that you have your work cut out for you," the president said.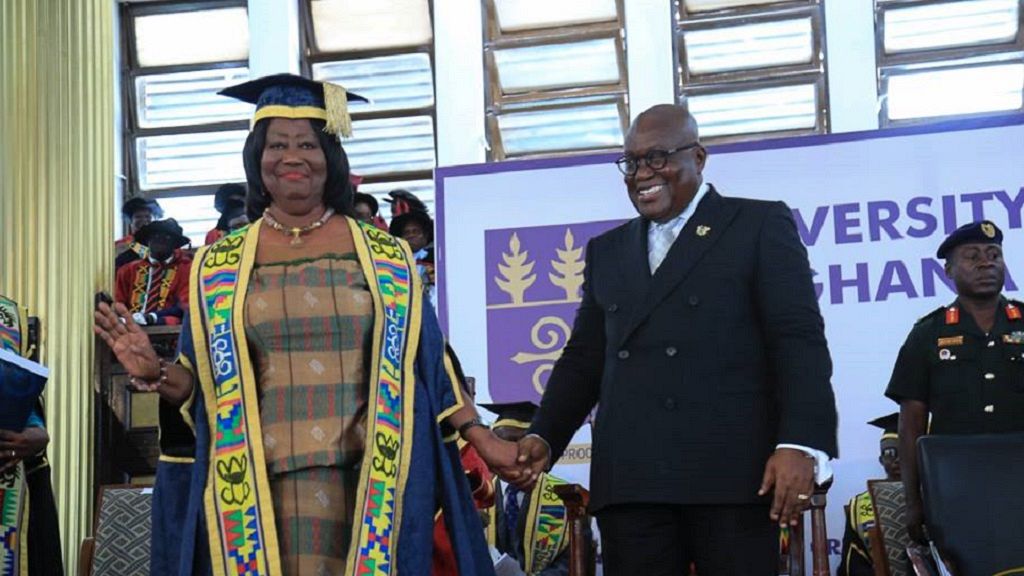 Back home, the new chancellor has played several roles in national development. She has previously served as top technocrat at the Ministry of Finance and Economic Planning, she was a Member of the Governing Council of the University at a point.
She also served as an advisor to Ghana's second president under the current constitution. John Agyekum Kufuor who was present between 2000 and 2008 was present at the ceremony.
President Akufo-Addo said he was certain that the chancellor's vast experience – home and abroad will help ensure that she steers the institution beyond the heights it reached under Kofi Annan – as the best university in the West African subregion.
"I commend the authorities of the University for the excellent choice of this distinguished person, one who is also, happily, a firm believer in academic freedom.
"As the first female Chancellor of any Ghanaian university, Mrs. Chinery-Hesse blazes, again, a trail for other women to follow, and, moreover, I am sure the University will definitely feel the added benefit of that special quality that a woman can bring to leadership," he added.
Chinery-Hesse like the president are both products of the university which was founded in 1984 and is the oldest and largest of the west African nation's thirteen public universities.
She received a BA (Hons) in Sociology and Economics, and Doctor of Laws (Honoris causa) from the University of Ghana; and postgraduate training in Development Economics at the University of Dublin.