A court in Kenya has granted bail to Tom Joseph Kanjwang', the member of parliament who was arrested yesterday, after leading the self-proclaimed inauguration of opposition leader Raila Odinga.
His lawyer who addressed journalists at the Ngong Court in the capital Nairobi, said his client is accused of consenting to administer oath to Raila Odinga to commit treason.
The lawyer who confirmed that Kanjwang was granted cash bail of KShs 50,000 ($490), said the meagre amount charged for bail was a sign of "how trivial and frivolous the treason charges are".
TJ Kanjwang released on cash bail of Kshs. 50,000.00, a demonstration of how trivial and frivolous the treason charges are.

— Nelson Havi (@NelsonHavi) February 1, 2018
At the inauguration ceremony of Raila Odinga which government had declared illegal, Kajwang was flanking the opposition leader, wearing his lawyer's robe and wig.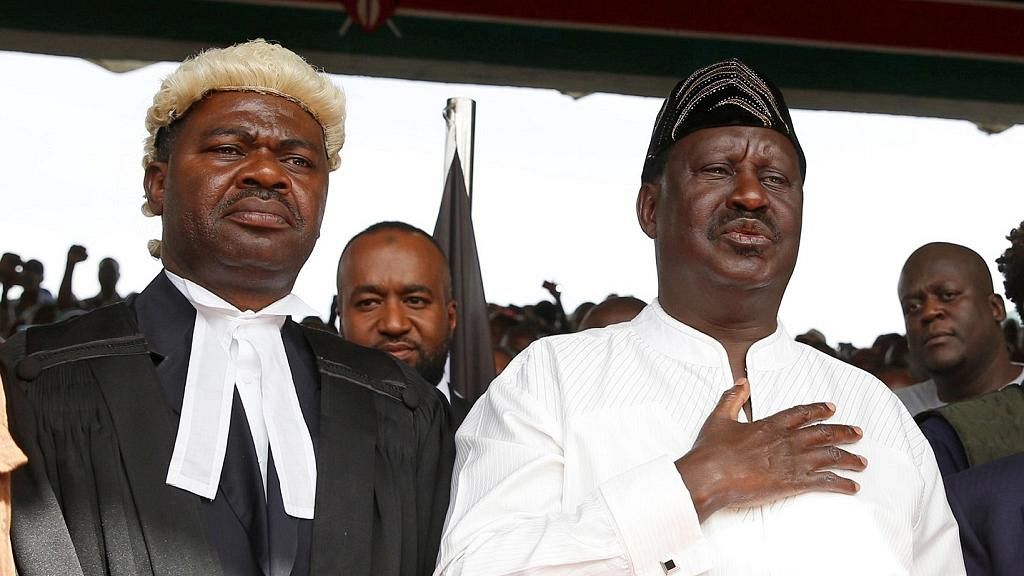 The legislator, who stood behind Raila during the event held at Uhuru Park in Nairobi, was arrested yesterday at Milimani Law Courts and taken to the Directorate of Criminal Investigations for interrogation.
His plea has been deferred to next Tuesday February 6.
Human rights groups, journalists and opposition politicians have used the events of the last two days including the media blockade, withdrawal of security personnel from key opposition figures and arrests like that of Kanjwang, to accuse the Uhuru Kenyatta's government of displaying dictatorial tendencies.