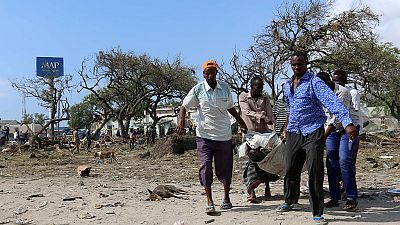 At least four people were killed and 10 injured in a bomb blast in Kismayo, south of Mogadishu.
According to Colonel Abdullah Abdi Farah of the Somali police, the blast was from a grenade bomb planted at a tea-shop in Farhano neighbourhood, local media report.
Police have arrested at least 4 suspects and the site has been cordoned off, Shabelle News reported.
The attack has not been claimed yet but it is believed to be perpetrated by Islamist group Al Shabaab.
Al Shabaab has vowed to disrupt Somalia's ongoing parliamentary elections.
16 people were killed and 48 injured after a suicide car bomb explosion at the entrance of Somalia's biggest port in the capital Mogadishu on Sunday.
Al Shabaab released a statement after the attack claiming responsibility.