In a spectacular opening ceremony at the Maracana Stadium, the 2016 Rio Summer Olympics kicked off in colour and glamour on Friday, August 5, 2016.
Over 200 countries paraded their athletes led by a flag bearer carrying the national flag.
Africa's 54 countries were beautifully represented in the trademark mix of colours including Red, Gold, Green, Black and Blue.
South Sudan paraded for the first time as a country at this year's Olympic Games since its independence in 2011 from Sudan.
In alphabetical order, see what the African representatives wore at the opening ceremony of the Rio Olympics and their respective flag bearers.
Algeria don navy blue suits for the parade led by Sonia Asselah (Judo)
Egypt also went for suits for officials and track suits for athletes led by Ahmad Elahmar (Handball)
Libya saved the north Africans in terms of tradition by wearing all-white outfits led by Mohamed Fuad Hrezi (Athletics)
Morocco also suited up with red blazers and brown hats led by Abdelkebir Ouaddar (Equestrian)
South Sudan for their first appearance at the Olympics since they gained independence in 2011 wore black suits and were led by Guor Marial (Athletics)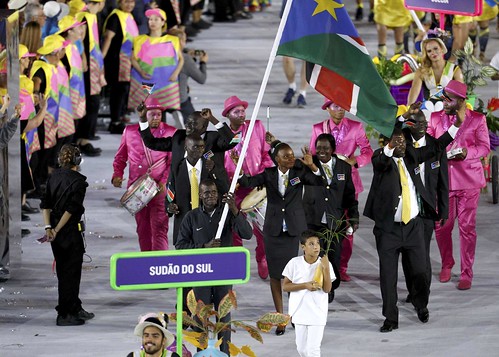 Sudan appeared in white traditional outfits with designs using their national colours led by Abdalla Yousif (Athletics)
Tunisia also wore suits with red ties led by Oussama Mellouli (Swimming)
Check out the parades of West, East, Southern and Central Africa.
Also follow our LIVE BLOG on the Olympic Games as we update you on African performances.
Photo Credit: Reuters