The Senegalese city of Diamniadio is a hotbed of diplomatic activity as African leaders join citizens for the investiture of President Macky Sall.
Sall emerged winner of elections held on February 24. Beating four other aspirants with 58% of votes cast. The opponents rejected the results but said they were not going to contest it.
In keeping with the electoral laws, the Consitutional Court on the sixth of March affirmed his poll victory. Sall had 2,555,426 representing 58.26%, Idrissa Seck got 899,556 representing 20.51%.
Profile: Senegal's politically experienced president, Macky Sall
Ousmane Sonko polled 687,523 or 15.67%, Madické Niang, 65,021 or 1.48% and El Hadji Sall also had 178,613, representing 4.07%, the court said.
The 58-year-old will be serving his final mandate in line with the two-term limit imposed by the constitution. Senegal is one of Africa's most stable democracies. It has not experienced military intervention since independence in 1960.
Macky Sall's oath of office
Prestation de serment : "Devant Dieu et devant la Nation sénégalaise, je jure de remplir fidèlement la charge de Président de la République du Sénégal" #InvestitureMS2019 pic.twitter.com/coZJTr9iOi

— Macky Sall (@Macky_Sall) April 2, 2019
Macky Sall quick facts
Date and place of birth: December 11, 1961 in Fatick, in Fouta region
Name of party: Alliance for the Republic, APR-Yaakaar.
Profession: Geological engineer and geophysicist – trained in Dakar and Paris
Family: Married to Marieme Faye with three kids – two sons and a daughter
Terms in office: 2012 – 2019 (First term) 2019 – 2024 (Final term)
Which African leaders are in town?
Muhammadu Buhari, Nigeria
Sahle Work Zewde, Ethiopia
Paul Kagame, Rwanda
Andriy Rajoelina, Madagascar
Roch March Kabore, Burkina Faso
Adama Barrow, The Gambia
Alassane Ouattara, Ivory Coast
George Weah, Liberia
Denis Sassou Nguesso, Congo
Ibrahim Boubakar Keita, Mali
Mahamadou Issoufou, Niger
Alpha Conde, Guinea
Mohammed Ould Abdul Aziz, Mauritania
Felix Tshisekedi, DR Congo
Faure Gnassingbe, Togo
Julius Maada Bio, Sierra Leone
Jose Mario Vaz, Guinea Bissau
Jorge Carlos Fonseca, Cape Verde
Julien Nkoghe Bekale, Gabon Prime Minister
Arrivée à Dakar ce dimanche du Président du #BurkinaFaso rochkaborepf et du Président de #Madagascar SE_Rajoelina. Ils viennent rehausser de leur présence la cérémonie d'investiture du Président Macky_Sall prévue ce mardi 2 avril 2019 à Diamniadio. pic.twitter.com/Ij0mK36L0x

— Présidence Sénégal (PR_Senegal) March 31, 2019
Diamniadio – the futuristic city where the inauguration is taking place
Back in 2012, the then president-elect Macky Sall took his oath of office in Dakar, the capital city but he is doing so today in the town of Diamniado.
It is a futuristic city which was planned by the president to help take the pressure off the historic capital. It is planned in the long run to revitalize the Senegalese economy.
1 – The new city is located about 30km from Dakar. It is however located in the Dakar region.
2 – The city has a Lake City as part of its suburbs and is close to the Blaise Niagne international airport which is set to become the biggest in the country.
3 – The airport was officially opened in December 2017.
4 – Still under construction, the new city will be connected to Dakar through a 32 km express highway, which will slash the travel time from 90 minutes to half an hour on average.
5 – Diamniadio is also expected to be connected to Dakar by a new railway line, which by 2020 will be part of the link between Dakar and Blaise Diagne International Airport.
6 – The governments expects a population of about 200,000 when it becomes fully functional.
7 – The airport is named after the first African to be elected a lawmaker in France, as far back as 1914.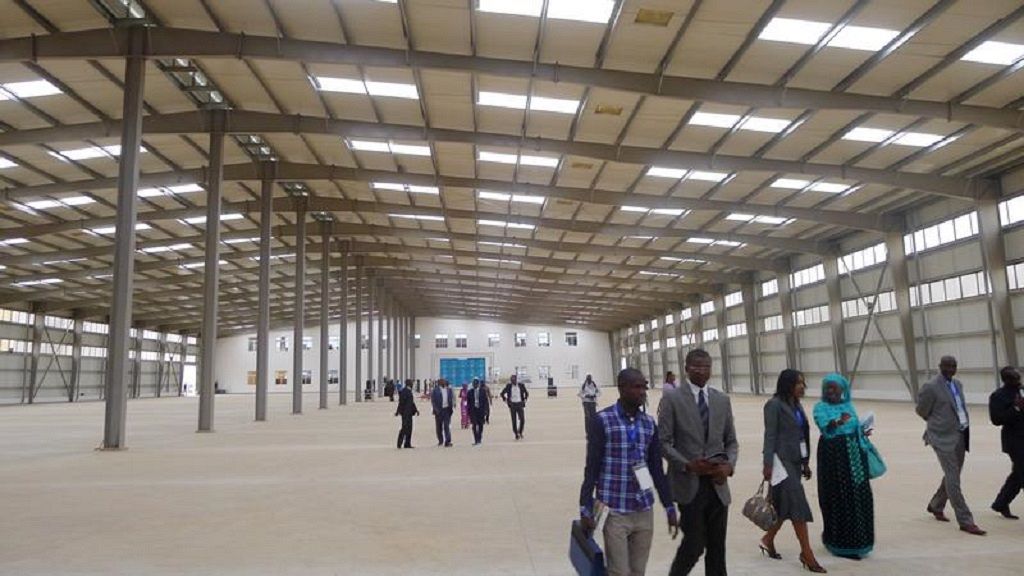 Visitors and business people tour a factory building on a U.N. organised trip to Senegal's new Diamniadio industrial park in Senegal November 15, 2016.*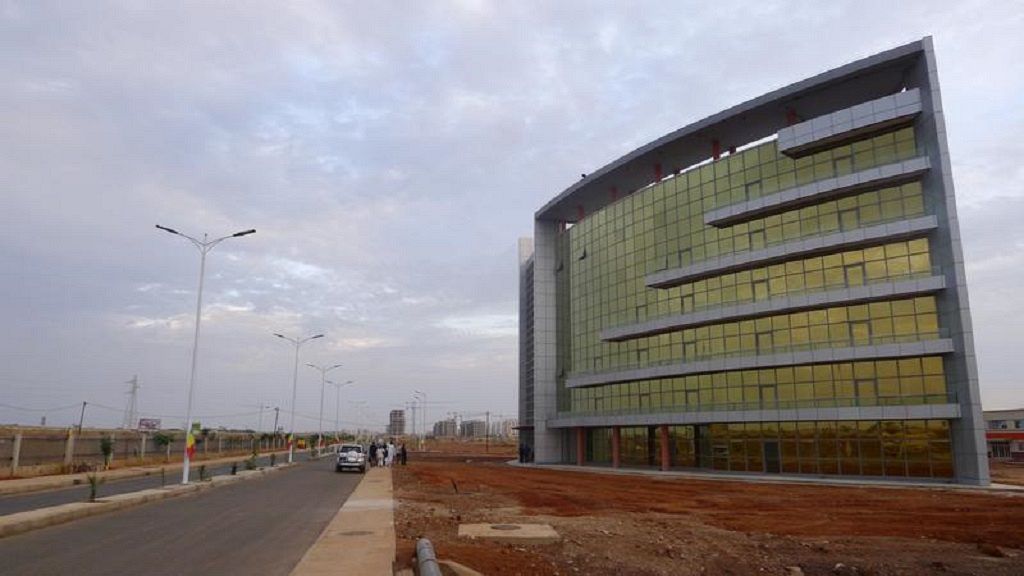 An administrative building at Senegal's new Diamniadio industrial park in Senegal November 15, 2016.
A look at Senegal's 11th straight presidential vote since independence
Arrival of African leaders (Commentary in French and local language)
Electoral structure of Senegal's February 2019 presidential polls