The former United Nations Secretary-General, Kofi Atta Annan has been laid to rest today (September 13) in his native Ghana, after a state funeral that will be attended by people from all walks of life including leaders from all over the world.
Annan, a Ghanaian national and Noble peace prize laureate, died in a Swiss hospital last month at the age of 80. He was surrounded in his last days by his second wife Nane and children Ama, Kojo and Nina.
The family of Kofi Annan have shared emotional and powerful tributes, describing him as a 'special father' and an 'extraordinary human being'.
Opera singer Barbara Hendricks, a UN refugee council goodwill ambassador who sang at Annan's Nobel ceremony, performed the civil rights anthem "Oh, Freedom" at the funeral of Christian prayers and song.
Among the global leaders who arrived in the Ghana capital, Accra, for the memorial ceremony and subsequent burial at a military cemetery were:
Ethiopian president Mulatu Teshome
Ivorian president Alassane Ouattara
Liberian president George Manneh Weah
Namibian president Hage Geingob
Zimbabwean president Emmerson Mnangagwa
Angolan vice-president
Nigerien Prime Minister
Ex-presidents of Germany and Mauritius
The UN Secretary-General Antonio Guterres
African Union chief Moussa Faki Mahamat
Royalty included Princess Beatrix, the former queen of the Netherlands, and her daughter-in-law Princess Mabel, who were close friends.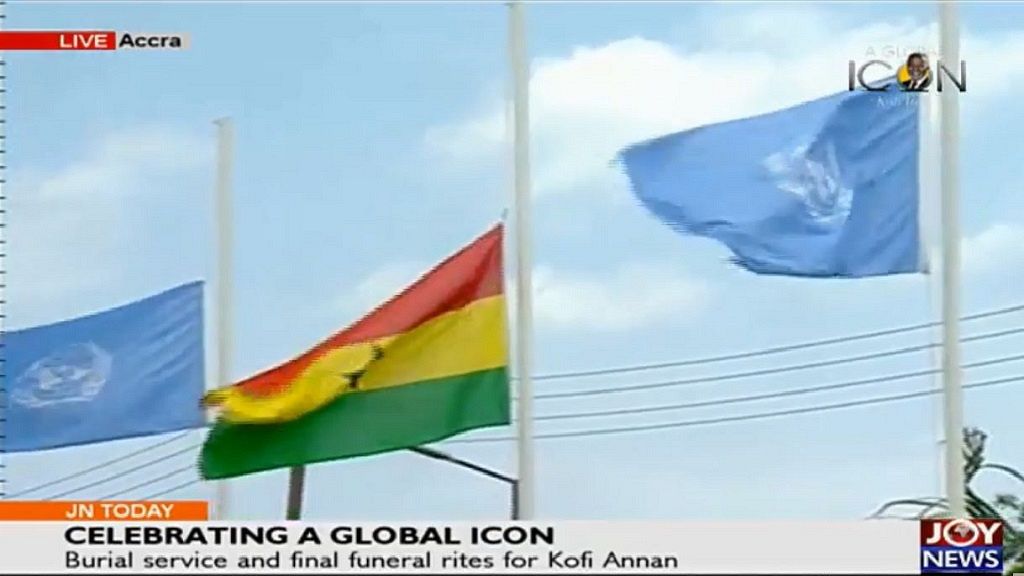 Highlights of the burial which took place at a military cemetery located in Burma Camp had a religious part of it that included a series of prayers from the clergy.
After his casket was lowered into the ground, his wife and president of Ghana cast the first pieces of earth. A full military firing of gunshots followed after which a wreath laying ceremony followed.
President Akufo-Addo on behalf of the Government of Ghana
Antonio Guterres on behalf of the United Nations
Ambassador Kobina Annan on behalf of the family
Nane Annan, the widow
Children Ama, Kojo and Nina.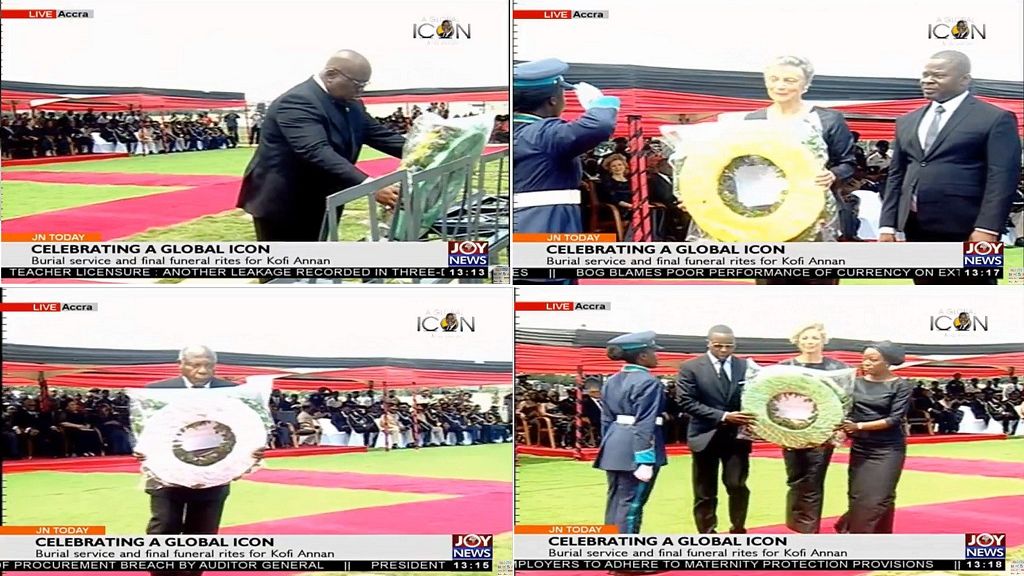 Kofi Annan's final message to the United Nations – December 6, 2018
My father always made you feel welcome. He may not have been the coolest father but I felt my father always walked on water – Ama Annan (Tribute by Kofi Annan's children) #KofiAnnan
— Citi TV (@CitiTVGH)
September 13, 2018
Three days of national mourning
The remains of Kofi Annan were received by the Ghanaian government led by president Nana Akufo-Addo on Monday, and a three-day national mourning started on Tuesday.
The casket of Ghana's illustrious son, who served as the United Nations top diplomat for a decade, was laid in state at the Accra International Conference Center (AICC), for two days, where members of the public and dignitaries paid their last respects.
Wednesday's session was dominated by customary rites for Annan, a dignitary of Ashanti lineage who was granted a royal title by the Ashanti king in 2002. The elders said the rites were necessary to clear the path for a peaceful "travel" for their royal.
"Custom demands that we see him off with the necessary clothing and water for his journey to the other world," one of the chiefs from the Akwamu traditional area told Reuters.
Representatives from Kofi Annan's home state of Akwamu perform funeral rites pic.twitter.com/lahV1hUEjU

— Mayeni Jones (@MayeniJones) September 12, 2018