Current Prime Minister of Ethiopia Abiy Ahmed in offering to make peace with neighbouring Eritrea had done what his predecessors, the late Meles Zenawi and Hailemariam Desalegn had done before.
Going on to actualize the offer was the extra leg that Abiy Ahmed had taken and which till date has won him significant praise at home, within the Horn of Africa region and across the world.
An Ethiopian journalist, Samson Berhane, who found his long lost father in Eritrean capital Asmara after the peace deal was signed said to him Abiy's first peace offer (April 2, 2018) was nothing different from that of Meles and Desalegn.
"I never believed that peace will prevail between the two countries. The long serving late Prime Minister Meles Zenawi and former Premier Hailemariam Desalegn pledged to normalize the relation between the two countries, but no to avail.
"Even when Abiy Ahmed, while swearing-in before the parliament, promised to normalize the relation between the two nations, I thought it is nothing but rhetoric," Samson told Africanews in an interview.
He tells us when he felt the deal was true: "If there is a day I felt optimist about the peace, it was when the telephone service between the two countries resumed i.e. July 10," he said.
Addis Ababa's past rhetoric of normalization
Records indicate that Zenawi and Desalegn had both at different times offered to make peace in a largely diplomatic and security spat that led to a deadly war and a 'no peace – no war' standoff over a border ruling of 1998.
Credence to this fact was in the official Eritrean response in April 2018 when Abiy in his inaugural address said he wanted Eritrea to meet Ethiopia halfway in normalizing relations.
Abiy said: "With the government of Eritrea, we want from the bottom of our hearts that the disagreement that has reigned for several years to come to an end. We would also discharge our responsibility. While expressing our readiness to resolve our differences through dialogue.
"I take this opportunity to call on the Eritrean government to take a similar stand not only for the sake of our common interest but also for the common blood relations between the two peoples of the two countries."
Eritrean Information Minister, Yemane Meskel told Bloomberg that the ball remained in Ethiopia's court. "The ball has stayed for too long in Ethiopia's court.
"There is no dispute as the litigation process ended 16 years ago. Ethiopia needs to honour its treaty obligations and respect Eritrea's sovereignty and territorial integrity by withdrawing from occupied territories – including Badme," Meskel replied to Abiy in April 2018.
A lot has happened since Abiy and Afwerki signed the peace deal in Asmara on July 9, 2018. From restoration of phone lines and resumption of flights, naming of ambassadors and reopening embassies etc.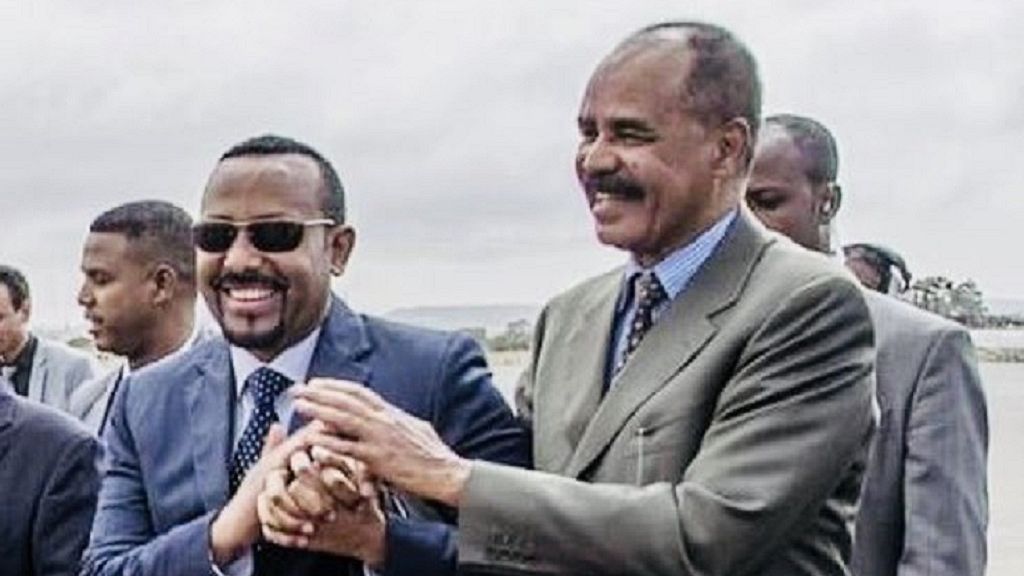 Border demilitarization hit by fake news
Political and security watchers hold that the last leg of the process could be a demilitarization of the borders and Ethiopia officially vacating the main town at the heart of the crisis – Badme.
That process has been hit by two fake news reports after an Eritrean outlet reportedly said the country had begun pulling out its troops from the front lines, another outlet reported Ethiopia troop movement from a key town. Addis Ababa dismissed the second report and the first was proven to be without basis.
The wait is on to see whether Abiy will eventually fly to Badme and meet Afwerki for what should be a befitting end to a war that cruelly and forcibly divided two people who until the war shared so much in common, yet had to live so close yet very far from each other from decades till July 2018.