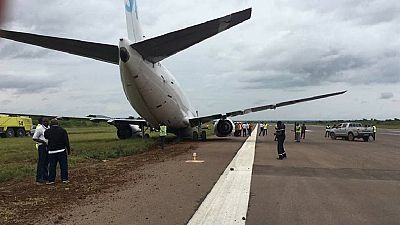 A cargo plane missed its runway in Lubumbashi on Sunday afternoon. The Boeing 747 owned by Servair Company was damaged to a lesser extent and the pilot and crew came out unharmed.
According to eyewitness accounts, the front landing gear got broken.
On the causes of the accident, witnesses interviewed by Africanews pointed out that it was probably due to technical failures of the aircraft although results of an inquiry from the airline company are still awaited.
According to various sources, control mechanisms which help in slowing down the speed of the aircraft while it lands might not have been working well.
The pilot reportedly left the track to avoid finishing the race in the bush.