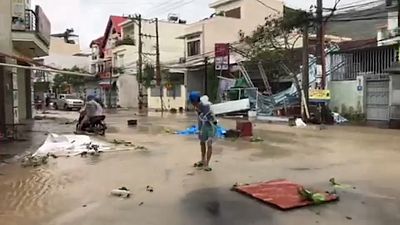 Typhoon Damrey is reported to have killed at least five people in central and southern Vietnam after sweeping into the country in the early hours of Saturday morning.
Winds gusted at up to 90 kilometres an hour, tearing off more than a thousand roofs, knocking down electricity poles and uprooting trees.
Six ships with 61 people on board have capsized in the South China Sea and 25 people have been rescued. But the government hasn't given any further details about the others.
The typhoon comes just days ahead of the APEC summit of Asia-Pacific leaders which is due to take place in Da Nang – one of the worst hit areas.