19.6 million Kenyans are voting for a president and the 350 members of parliament on August 8, 2017.
Among the requirements to be a candidate includes having a post-secondary school qualification and having no conviction of an election offence during the preceding five years.
The main presidential contenders are incumbent President Uhuru Kenyatta and former Prime Minister Raila Odinga.
They are going head-to-head in the elections together with six other candidates including Mohamed Abduba Dida, John Ekuru Longoggy Aukot, Shakhalaga Khwa Jirongo, Japhet Kavinga Kaluyu, Michael Wainaina Mwaura, and Joseph William Nthiga Nyagah.
These candidates are leading parliamentary aspirants who are contesting under political parties including the Jubilee Party, National Super Alliance (NASA) coalition, Alliance for Real Change (ARK), Thirdway Alliance Kenya (TAK) party, and the United Democratic Party.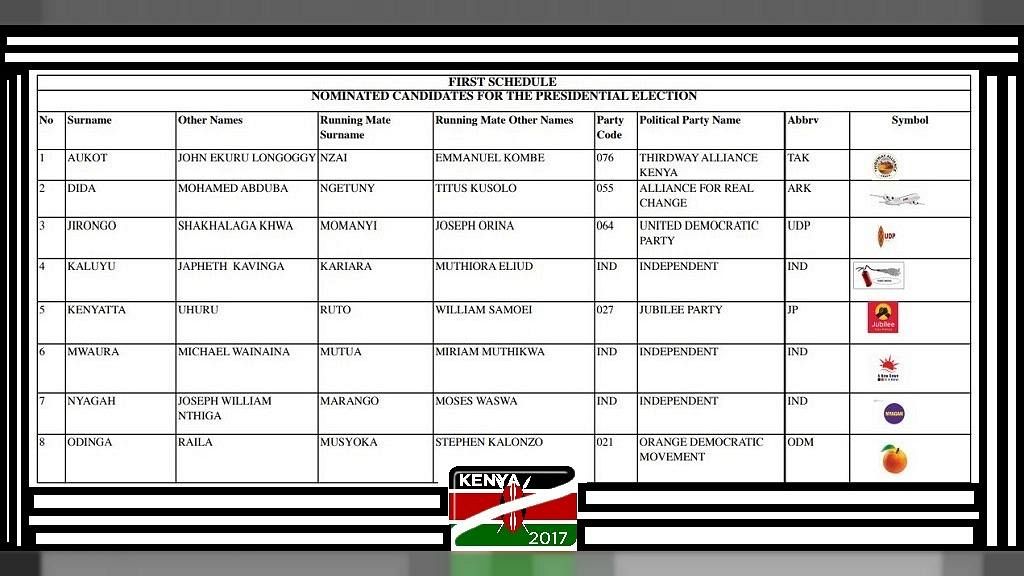 Presidential election system
The East African country practices the two-round voting system for the presidential election.
The winner is required to gain over 50% of the votes and at least 25% of the votes cast in each of more than half of the 47 counties to avoid a second round.
If no candidate wins more than 50% of the votes, the second round shall be held within 30 days after the August 8 election.
Per the constitution, only two candidates will stand for the runoff – the candidate with the most votes and the one with the second most votes.
The candidate with the most votes after the runoff will be declared president.
Parliamentary election system
Kenya's parliament is bicameral with a National Assembly and a Senate. Out of the 350 members of parliament, 337 are directly elected and 13 are nominated.
The candidate who gets the majority of votes automatically wins the seat.
There are 290 constituencies in the country and each elects a representative. Also, 47 women representatives are elective from each county.
The remaining 13 seats include the speaker of the National Assembly and 12 seats nominated by political parties based on their seat numbers.
The Senate consists of 68 seats with 47 elected and 21 appointed – 16 women based on party seat numbers, 2 representing disabled groups, 2 representing male and female youth and a speaker.
Diaspora votes
Kenya's constitution mandates the registration of all eligible Kenyans in the diaspora to vote.
But the electoral commission has restricted the exercise to the five countries in East and South Africa due to logistical constraints.
The countries that will join in the process include Burundi, Tanzania, Rwanda, Uganda and South Africa.
Over 1,000 Kenyan voters in these countries are expected to vote on August 8 at their respective embassies and high commissions.
A team from the Independent Electoral and Boundaries Commission (IEBC) conduct the election in these countries.
Click here for all the election news on our Africa Elections page