When a news outfit operating in a tense political terrain like Ethiopia puts out an advertisement one would think it is a state-owned portal. But the subject of this piece is not.
More surprising is when the same media outfit has rolled up its more profitable print wing after five years meandering the taut landscape.
Privately-owned Addis Standard (AS) – refused to leave the media landscape where it has and continues to set 'the standard' – as their name suggests.
In October 2016, they announced that they were suspending hard copy production of their magazine but were pushing on with the online wing. Months on, they put up a new phase and put out recruitment notices.
Team AS is happy to announce our upcoming new project, AS-Snap, a short video segment focusing on stories making headlines. Like & share! pic.twitter.com/KOAsvkDvIR

— Addis Standard (@addisstandard) June 13, 2017
In a country so politically charged and where journalists are heckled even for their comments on Facebook, it is undoubtedly a slippery field but one that the staff at Addis Standard continue to navigate day in and out.
No one media can cover all news items but where state-owned media – in this case FANA Broadcasting corporate, EBC and ENA – report or do not, Addis Standard comes in to put balance on board and to dare report what ordinarily will be left to slide for expedient reasons.
From their presence at courts to cover terrorism cases of politicians and journalists alike, exposing issues of rights abuses, religious persecution and government cover up in some instances, the portal even in its post-print era commands respect as an independent outfit serving the masses.
It's last print edition bordered on the Irreecha festival chaos, the aftermath of which was the imposition of a six-month state of emergency renewed upon expiry this year for three more months.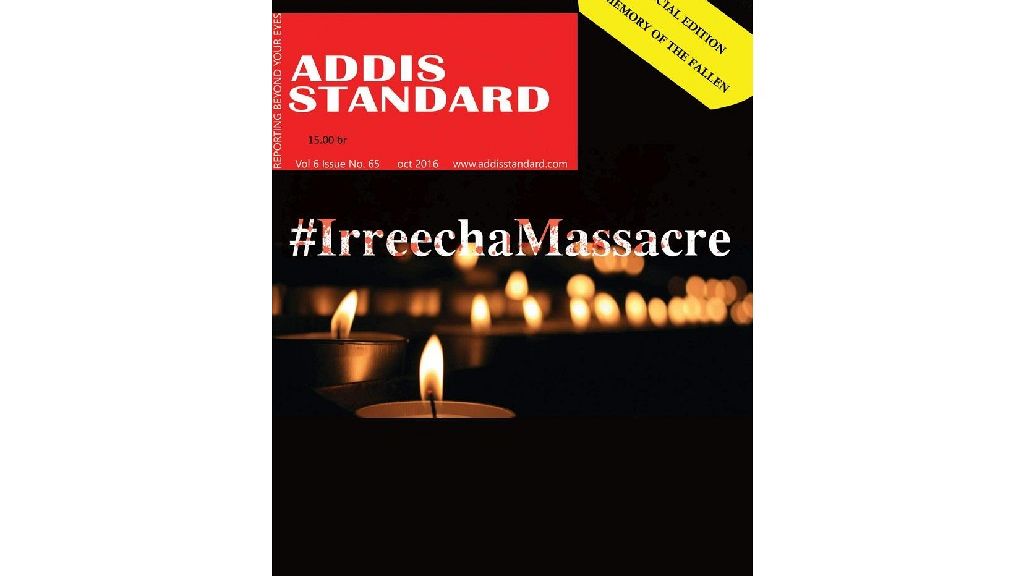 Cover photo of the last print edition of the magazine
"Unfortunately, Addis Standard has become the first causality of Ethiopia's sweeping State of Emergency as printing presses were unable to publish its print edition for fear of falling into the trap," AS's head told Africanews in an exclusive interview.
Addis Standard have become a reference point relative to news on the country, they have been cited severally by the BBC, other global news outlets including Africanews. Clearly, for its editor-in-chief, Tsedale Lemma, and her team, the fight to report 'the news,' rolls on.
The credibility which Lemma sees as AS's biggest asset was abound when they announced print publication was to end. The BBC, Associated Press, Foreign Affairs Magazine, Reuters, AFP, Newsweek and others gave coverage to that news at the time.
Soldiering on with news coverage – online
Management of Addis Standard after announcing the indefinite termination of its print edition said it has migrated fully into the online platform at www.addisstandard.com, and through it's social media accounts. On Twitter, @addisstandard, and on facebook, Addis Standard
The recent switch is to the use of photos and short videos to tell top news stories rolling in Ethiopia and in the Horn of Africa region. Incidentally, the narrative about Ethiopia internet is not the best.
"The unfortunate closure of the print edition means Addis Standard has now a fully migrated its contents to its online platform with more vigor and determination.
"Currently, our readership has galvanized around its online platform reaching about a million clicks per month. Addis Standard online remains the undeterred critical independent voice from within Ethiopia," she told Africanews.
How some global media outfits reacted to on the termination of AS print edition
AP Big story: Ethiopia's best-selling magazine says it is terminating its print edition
Foreign Affairs Magazine: Addis Standard, a well-respected, privately-funded magazine, has announced that it will cease production of its print edition
Reuters: An Ethiopian English-language magazine which has been critical of the government has ceased publishing its print edition
BBC: Ethiopia's leading English-language magazine the Addis Standard has suspended its print version
Newsweek: One of Ethiopia's few independent magazines has suspended its print edition
AFP: The independent monthly Addis Standard magazine said it would stop its print edition
The Economist: an established local mag, the Addis Standard, announced it was suspending print operations, citing censorship
AfricaNews : One of Ethiopia's most influential magazines, the Addis Standard, announced the termination of its print version
A full version of our exclusive interview with Addis Standard's editor-in-chief, Tsedale Lemma, will be published subsequently.
Shaban Abdur Rahman Alfa
Africanews Digital journalist
Republic of Congo, Pointe-Noire
alfa.shaban@africanews.com