President Adama Barrow of the Gambia led a high powered government delegation to the just ended Arab Islamic American Summit held in the Saudi capital, Riyadh.
A picture making the rounds on social media is questioning has got Gambians asking whether the president was sleeping just at the time that his U.S. counterpart Donald Trump was delivering his address at the Summit.
The picture shows Barrow with his eyes closed and in a reclining posture. Seated right behind him with eyes open was Foreign Minister, Ousmanu Darboe.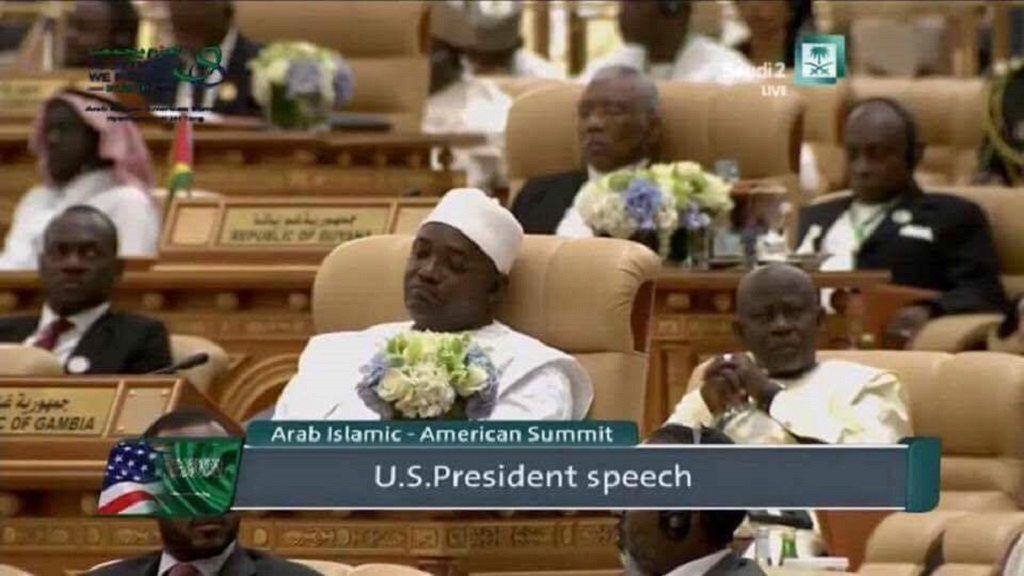 The most recent denial of a president sleeping in public is of Zimbabwe's Robert Mugabe, whose spokesman is on record to have said the 93-year-old leader only closes his eyes in public because on an eye defect.
It is yet to be known why President Barrow had his eyes closed at the summit, could it have been a case of meditating, a doze off or actually that he was sleeping.
Beyond the subject of Barrow's closed eyes, he was seen engaging his peers at the summit. Barrow beat Jammeh in polls last year to become the country's third president.
Despite being colonized by the British, the Muslim-dominated country belongs in a number of Islamic groups including the Organization of Islamic Countries (OIC).
Leaders of Gabon, Chad, Niger, Somalia, Senegal and Egypt were among the African representation in Riyadh.
At the #RiyadhSummit we will discuss global security issues as well as network on investment opportunities and cultural exchanges. #Gambia pic.twitter.com/PdMgz2AYFi

— Adama Barrow (@adama_barrow) May 20, 2017
It was a great pleasure to represent the People of Gambia at this wonderful event. My special thanks to His Majesty KingSalman. #Gambia pic.twitter.com/JMgZbqZKSD

— Adama Barrow (adama_barrow) May 21, 2017
The Republic of The Gambia will work very closely with its partners to combat the spread of extremist ideology. #Gambia #RiyadhSummit pic.twitter.com/AWf7RgzZz8

— Adama Barrow (@adama_barrow) May 21, 2017