"No lady is allowed to put on pairs of trousers to work except during sporting activities. They can however, put on suit."
This directive was contained in an internal memorandum from the Ghana Education Service in the Hohoe Municipality of the Volta Region last week reminding both male and female teachers of its dress code.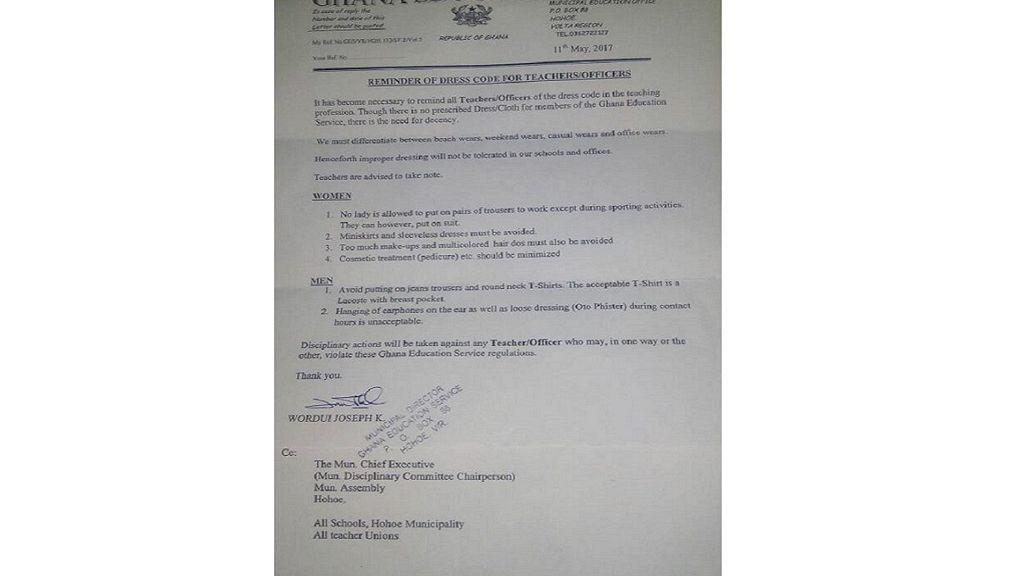 The memo, published by local media, advised female teachers to avoid "miniskirts and sleeveless dresses", "too much make-ups and multicoloured hair dos", and to minimize "cosmetic treatment (pedicure)".
Henceforth, improper dressing will not be tolerated in our schools and offices.
For men, they are to avoid "jeans trousers and round neck T-shirts" and "hanging of earphones on the ear as well as loose dressing".
The memo warned that disciplinary action will be taken against any teacher in violation of the dress code and "henceforth, improper dressing will not be tolerated in our schools and offices."
This reminder was welcomed by many Ghanaians on social media.
"These rules are not new! I have been a teacher for 11 years Now! The rules are there already just that teachers don't observe them! Let's pray that they will be observed this time around!," said a Facebook user in a comment on a public post on the directive.
"I hope they will start giving them dress allowance. Because u can tell me what to wear when u are not providing for my dress," another user added.
Several countries and institutions had banned trousers for women centuries ago. Many have lifted the ban while some maintain them.
France lifted the 200-year-old ban on women wearing trousers in 2013. It was a law since November 17, 1800 until it was repealed because it was "incompatible with modern French values and laws".
The British Airways also lifted its ban on female cabin crew from wearing trousers in February 2016.
Malawi also lifted a 1965 ban on women wearing trousers in 1994.
Turkey lifted its ban on women lawmakers wearing trousers in the assembly in 2013 likewise the United States Senate that lifted the ban on women wearing trousers on the floor in 1993.
Sudan has, however, arrested women wearing trousers under its Article 152 of the 1991 Penal Code.