First Lady of the United States, Melania Trump, has arrived on the first of her four-leg trip to Africa. Mrs. Trump's plane touched down at Ghana's Kotoka International Airport, KIA, on Monday morning.
Melania was received by a government delegation amid cultural display of singing and dancing. She is in Ghana to advance the cause of her "BE BEST" campaign targeted at empowering children.
BE BEST, was launched with "the goal of combating some of the issues that children face today by shining a spotlight on successful programs and organizations that teach children the tools and skills needed for emotional, social and physical well-being," Melania said last week.
It is her first international trip without her husband Donald Trump who has yet to visit the continent almost two years into his mandate. She will head to Kenya, Malawi and wrap up the visit in Egypt.
.FLOTUS Melania Trump is greeted with music and dance in Ghana. pic.twitter.com/WWoT16p942

— Jeff Mason (jeffmason1) October 2, 2018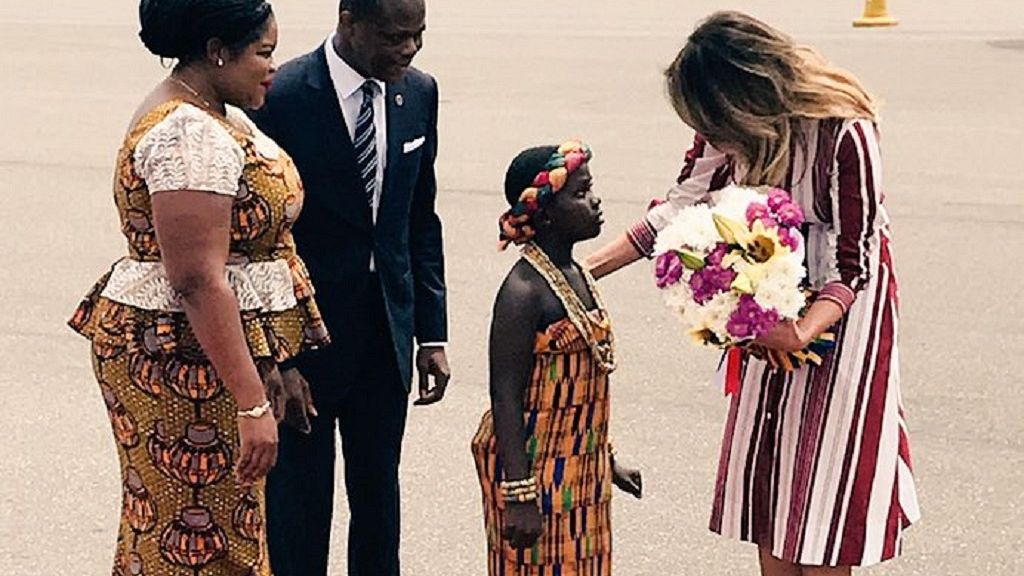 What Melania said about Ghana
I'd like to take a moment and thank the First Lady of Ghana for being with us today. Mrs. Akufo-Addo, I look forward to visiting your country and know we will find ways to continue working together even after my visit.
In Ghana, USAID's programs have focused on healthcare by supporting efforts to expand the coverage and quality of healthcare for mothers and newborns, and educating women and young children about the importance of proper nutrition.