At least seventeen people have died in South Sudan on Sunday when a small aircraft carrying passengers from the main airport, Juba International Airport, heading to the city of Yirol crashed, the Associated Press news portal has reported.
"We are still removing bodies from the water because the aircraft fell into a river. So far, in front of me there are six bodies recovered from the water," an eyewitness told Reuters, adding that the plane was believed to be carrying about 19 passengers.
The United Nations-backed Radio Miraya said among the victims were the Bishop of Yirol and an Italian doctor. The station shared a photo of the remains of the plane with locals rescuing what was left of its debris.
The city of Yirol is located in the eastern lakes state in central South Sudan. Aviation Safety Net, an airline monitoring agency wrote on Twitter that the aircraft was a Let L-410. The ill-fated aircraft was operated by Baby Airlines.
On the casualty figures, Radio Miraya quoted Eastern Lakes minister as confirming the death of 19 passengers with two survivors – the pilot and a young child.
A doctor, however, confirmed to the channel that the there were eighteen deaths and three survivors who have all been sent to the Yirol hospital.
Photo credit: @RadioMiraya)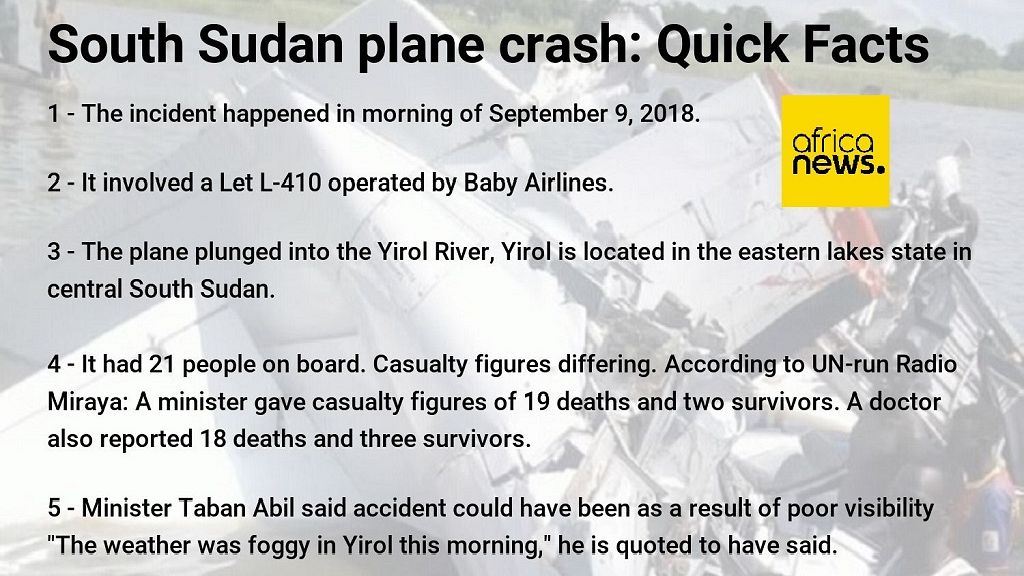 The aircraft was carrying passengers from #Juba International airport to Yirol town located in Eastern Lakes state of #SouthSudan pic.twitter.com/HmoyrpsxKZ

— Radio Miraya (@RadioMiraya) September 9, 2018