With less than 24-hours to crucial elections in Zimbabwe, the deposed president Robert Mugabe has called a press conference at his private residence in the capital, Harare.
The AFP news agency said the event slated for Blue Roof – Mugabe's residence – had been confirmed by his spokesperson.
It comes in the wake of a reports carried by most news portals that the former leader was 'working' with the main opposition candidate, Nelson Chamisa.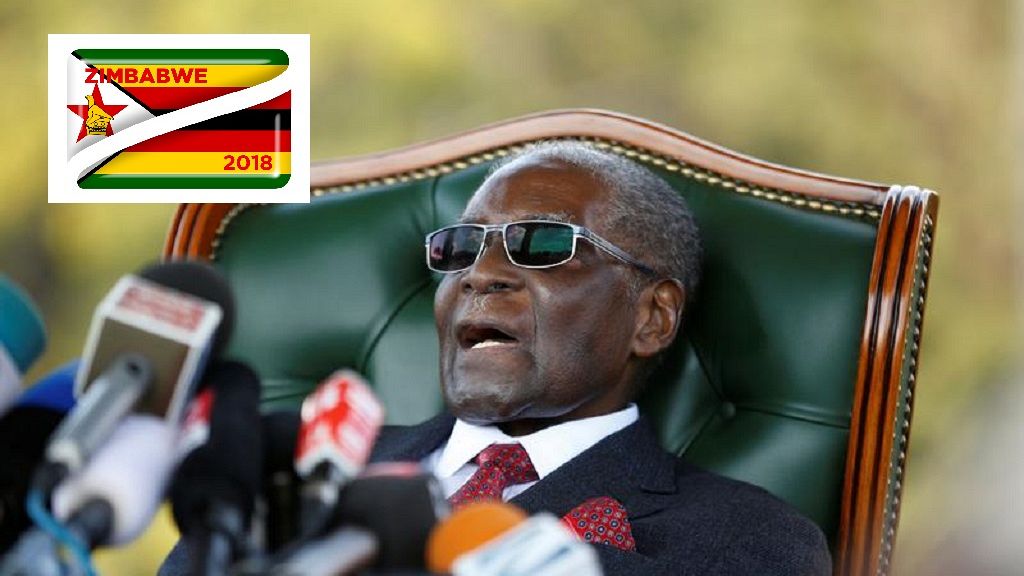 Main points so far:
26. Views on hardworking but "untruthful" Mnangagwa
Emmerson Mnangagwa is a good worker, but not always telling the truth. In some cases I didn't believe what he told me. In 1980 after the people's vote, before the results were announced, he came to me and told me I was under threat and suggested I should leave Zimbabwe – Mugabe

— Nomsa Maseko (@nomsa_maseko) July 29, 2018
25. Mugabe says he is equally worried about the disappearance of an activist Itai Dzamara during his regime. Says he would be happy if anyone has information leading to finding him.
24. Talk of the elections body not been an independent referee is political talk. He says "I don't believe the electoral commission can be captured by anyone – it acts quite freely."
23. Speaks about the painful reality of having to go to the vote for the first time without his name on the ballot paper. Says that is the reality.
22. Says the two women candidates – Mujuru and Khupe – do not offer too much, but there is Chamisa on the ballot paper.
Mugabe: "I said I can't vote a party or those in power who are the people that have brought me to this state. I can't vote for them. I have said the 2 women presidential candidates don't offer very much. So what is there? It's just Chamisa."
21. Mugabe defends his figures on diamond revenue. Says he wanted to ensure Zimbabwe benefits from minerals as was the case in South Africa and Botswana.
20. Slams the daily denunciation of his wife Grace Mugabe, worries especially how the daily-run Herald continues to attack Grace. "Leave Grace alone, I want Grace to be my Grace," he says.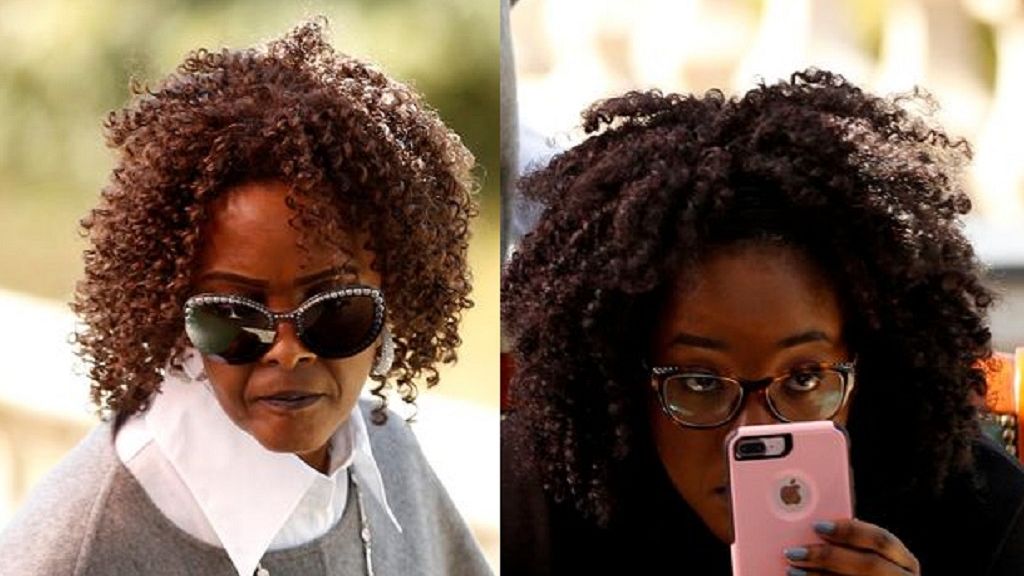 Zimbabwe's former former first lady, Grace Mugabe, and Mugabe's daughter Bona during a press conference at his private residence nicknamed "Blue Roof" in Harare.
19. Won't commit to voting for candidates without a chance of winning the elections. Says he did not sack former veep Joice Mujuru, but that it was Zanu-PF internal processes that kicked her out.
18. Flatly disputes talk of having used the army to stay in power. Says he once lost an election but Tsvangirai did not have enough votes to win a first round, hence the government of national unity.
17. The Chamisa issue: Mugabe dispels rumours that he is backing the main opposition candidate, says he wishes to meet him, if Chamisa wins.
16. He adds that Zimbabwe's neighbours had been fooled into thinking that the events of November 2017 was not a coup d'etat. "It was a thorough coup d'etat." Talks of tanks rolling into town and asks; "If it was not a coup d'etat, who is attacking who?"
15. Thanks government for facilitating his health check-ups to Singapore, for that he says they deserve plaudits. Hopes that tomorrow goes well. Thanks the press for honouring his invitation.
14. Mugabe says he had to go to the pensions office to inquire what he was due, says he was due over $460,000 – laughing off reports he was handed $10 million.
Those in power went mum, they just refused to give me money for the two houses, they just refused. He talks about being cash-strapped and having just enough to pay workers.
13. Politics directs the gun, but in current Zimbabwe, it is the guns that is directing politics. There should be a big no to guns directing politics. let tomorrow decide the voice of the people.
12. July 30 "elections is the greatest event that should happen, it will lead to reforms and return us to constitutionality. We must have a democratic constitution, we must have a democratic constitution."
11. Mugabe calls on Zimbabweans to go out and to vote, he says he hopes they will vote freely and the that the results will be recognized.
10. He wonders why people ask who is his choice but will not rather ask who is not his choice. He says he cannot choose a person that "tormented" him (Mnangagwa) but he will make up his mind over the other 22.
9. Mugabe mentions that he has worked with a number of the candidates – mentioned Joice Mujuru, mentioned Thokozani Khupe and main opposition candidate, Nelson Chamisa. Adds that Chamisa seems to be doing well.
8. The former leader stresses the point that he resigned strictly to avoid bloodshed in the country he led to independence.
7. "What have we become in this country, have we become savages, terrorists to ourselves," he bemoans. "We are enemies of ourselves, fighting ourselves," he adds.
6. "If the coup was to protect me, how come that I am treated now as an opponent, an opponent of those in government?" Mugabe asks.
5. Persons are not allowed to visit, if anyone is allowed through the gates, he is asked afterwards, "What did he say?"
4. Mugabe said he had a successor in mind and that talk of trying to handover to grace is "utter nonsense."
3. He says he had been kicked out of Zanu-PF, a party that he founded.
2. Mugabe stressed that his choice of successor was Dr. Sydney Tigere Sekeramayi who who served in the government of Zimbabwe as Minister of Defence between 2013 and 2017.
1. Revisits the issue of political witch-hunts and harassments against most former allies – some of whom are currently living outside the country.
#zimbabwedecides2018 Robert Mugabe best angle I can get for now. Former president has started speaking pic.twitter.com/fHPm8Ve08v

— harumutasa/aljazeera (@harumutasa) July 29, 2018