Ethiopia's federal police chief has confirmed that the project manager of the country's flagship dam was shot dead. News of the death has sent shock and sadness across the country.
"We have confirmed that engineer Simegnew Bekele was shot dead," Head of the Federal Police Commission Zeinu Jemal told reporters.
The police chief added that the authorities were gathering all material evidence and conducting forensic investigations. The bullet wound was discovered behind one of Simegnew's ears.
Reports indicate that CCTV cameras around Meskel square were dismantled long ago as a result of road construction.
Simegnew's lifeless body was found in his car parked at Addis Ababa's Meskel Square. His body was subsequently transported to a hospital for autopsy.
He was head of the team constructing the Grand Ethiopia Renaissance Dam (GERD). The project is set to become Africa's largest hydro dam with a capacity of 6,450 MW when completed.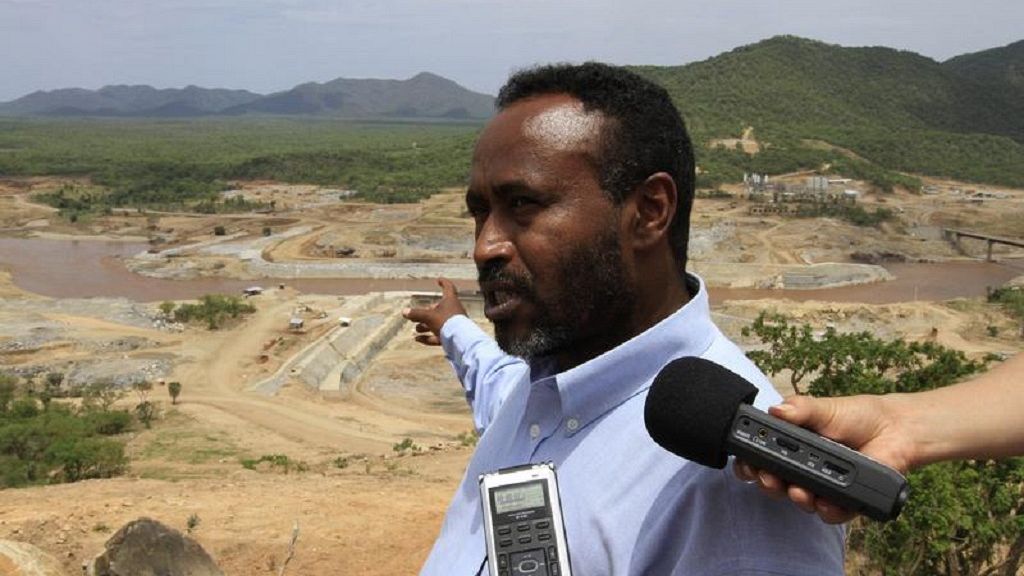 In its condolence message, The Ministry of Foreign Affairs of Ethiopia said: "The Ministry of Foreign Affairs has learnt with deep sorrow about the death, on July 26th, 2018, of the Project Manager of the Grand Ethiopian Renaissance Dam, Engineer Simegnew Bekele, and sends heartfelt condolences to the family."
Social media reactions continue
Simegnew Bekele's professional integrity remained intact above & beyond the trans-boundary political bickering that engulfed GERD since it was launched. He believed in it when many of us struggled. Most importantly, he was a father, a husband, a son & a brother! R.I.P the giant!

— Tsedale Lemma (@tselemma) July 26, 2018
It's really sad and shocking that Simegnaw Bekele has passed this soon, suddenly, and at this critical juncture.

Rest in power, Sir!

— Zelalem Kibret (@zelalemkibret) July 26, 2018
RIP Engineer #Simegnew_Bekele, Manager the #GERD dam. Before 3 years, as you may see in the photo explaining to me the nitty-gritty of the saddle dam at the project site pic.twitter.com/oRgL8GHyes

— Aynalem Aregawi (@AynalemA) July 26, 2018
Condolences to the family and friends of Simegnew Bekele, Engineer and project manager of the Grand Ethiopian Renaissance Dam (GERD). He proudly served his country on one of the largest infrastructure projects in African history, he will surely be missed. R.I.P. https://t.co/cqcccpaGKI

— Positively Ethiopian (@PositivelyEthio) July 26, 2018
Gone too soon! You didn't deserve this. RIP Simegnew Bekele. pic.twitter.com/YMpWBqVJwR

— Michael C. Mammo (@Jirra100) July 26, 2018
#Ethiopia was united with the idea of #GERD and the person who is behind this iconic project – The country has lost its hero, and in shock and disbelief. RIP #SimegnewBekele. Stop instigating – #speculation, #conspiracy, #blame, and respect Eng. Simegnew Bekele soul – #Respect pic.twitter.com/dW8qNpWEys

— Ethiopianbystander (@ethiobystander) July 26, 2018
What a shame, what a loss for the country! Rest in heaven sir! If this is an assassination, we must find and take serious measure or such killing will continue.

— Jawar Mohammed (@Jawar_Mohammed) July 26, 2018
A public demonstration is going on around Ambassador. They are chanting "Eng. Simegnewu's blood will not be forgotten without justice,… let #Ethiopia be free." pic.twitter.com/142Nym2RVt

— BefeQadu Z. Hailu (@befeqe) July 26, 2018