Gambian voters will go to the polls in April and May this year to elect local level officials. The Councilors and Mayoral vote will be held for two main municipalities, Kanifing and the capital Banjul
It turns out that it will be the last time the West African country employs its unique voting method of using marbles. The Elections Commission chief, Alieu Momar Njai, said Gambia will switch to the use of ballot papers as per international standards, after the polls.
He was quoted by a news website, The Fatu Network, as saying aside towing international practice, cost wise, the ballot papers were better than the marbles. This is the second time he has spoken about the move.
In April 2017, Njai described the marble system as a huge logistical nightmare but said it will be kicked out in due course, it was subsequently used in legislative polls.
"Elections come and go but Gambia remains. There are rules governing the campaign and all aspiring candidates have the rules," Momar Njai said.
An estimated 900,000 voters are expected to cast their ballots at 1422 polling stations across the country. Gambia adopted the unique system in the 1960s as a solution to eliminate spoilt ballots and allow for easy participation of illiterates in the electoral process.
The Glass Marble Voting System
Voters are each handed a glass marble by election officers after verification of their identity, the voter retreats into an enclosed space where they are faced with the drums with photos of the candidates embossed on them.
Once they choose their candidate they slip the token into a small hole top of the barrel. Polling officials will listen carefully for the clang of a bicycle bell which is attached to the end of a tube inside the drum, preventing people from voting more than once.
Sawdust or sand is sprinkled on the bottom of the barrel so that no second sound is heard. Counting is snappy as the marbles are poured into a wooden tray with 200 or 500 holes and then counted.
The counted votes are immediately declared at the polling stations.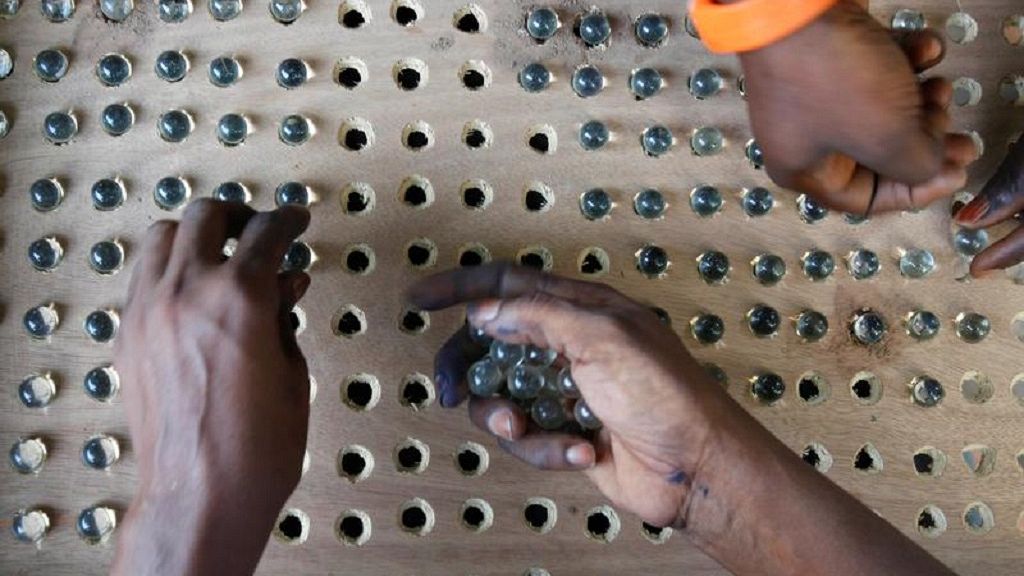 What the elections chair told local media in 2017
"We cannot afford to continue with this ballot system. With the change of system in governance, Gambians are now participating in politics in numbers and that means in every election, we will have to make lots of drums and paint them with different colours.
"There are countries using the ballot papers that have lower literacy level than us … These drums are not just expensive to make but you have to paint them with party colours and where you have independent candidates, you have to give each a colour.
"We are working on ensuring that this is done before the local government election because marble is practical and easy when you have few political participants."