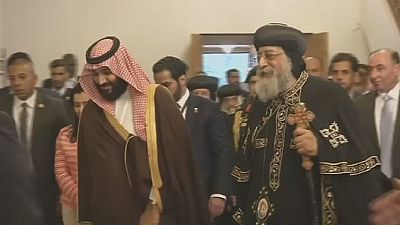 Saudi Crown Prince Mohammed bin Salman met with Coptic Pope Tawadros II during a visit to the largest Coptic cathedral in Cairo on Monday. The first of its kind in the history of Egyptian-Saudi relations.
The visit was part of a three-day stay in Egypt for Prince Mohammed whose objective is to strengthen ties between Saudi Arabia and the most important Coptic Church in the Middle East.
Cairo and Riyadh have moved closer together in recent years and Egypt has received billions of dollars in aid from Saudi Arabia. The two countries have set up a $10 billion mutual fund to develop a planned mega-city.
The promotion of moderate Islam is also among Prince Mohammed's promises in his plans to transform Saudi Arabia and reduce its dependence on oil.
*REUTERS*