Rwanda's Paul Kagame is to be sworn-in as President for his third term in office after a landslide victory in polls held in early August.
Kagame won the presidential race with 98.7% of the votes. The main opposition party leader Frank Habineza and independent candidate Philippe Mpayimana shared the remaining votes.
The 59-year-old has been leader of the country since the year 2000. Before the last elections, Kagame – a former refugee, military chief and vice-president – has won the last two in 2003 and 2010 – all by over 90% of votes.
Update7 : Quotes from Kagame's inaugural address
"Today is a day of celebration and a day to thank each of you. Today is a day of renewal and gratitude. I would therefore like to begin by thanking those who have joined us here.
"The presence of so many brothers & sisters from around Africa honours our nation deeply & gives us strength. We thank you. Africa has been with Rwanda when we needed you most.
"Nothing gives our people greater pride than contributing together with you to the greatness of our continent. Standing alongside us are friends of Rwanda who have always kept our country in their hearts & worked hard to advance it.
"I want to acknowledge the leaders and members of the 8 political parties who joined with RPF to nominate me as their candidate. For twenty-three years, we have collaborated with deep mutual respect to repair the social fabric of our devastated nation.
"I also congratulate the two other candidates who brought their message directly to citizens. Together, we created a positive environment where no vote was cast against anyone but rather all were cast for.
"If we always succeed in rallying so strongly around ideas and leadership that work best for all of us it would be a good thing."
" They demand we replace systems that are working well for us with dogmas in which their own people are rapidly losing faith. Africa has no civilizational problems, only assets. Sans aucun doute.
Over centuries of adversity, our civilisation sustained us. Today, it endows us with ambition, compassion and creativity. Africans are the biggest students of our own problems."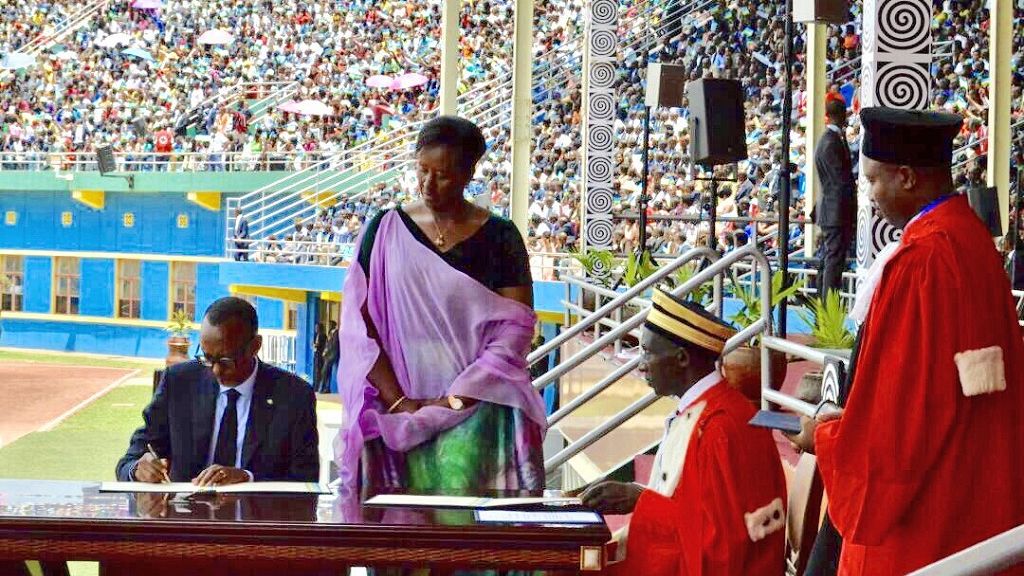 Update 6: Security forces parade and cultural troop performance
Rwanda Defense Force parade at #Kurahira2017 pic.twitter.com/twXy21XvRe

— Presidency | Rwanda (@UrugwiroVillage) August 18, 2017
Update 5: Inspecting a military guard mounted. What does the oath say?
President #Kagame swears in as the next President of the Republic of #Rwanda after winning elections with a landslide. #KagameInauguration pic.twitter.com/BlP5uPQ3KP

— The New Times (@NewTimesRwanda) August 18, 2017
Update 4: Kagame takes oath, signs oath and set to deliver address
After taking oath, CJ Rugege hands over to Paul Kagame, the national symbols: Constitution, National Flag and National Emblem. He also received a sword from the Chief of Defence Staff of Rwanda Defence Forces.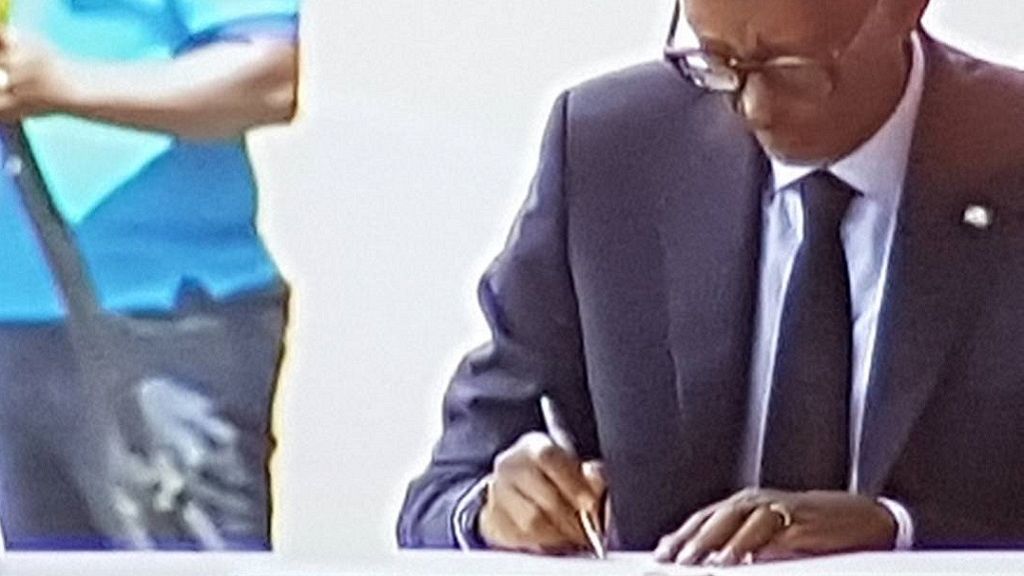 President Kagame signs the oath of office after swearing in as Rwanda's Head of State for next 7 years. #KagameInauguration pic.twitter.com/PIBeRbAETI

— The New Times (@NewTimesRwanda) August 18, 2017
President-Elect PaulKagame is now going to take oath. It will be administered by Prof Sam Rugege, the Chief Justice #KagameInauguration

— The New Times (NewTimesRwanda) August 18, 2017
Update 3: Prayers held, Foreign Minister introduces list of dignitaries present
"Rwanda is a country that has come far away. Through all we have passed through, Rwanda is a blessed country.
"We are here to celebrate a man through whom the best things our country has seen are manifested. Electoral campaign was marked by a festive mood all across the country."
As Foreign Affairs Minister LMushikiwabo introduces the Heads of State, the crowds cheer with passion. #KagameInauguration

— The New Times (NewTimesRwanda) August 18, 2017
Update 2: Three anthems to kick start the ceremony
The East African anthem will be followed by the African Union anthem before the Rwandan national anthem to officially kick off proceedings.
African Union and EAC Anthems will now be sang as the ceremony officially begins. #KagameInauguration

— RBA (@rbarwanda) August 18, 2017
Update 1: Kagame and First Lady arrive for the ceremony
President-elect PaulKagame has arrived accompanied by First Lady Jeannette #Kagame amid applause from the public #KagameInauguration

— The New Times (NewTimesRwanda) August 18, 2017
Where is the ceremony taking place?
The oath is part of the ceremony that officially marks the start of a new term for the President.
President-elect Paul Kagame will be sworn in for another seven-year term in office.
The President-elect takes oath of office within 30 days after the final results of the election have been officially released.
The ceremony will take place at Amahoro National Stadium and will be aired live on https://t.co/Pstn3jRhwe #Kurahira2017 #KagameInauguration

— Government of Rwanda (@RwandaGov) August 18, 2017
Who will administer the oath of office?
The oath will be administered by Chief Justice, Sam Rugege. After President-elect Kagame is duly sworn-in, he will deliver an inaugural address.
Roll call of African leaders present
The President of Niger, Mahamadou Issoufou
Acting President of Nigeria Prof. Yemi Osinbajo
Gabonese President Ali Bongo
Zambian President Edgar Lungu
The President of South Sudan, Salva Kiir
President Idris Deby Itno of Chad
Togolese President Faure Gnassingbé of Togo
President Guelleh is the Head of State for Djibouti
President Yoweri Museveni of Uganda
President-elect Uhuru Kenyatta of Kenya
President Alpha Condé of Guinea who is also the African Union chair
Faustin Archange Touadera of the Central African Republic
Brahim Ghali of the Sahrawi Arab Democratic Republic
President Macky Sall of Senegal
President Denis Sassou Nguesso of the Republic of Congo
President Hage Gottfried Geingob of Namibia.
Prime Minister of São Tomé and Príncipe, Patrice Emery Trovoada
Vice-President of Ivory Coast, Daniel Kablan Duncan
Acting Vice-President of the Gambia and Minister of Women's Affairs, Fatoumata Jallow-Tambajang.
The Chairperson of the African Union Commission, Moussa Faki Mahamat
Former Botswana President Festus Mogae
Former Tanzania President Benjamin Mkapa.
The Speaker of Parliament of Equatorial Guinea, Gaudencio Mohaba Mesu
Speaker of the Moroccan House of Representatives, Habib El Malki
Speaker of Parliament of the Democratic Republic of Congo Aubin Minaku.
Deputy United Nations Secretary-General, Amina Mohammed
Prime Minister of Madagascar
Foreign Affairs ministers of Ghana, Benin, Eritrea, Mali, Mauritania, Mozambique, Tunisia, Liberia