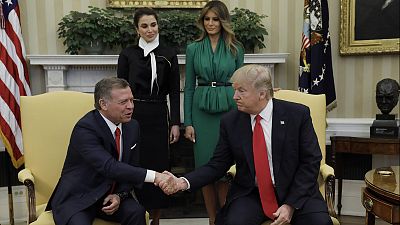 The situation in the Middle East was the main topic of discussion when Donald Trump welcomed Jordan's King Abdullah to the White House on Wednesday ( April 5 .
The two leaders spoke of the conflict in Syria, the struggle against self-styled Islamic state and the Israeli-Palestinian conflict.
With the Syria crisis foremost Trump had earlier accused the Assad regime of going beyond a red line with a poison gas attack on civilians.
The president later summed up the challenges facing him, and made a promise.
"And I have to just say that the world is a mess. I inherited a mess. Whether it's the Middle East, whether it's North Korea, whether it's so many other things, whether it's in our country — horrible trade deals. I inherited a mess. We're going to fix it. We're going to fix it."