Two Congos separated by a river, the River Congo, have set in motion a plan to link their respective capitals with a multi-purpose bridge across the river.
The project estimated to cost $550m will include a toll bridge, a railway track, a road and a sidewalk, a statement cited by the Bloomberg portal reported.
The first Congo is officially sub-Saharan Africa's biggest country in terms of land size, the Democratic Republic of Congo. Referred to as DR Congo, better still Congo-Kinshasa.
The other is the Republic of Congo whose national capital is Brazzaville with a commercial capital which borders the South Atlantic Ocean, Pointe Noire.
The announcement was made last week during the maiden Africa Development Bank investment forum in Johannesburg. When completed, the bridge will provide alternative transportation means which are currently restricted to boats or planes.
The bridge which will span a 1,575-meter route will give birth to special economic zones between the two neighbours, Republic of Congo Spatial Planning Minister Jean-Jacques Bouya said at the forum.
Officials from both sides of the river have signed an agreement to that effect, Bloomberg reported last week.
Brief about the Congo River
The great Congo River is the second longest river in Africa, shorter only than the Nile, as well as the second largest river in the world by discharge volume, following only the Amazon.
It is also the world's deepest recorded river, with measured depths in excess of 220 m. Its overall length is put at 4,700 km (2,922 miles). The Congo gets its name from the old Kingdom of Kongo which was at the mouth of the river.
The Democratic Republic of the Congo and the Republic of the Congo, both countries sitting along the river's banks, are named after it. From 1971 to 1997, the Democratic Republic of the Congo was called Zaire and its government called the river the Zaire River.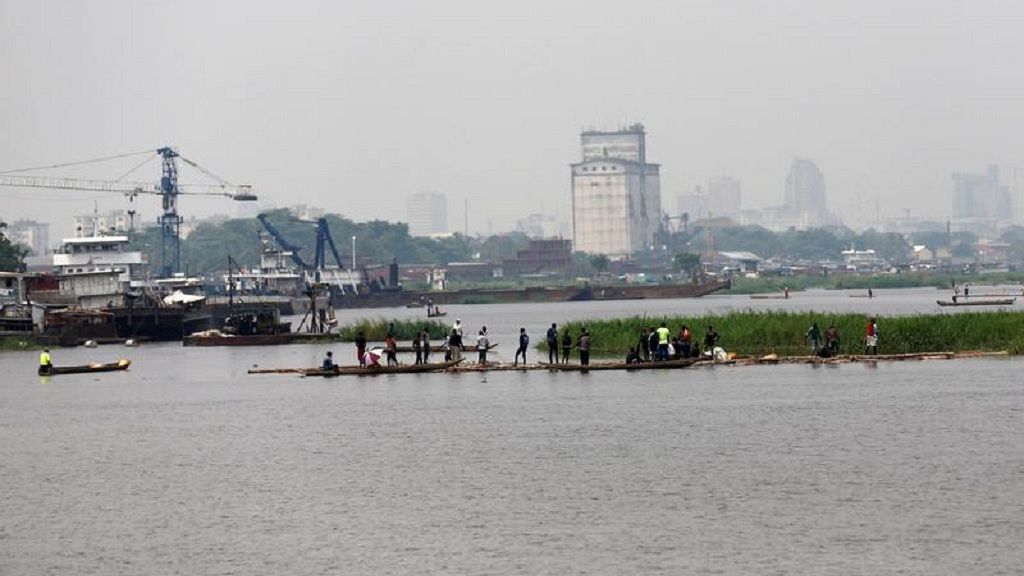 People stand on wooden boats as they fish along the Congo river in the Democratic Republic of Congo's capital Kinshasa, December 21, 2016.