As at Tuesday morning, Ethiopia's parliament – The House of Peoples Representatives, HPR, was meeting to discuss a range of issues tabled by Prime Minister Abiy Ahmed.
At the core of discussions was to define the power and duties of the executive organ, state-affiliated Fana Broadcasting Corporate reported.
Also to be discussed is the approval of a new downsized cabinet as agreed by the Council of Ministers last week. The independent Addis Standard portal reported that the new cabinet of twenty will have ten women appointees.
Breaking:PM #AbiyAhmed due to announce his new cabinet. The new ministerial portfolio will have a record number of female ministers consisting 10 out of the 20 ministers. This include the position of ministry of defense, which will be held by a woman for the first time in history pic.twitter.com/RbNJdVZdSP

— Addis Standard (@addisstandard) October 16, 2018
The newly created Ministry for Peace the protal reports will go to Speaker of the House Muferiat Kamil under whose portfolio will be other federal security agencies.
The defense ministry is also to be handed for the first time in the country's history to a woman, Aisha Mohammed, till now was Minister of Construction. Dagmawit Mogus, deputy mayor of Addis Ababa heads to Ministry of Transport.
Abiy's right hand man Workneh Gebeyehu is expected to stay at Foreign Affairs whiles former government communications minister will head to finance as Abiy's office takes full charge of communications, reports have suggested.
List of the appointees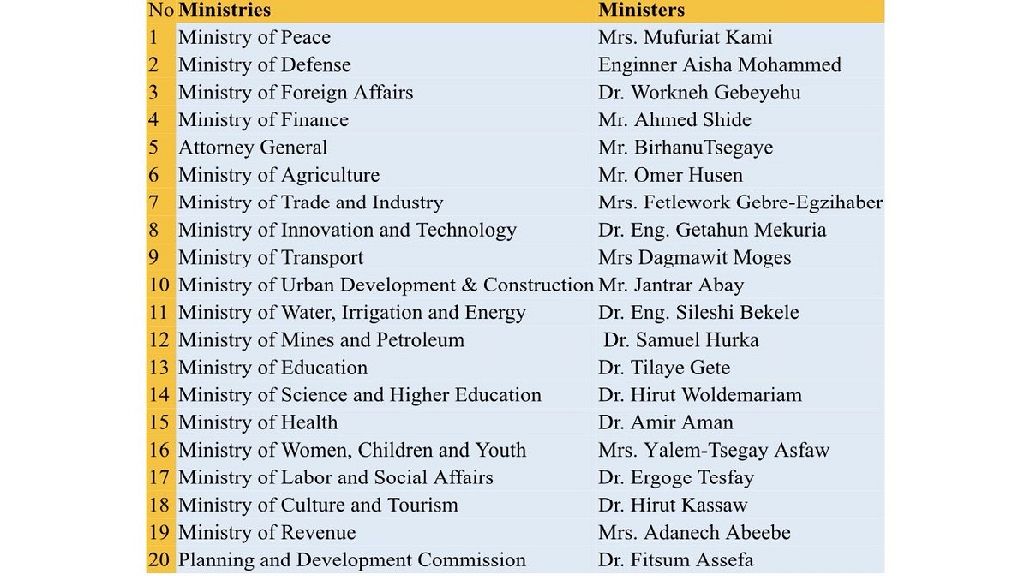 @alfaafrican