The Democratic Republic of Congo (DRC) as at August 8 is still yet to learn whether or not its current president, Joseph Kabila, has plans of continuing as president and what plans he has to actualize that move.
The country is due to hold long delayed presidential elections in December this year. What looks certain is that the polls will hold but a key stakeholder – Kabila – has left all others at home and abroad wondering what he has up his sleeves.
The electoral body, CENI, has slated Wednesday August 8 as the deadline for the filing of nominations. The ruling party Kabila leads has yet to pick a candidate.
Kabila's long awaited announcement on his next political / presidential line of action has almost always ended in a "no-show." In an address to parliament weeks back, he spoke about national issues – even about polls holding – nothing on his political future.
On an official visit to Angola last week, he reiterated that pledge that elections meant to have chosen his successor in 2016 will be held, then again nothing about his participation or otherwise.
The most recent instance was on Tuesday with barely twenty-four hours to the close of submission of candidature, Kabila entered a meeting with members of the ruling party. The meeting was widely reported as one after which Kabila's successor was to be announced.
Reuters quoted spokesman Lambert Mende as confirming that a successor was to be named after the meeting.
In the wake of the latest "no-show" citizens, neighbouring countries and the world awaits what Kabila has up his sleeves. Political and security watchers insist that a successor will most likely be named. Citing the fact that anything pointing to staying on will cause a security crisis.
The international community especially the United States have been at their "loudest" in calling for Kabila to exit and allow a newly elected leader to take over the reigns – as stipulated by the constitution.
Even as Kabila keeps everyone waiting, in next door Zambia, one of his major opponents remains locked out of the country. Moise Katumbi has failed by air and land to return to the country after about two years of self imposed exile.
The former Katanga province governor is one of leading opponents hoping to file to contest for the presidency. Others include Felix Tshisekedi – son of veteran opposition leader Etienne Tshisekedi. Ex VP Jean Pierre Bemba is in the race as are others.
Kabila, in power since 2001, is barred by term limits from running for re-election but has refused to commit publicly to not standing. That has raised fears he might do so anyway, which risks throwing the volatile central African country into chaos.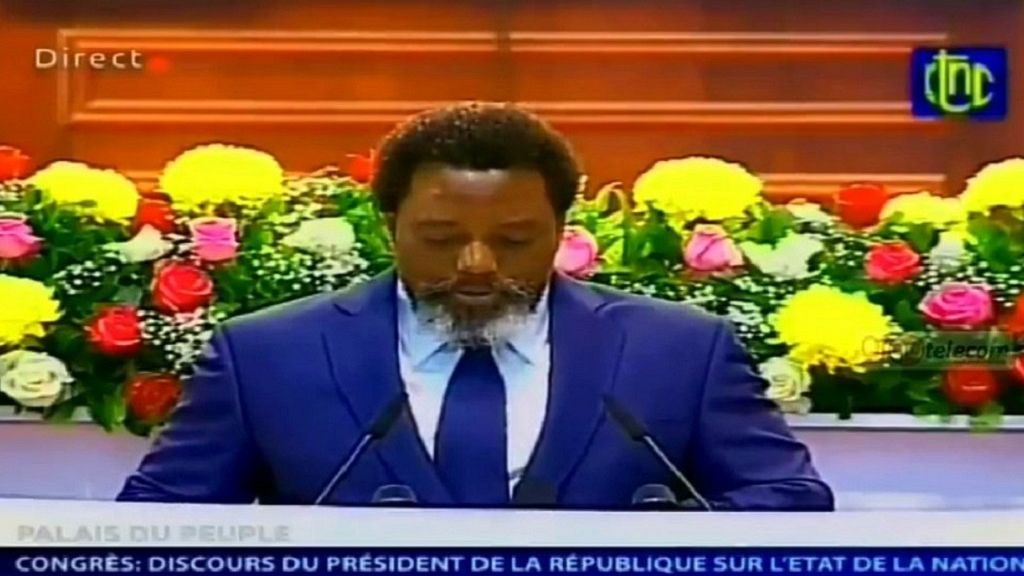 Security forces have killed dozens of protesters since Kabila refused to quit power at the end of mandate in December 2016, saying the government was not yet prepared to hold the election to succeed him. Militia violence in the eastern borderlands with Rwanda and Uganda has also risen.
Western powers and Congo's neighbours fear even worse violence across the country if Kabila digs in and runs, with memories still fresh of civil wars around the turn of the century that killed millions, most from hunger and disease.
Kabila met on Tuesday afternoon with members of his electoral coalition, the Common Front for Congo (FCC), at his farm in the village of Kingakati, about 80 km (50 miles) outside the Kinshasa.
Participants in the meeting included Mende, Commerce Minister Jean-Lucien Bussa, Planning Minister Modeste Bahati and the president of the lower house of parliament, Aubin Minaku.
Minaku has been tipped as one of the candidates to emerge as Kabila's chosen successor, as has former prime minister Augustin Matata Ponyo.