Ethiopia Prime Minister Abiy Ahmed visited the epicenter of protests that riled the country between 2015 and last year with a call for the people to rally behind government efforts aimed at deepening democracy.
Ambo, located in the west Shoa zone of Oromia regional state, was the scene of heavy protests that led to security crackdown and deaths.
There was intense preparations ahead of his visit whiles thousands poured out at the Ambo stadium to listen to his message.
All kinds of reactions from the crowd — and the horsemen — when #Ethiopia PM Abiy arrived in Ambo earlier today pic.twitter.com/KVgsfTbvOp

— Chris Stein (@ChrisJStein) April 11, 2018
According to the state-affiliated FANA Broadcasting Corporate, he tasked citizens to join hands and make history by focusing their attentions towards peace and development. He also highlighted the importance of resolving differences through dialogue.
''The Premier also pledged utmost efforts by the government to ensure benefits of all Ethiopians, including women, and urged scholars to conduct problem-solving researches,'' the report added.
Abiy was accompanied by his deputy Demeke Mekonnen who hailed the efforts of the youth in the sustainability of reforms currently underway.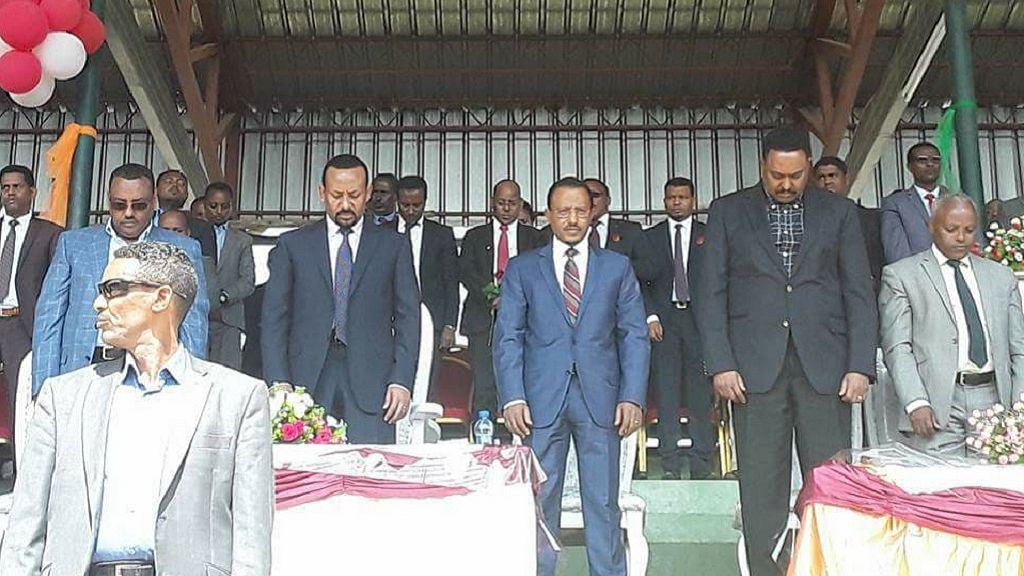 Other high-profile officials included Shiferaw Shigute, head of the Southern Ethiopian Peoples Democratic Movement (SEPDM) and Foreign Affairs chief, Workneh Ghebeyehu.
Lemma Megerssa, President of the Oromia regional state in his comments stressed that the occasion unlike in the past was a time to announce good news and hope contrary to the past when they have had to quell protests.
People came out in their traditional attires to welcome the Premier and his entourage. Women in their traditional attires and men clad in Oromo robes and riding horses attended the event.
These pictures posted on Facebook by the BBC Afaan Oromoo program show a gathering of the people from #Ambo and its environs who came out dressed in their traditional dresses (and men on horseback) to attend the speech being delivered by PM #AbiyAhmed. pic.twitter.com/QmpeB2fvaS

— Addis Standard (@addisstandard) April 11, 2018
The scenes in Ambo town during #Ethiopia PM Dr Abiy Ahmed visit today! Thousands turned up. pic.twitter.com/05qDBgp1O8

— emmanuel Igunza (@EmmanuelIgunza) April 11, 2018