At a time when some African leaders can barely walk without being closely monitored by their aides, the continent's youngest leader is showing what it takes to hold that title.
Imagine an African leader doing press-ups surrounded by protesting soldiers allowed into the presidential compound for a meeting.
Well, that happened on Wednesday when 42-year-old Ethiopian Prime Minister Abiy Ahmed met with soldiers demanding pay rise. The photo has since gone viral on Ethiopian social media with different reactions.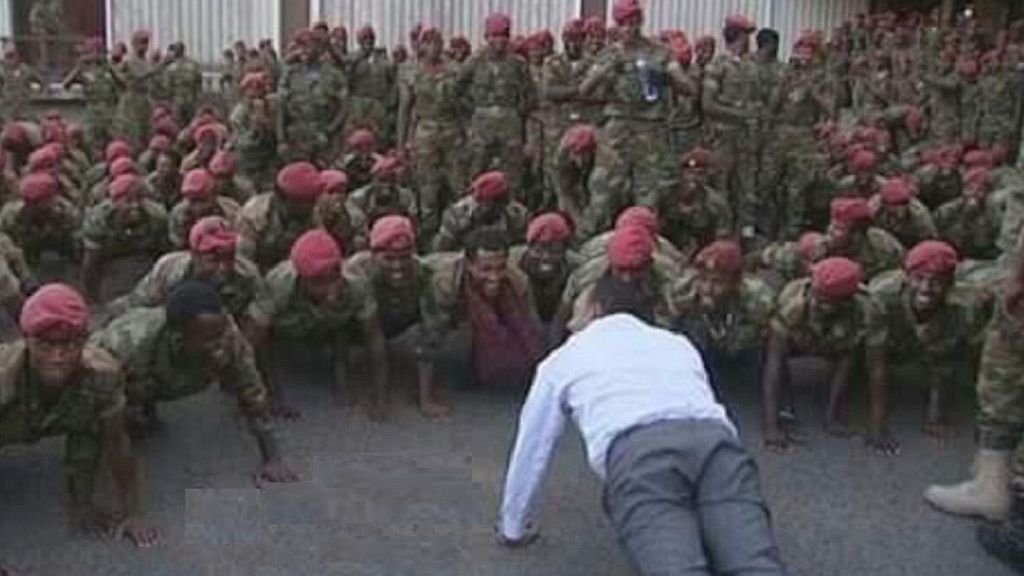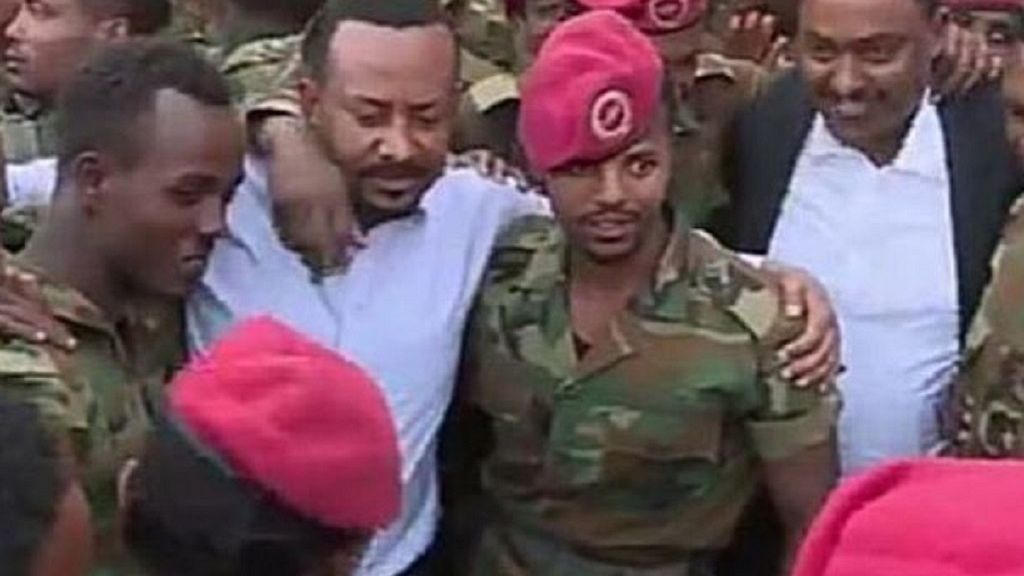 BBC Africa Editor, Will Ross, gave an explanation in a tweet. "Ethiopia's PM Abiy Ahmed did 10 press ups with some of the elite soldiers who'd marched to his office calling for a pay rise. It was their punishment for causing alarm by bringing their guns."
Abiy has since taking office shouldered the hopes of the country's estimated 100 million people. He is a former military man who was on peacekeeping in Rwanda at a point in his career. Incidentally, internal security is one of his biggest headaches with spreading inter-ethnic attacks.
When news from the capital Addis Ababa said armed soldiers from an elite unit had marched to the national palace, it was awaited what Abiy's move will be. After agreeing to disarm, the soldiers met with Abiy and held constructive talks over their demands.
The official account of what soldiers protested over
Abiy's chief of staff in two tweets explained the incidents of Wednesday but with a more formal set of photos. The state-owned FANA broadcasting corporate also shared photos of the smiling soldiers with deputy PM, Demeke Mekonnen.
HE PM Abiy Ahmed listened to the grievances carefully, reprimanded them for the wrong procedure they followed to express those grievances, but concluded the meeting with a promise to meet properly in the near future to positively consider their demands. #Ethiopia pic.twitter.com/7GG9lxcxCu

— Fitsum Arega (@fitsumaregaa) October 10, 2018
#Ethiopia: Deputy Prime Minister Demeke Mekonnen holds discussion with army members drawn from various departments of the Ministry of National Defense. pic.twitter.com/vcyPP7pz8Z

— FANA BROADCASTING C (@fanatelevision) October 10, 2018