Democratic Republic of Congo's Virunga National Park, closed last month after the ambush of a tourist group that left a ranger dead, said on Monday that it would not reopen until the next year.
Britons Robert Jesty and Bethan Davies and their Congolese driver were kidnapped three weeks ago by gunmen in the east of the park and released three days later.
Park ranger Rachel Makissa Baraka, 25, was killed trying to defend them.
It is abundantly clear that the Virunga region is deeply affected by insecurity.
Investment needed to secure Virunga
The park's communications unit told Reuters on Monday that tourist activities, initially suspended until June 4 to investigate the incident, would not resume until next year.
"It is abundantly clear that the Virunga region is deeply affected by insecurity," Chief Warden Emmanuel Merode wrote in a letter to the park's partners and clients.
"Much more robust measures are needed than in the past, [and] this will require a very significant investment."
Africa's oldest national park
Virunga sits on the forest-cloaked volcanoes of central Africa and is home to over half the global population of mountain gorillas.
It is Africa's oldest national park and largest tropical rainforest reserve, covering 7,800 sq km (3,000 sq miles). Since tourism was relaunched in 2014 it has received more than 17,000 visitors.
But armed militia still control large swathes of territory in and around it, and more than 175 rangers have been killed protecting the park.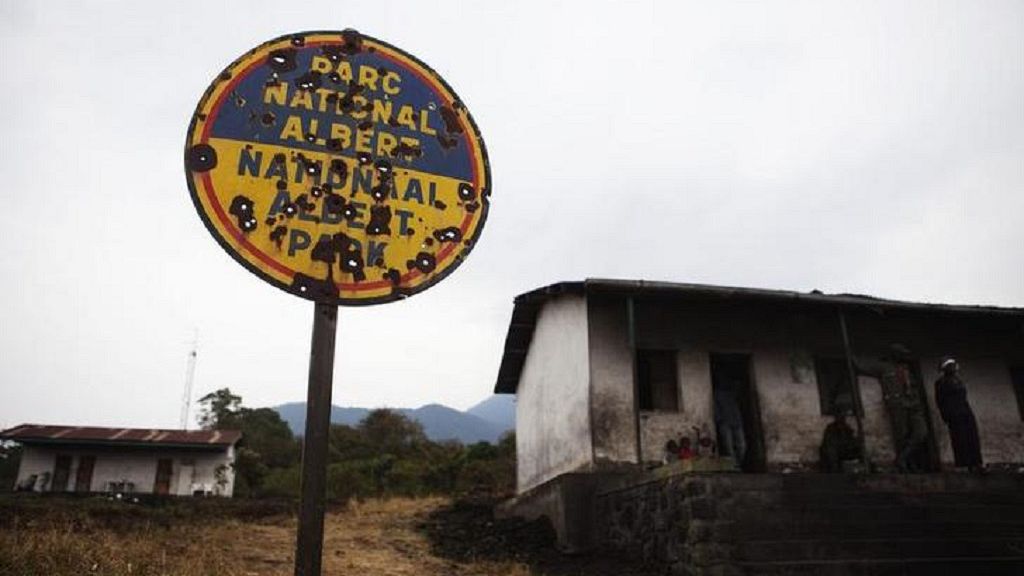 A bullet riddled sign marks the entrance to Virunga National Park, occupied by rebels and other armed militias during years of conflict near Goma in eastern Congo
Warfare in eastern Congo between 1996 and 2003 killed millions of people, mainly through hunger and disease.
Kagame applauds Ellen DeGeneres
Last week, wildlife authorities said the population of mountain gorillas had risen to over 1,000 individuals since 2010.
Tourists will still be able to see the rare gorillas in Uganda and Rwanda, which recently hosted American comedian and TV talk show host, Ellen DeGeneres.
Encouraging to see the mountain gorilla population in the Virungas has grown 25% in the last eight years. Conservation efforts must continue. Thank you TheEllenShow & Portia for coming to Rwanda & getting involved. #VisitRwanda pic.twitter.com/1ALIjkpqgg

— Paul Kagame (PaulKagame) 3 juin 2018
DeGeneres met president Paul Kagame, launches the establishment of a gorilla conservation center and was able to successfully track and find gorillas, an experience she says 'changed my life'.