Hailed as mother of the 'new' South Africa, Winnie Madikizela-Mandela's legacy as an anti-apartheid heroine was undone when she was revealed to be a ruthless ideologue prepared to sacrifice laws and lives in pursuit of revolution and redress.
Her uncompromising methods and refusal to forgive contrasted sharply with the reconciliation espoused by her husband Nelson Mandela as he worked to forge a stable, pluralistic democracy from the racial division and oppression of apartheid.
The contradiction helped kill their marriage and destroyed the esteem in which she was held by many South Africans, although the firebrand activist retained the support of radical black nationalists to the end.
In her twilight years, Madikizela-Mandela, who died on Monday aged 81, had frequent run-ins with authority that further undermined her reputation as a fighter against the white-minority regime that ran Africa's most advanced economy from 1948 to 1994.
During her husband's 27-year incarceration, Madikizela-Mandela campaigned tirelessly for his release and for the rights of black South Africans, suffering years of detention, banishment and arrest by the white authorities.
She remained steadfast and unbowed throughout, emerging to punch the air triumphantly in the clenched-fist salute of black power as she walked hand-in-hand with Mandela out of Cape Town's Victor Vester prison on Feb. 11, 1990.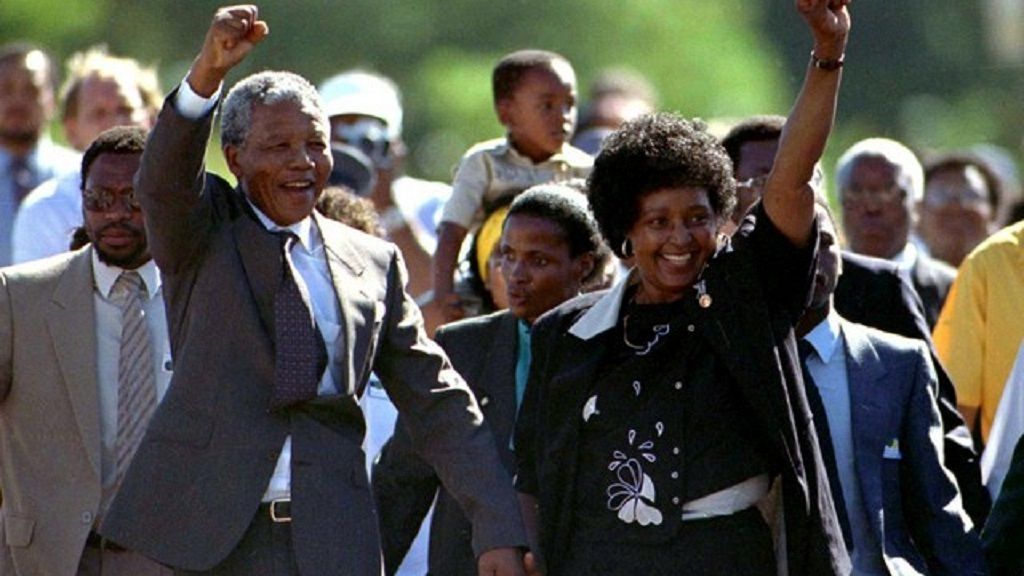 For husband and wife, it was a crowning moment that led four years later to the end of centuries of white domination when Mandela became South Africa's first black president.
Things Fall Apart
But for Madikizela-Mandela, the end of apartheid marked the start of a string of legal and political troubles that, accompanied by tales of her glamorous living, kept her in the spotlight for all the wrong reasons.
As evidence emerged in the dying years of apartheid of the brutality of her Soweto enforcers, the "Mandela United Football Club" (MUFC), her soubriquet switched from 'Mother of the Nation' to 'Mugger'.
Blamed for the killing of activist Stompie Seipei, who was found near her Soweto home with his throat cut, she was convicted in 1991 of kidnapping and assaulting the 14-year-old because he was suspected of being an informer.
Her six-year jail term was reduced on appeal to a fine.
She and Mandela separated in 1992 and her reputation slipped further when he sacked her from his cabinet in 1995 after allegations of corruption. The couple divorced a year later, after which she adopted the surname Madikizela-Mandela.
Appearing at the Truth and Reconciliation Commission (TRC) set up to unearth atrocities committed by both sides in the anti-apartheid struggle, Madikizela-Mandela refused to show remorse for abductions and murders carried out in her name.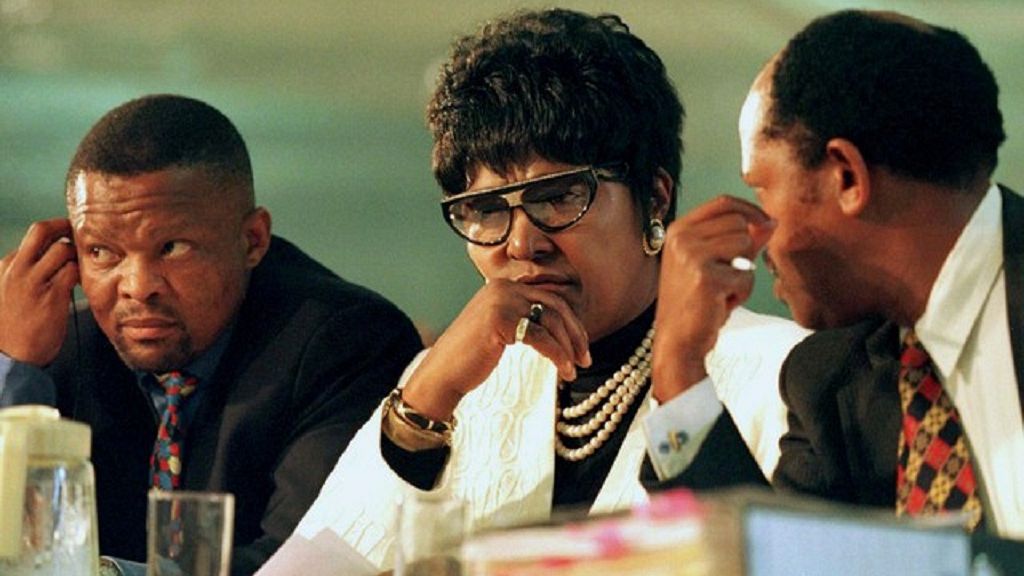 Only after pleading from anguished TRC chairman Archbishop Desmond Tutu did she admit grudgingly that "things went horribly wrong".
In its final report, the TRC ruled that Madikizela-Mandela was "politically and morally accountable for the gross violations of human rights committed by the MUFC".
Four years later, she was back in court, facing fraud and theft charges in relation to an elaborate bank loan scheme.
"Somewhere it seems that something went wrong," magistrate Peet Johnson said as he sentenced her to five years in jail, later overturned on appeal. "You should set the example for all of us."
Married to ANC
Born on Sept. 26, 1936, in Bizana, Eastern Cape province, Madikizela-Mandela became politicised at an early age in her job as a hospital social worker.
"I started to realise the abject poverty under which most people were forced to live, the appalling conditions created by the inequalities of the system," she once said.
Strikingly attractive and with a steely air, her given name, Nomzamo, means 'one who strives', the 22-year-old Winnie caught the eye of Mandela at a Soweto bus-stop in 1957, starting a whirlwind romance that led to their marriage a year later.
But with husband and wife pouring their energies into the fight against apartheid, the relationship struggled before being torn apart after six years when Mandela was arrested and sentenced to life in prison.
Madikizela-Mandela later described her marriage as a sham and the birth of their two daughters, Zindzi and Zenani, as "quite coincidental" to her one true love – the struggle against white rule.
"I was married to the ANC. It was the best marriage I ever had," she often said.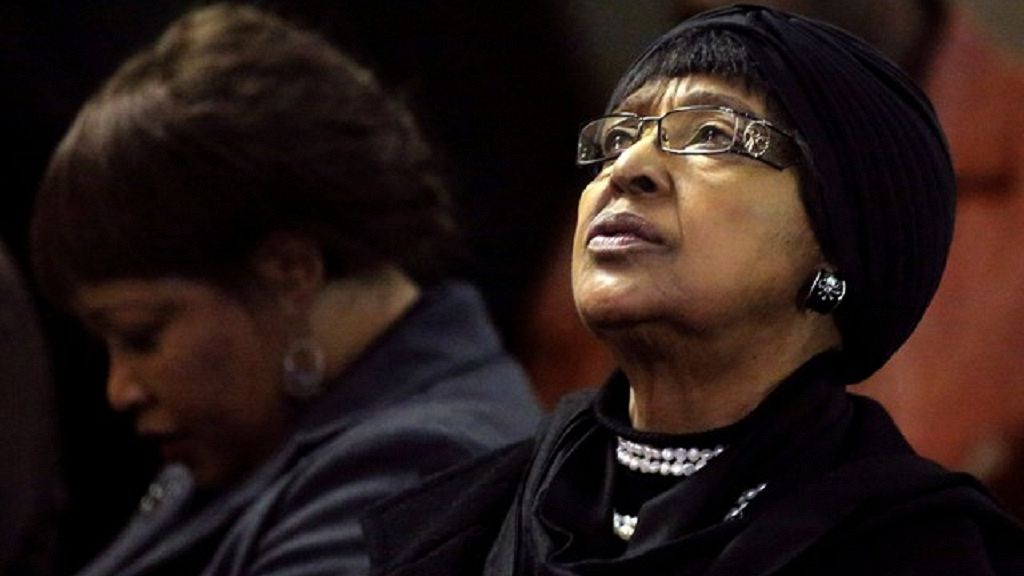 Graca Machel, who stepped into her shoes as South Africa's first lady when she married Mandela in 1998, paid tribute to her predecessor in the years after her union.
"It's unfortunate that in our lives we don't interact very easily but I want to state very clearly that Winnie is my hero. Winnie is someone I respect highly," Machel once said.
'I'm not sorry'
As the years passed and Madikizela-Mandela's public standing plummeted, her relationship with the party she loved soured. She bore the air of a troublemaker, arriving late at rallies and haranguing comrades, including Thabo Mbeki, Mandela's successor as president.
In 2001, a television camera caught Mbeki brushing Madikizela-Mandela away and knocking off her hat after she arrived an hour late for a rally to commemorate a 1976 anti-apartheid uprising by Soweto schoolchildren and students.
Years later, she clashed with the next president, Jacob Zuma, becoming a political patron of renegade ANC youth leader Julius Malema, who quit the century-old movement to found his own ultra-leftist political party.
Confirming her support for Malema and his calls for seizure of white-owned farms and banks, Madikizela-Mandela revealed her contempt in 2010 for the deal her ex-husband struck with South Africa's white minority nearly two decades before.
In a London newspaper interview, she attacked Mandela, who died in December 2013, saying he had gone soft in prison and sold out the black cause.
"Mandela did go to prison and he went in there as a burning young revolutionary. But look what came out," she said. "Mandela let us down. He agreed to a bad deal for the blacks."
She also dismissed Tutu, post-apartheid South Africa's moral fulcrum, as a "cretin" and rubbished his attempts at national healing as a "religious circus".
"I told him a few home truths. I told him that he and his other like-minded cretins were only sitting here because of our struggle and me, because of the things I and people like me had done to get freedom," she said.
"I am not sorry. I will never be sorry," she concluded. "I would do everything I did again if I had to. Everything."
REUTERS