Last year brought huge political fortunes for women in The Gambia. A female vice president resigned but was replaced. The country also got a historic female duo in its national assembly.
The Gambia celebrated a democratic transition in January 2017 when erstwhile leader Yahya Jammeh left the country after a failed attempt to annul elections of December 2017. He is currently living in Equatorial Guinea.
Jammeh's vice president for two decades (between 1997 and 2017) was a woman in the person of Isatou Ndjie-Saidy.
The 65-year-old resigned her post in the heat of the political crisis when Jammeh served notice through the declaration of a state of emergency that he was not leaving till fresh elections were held.
Gambia's Vice President resigns hours before Jammeh's mandate ends https://t.co/DcPeku5seN

— africanews (@africanews) January 18, 2017
Jammeh out, enter then opposition candidate and now president Adama Barrow. He also picked a former Jammeh appointee to become vice-president.
There were constitutional issues regarding the age of nominee Fatoumata Jallow Tambajang hence she was referred to as "acting vice-president," whiles she held a substantive portfolio as Women Affairs minister.
Between January to November 2017, she acted as vice president till the necessary constitutional adjustments were made and she took her oath of office as vice-president in full capacity.
Fatoumata Jallow-Tambajang, the Gambian veep who helped oust Jammeh https://t.co/zvDmyCvHRT

— africanews (@africanews) November 10, 2017
In April last year, the country got two female firsts in its parliament after legislative elections. The new parliament picked Gambia's first female speaker of parliament in the person of Mariama Diack Denton.
President Barrow as part of his constitutional leverage to appoint five persons into the legislature also appointed the first visually impaired woman lawmaker in the Gambia's history.
Ndey Yassin Secka-Sallah who is a former broadcaster at the Gambia Radio and Television Services (GRTS) is the second visually impaired person to be appointed to the National Assembly after Abdoulie Saine, who was appointed by Yahya Jammeh in the previous Assembly.
At the time, she was one of the three females to be appointed into the National Assembly including speaker and lawyer Mariam Jack Denton, and another lawyer Kumba Jaiteh.
At a time when most presidential spokespersons across the continent are men, the opposite is the case in The Gambia. Adama Barrow's official spokesperson is a woman in the person of Amie Bojang-Sissoho.
Her Twitter bio describes her as: "Director of Press and Public Relations, Office of the President of The Gambia, Statehouse Banjul."
Vice President Fatoumata Jallow Tambajang is not the only woman in the cabinet, Dr. Isatou Touray who vied to contest against Jammeh before backing down to join the coalition that defeated him also holds a cabinet post as Minister for Trade, Regional Integration and Employment.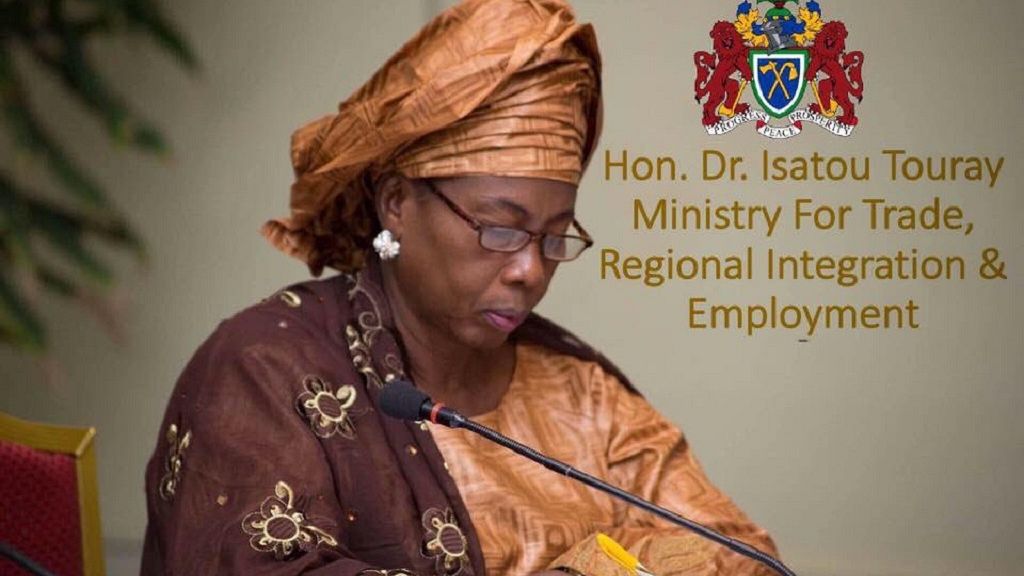 VP Tambajang in 2017 represented President Barrow at key events including at the African Union Summit held in Ethiopia, the A.U. – E.U. summit held in Ivory Coast and the swearing in ceremony of Rwandan president in September this year.
Roundly, it has been a good year for Gambian women in politics even though with a frail and battered economy that Jammeh left behind, the ordinary woman on the streets of Banjul and other towns still hopes for better times in the 'Smiling Coast' of West Africa.
Why Africa's 'smiling coast' is officially referred to as 'The' Gambia https://t.co/Ju8vzO83tt

— africanews (@africanews) January 19, 2017