Aviation authorities in Canada and the US are investigating an apparent near-miss at San Francisco airport which one expert said could have been the worst air disaster in history.
An Air Canada jet reportedly came close to landing on a taxiway, avoiding by a matter of just a few metres four other planes which were waiting to take off, the pilot having mistaken it for the runway.
The US Federal Aviation Administration (FAA) and the US National Transportation Board (NTSB) are investigating the incident which happened last Friday (July 7), and Canada's Transportation Safety Board has released a preliminary summary of what happened when Flight AC759 from Toronto tried to land at San Francisco.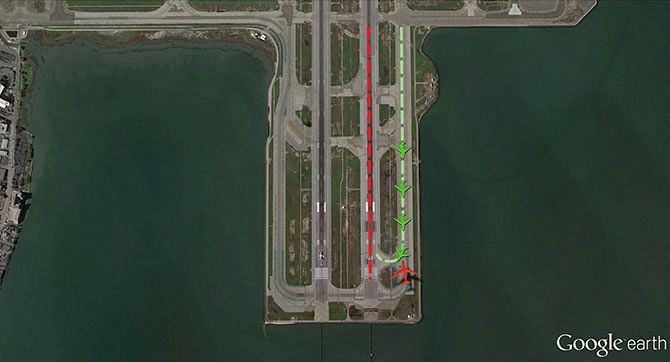 The summary says the Air Canada jet missed the first two planes by 30 metres and overflew the third and fourth aircraft by 60 metres and 90 metres respectively. The "closest lateral proximity" to one of the planes was said to be roughly nine metres.
Reports say the Airbus 320 had been cleared to land just before midnight. However the FAA has said in a statement that the pilot "inadvertently" lined up to come in on a taxiway running parallel to the runway, where four aircraft were waiting to depart.
Air Canada says 135 passengers and five crew members were on board the flight from Toronto. It is not known how many people were on the four planes on the taxiway.
According to an audio recording of communications between air traffic controllers and pilots at San Francisco on the day, a voice thought to be that of one of the pilots is heard saying that there were lights on the runway. The air traffic controller apparently realises the mistake and orders the pilot to pull up. The plane then lands safely.
Other voices, thought to be those of the pilots from the other planes, are heard saying that they had seen the Air Canada jet flying directly over them.
Retired United Airlines Captain Ross Aimer, CEO of Aero Consulting Experts, has been quoted as saying "if it is true, what happened probably came close to the greatest aviation disaster in history".
"If you could imagine an Airbus colliding with four passenger aircraft wide bodes, full of fuel and passengers, then you can imagine how horrific this could have been," he added.
Investigators plan to interview air traffic controllers and the Air Canada crew. A spokesman for the US NSTB said such inquiries could take up to 18 months but because in this case there were no injuries or damage, they could be completed sooner.
An Air Canada A320 lined up with taxiway C at night on approach into SFO, and executed a go-around at 400ft MSL https://t.co/egFEjLRf5P

— From the Flight Deck (@Golfcharlie232) July 11, 2017