The Abu Dhabi International Petroleum Exhibition & Conference gathered more than 140,000 visitors in the UAE capital for its 21st edition.
The four-day annual conference is one of the most influential oil and gas events in the world, bringing together oil ministers and CEOs to exchange ideas about the future of the energy sector.
This year, an estimated 2,200 global firms, including 42 major national and international oil companies, were represented on the ground – a rise of 23% compared to the last edition.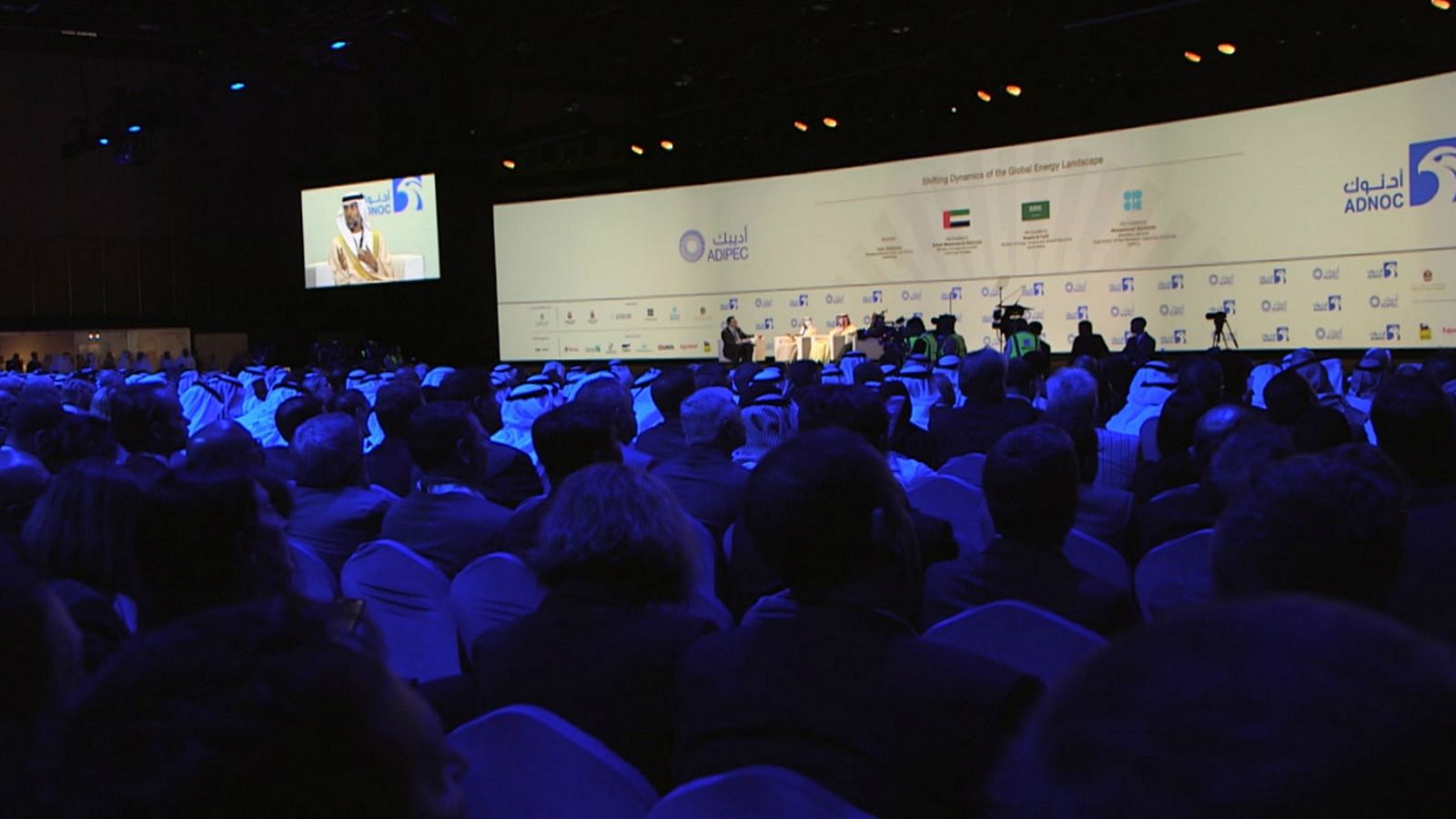 ADIPEC gathered more than 140,000 visitors this year
ADNOC AND ARAMCO SEAL THE DEAL
Amongst the key agreements signed, Abu Dhabi National Oil Company (ADNOC) and Saudi's national oil company Aramco agreed to explore more opportunities for collaboration in the natural gas and liquefied natural gas sectors.
"We are looking at global investments in energy, going down the value chain between the two companies," Amin Nasser, President and CEO of Aramco, told Euronews.
"We started with signing an agreement in the refinery in the West Coast of India, with three Indian companies, and Saudi Aramco and ADNOC as partners as well," Nasser added.
ARAMCO FLOTATION ON TRACK?
In reference to the planned flotation of Aramco, which is scheduled for 2021 and has an estimated value of $2 trillion dollars, the oil major's CEO told Euronews that the listing was, "on track […] but would be determined by market conditions."
Nasser also affirmed that before Aramco's IPO could take place, the company's purchase of a majority stake in the Saudi chemicals and materials group SABIC had to be completed.
UAE ENERGY MINISTER TALKS INVESTMENT TRENDS AND GEOPOLITICS
As part of its broader strategy, Abu Dhabi's National Oil Company is investing $45 billion in its downstream operations, with the aim of developing its Ruwais petrochemicals complex into a sector hub.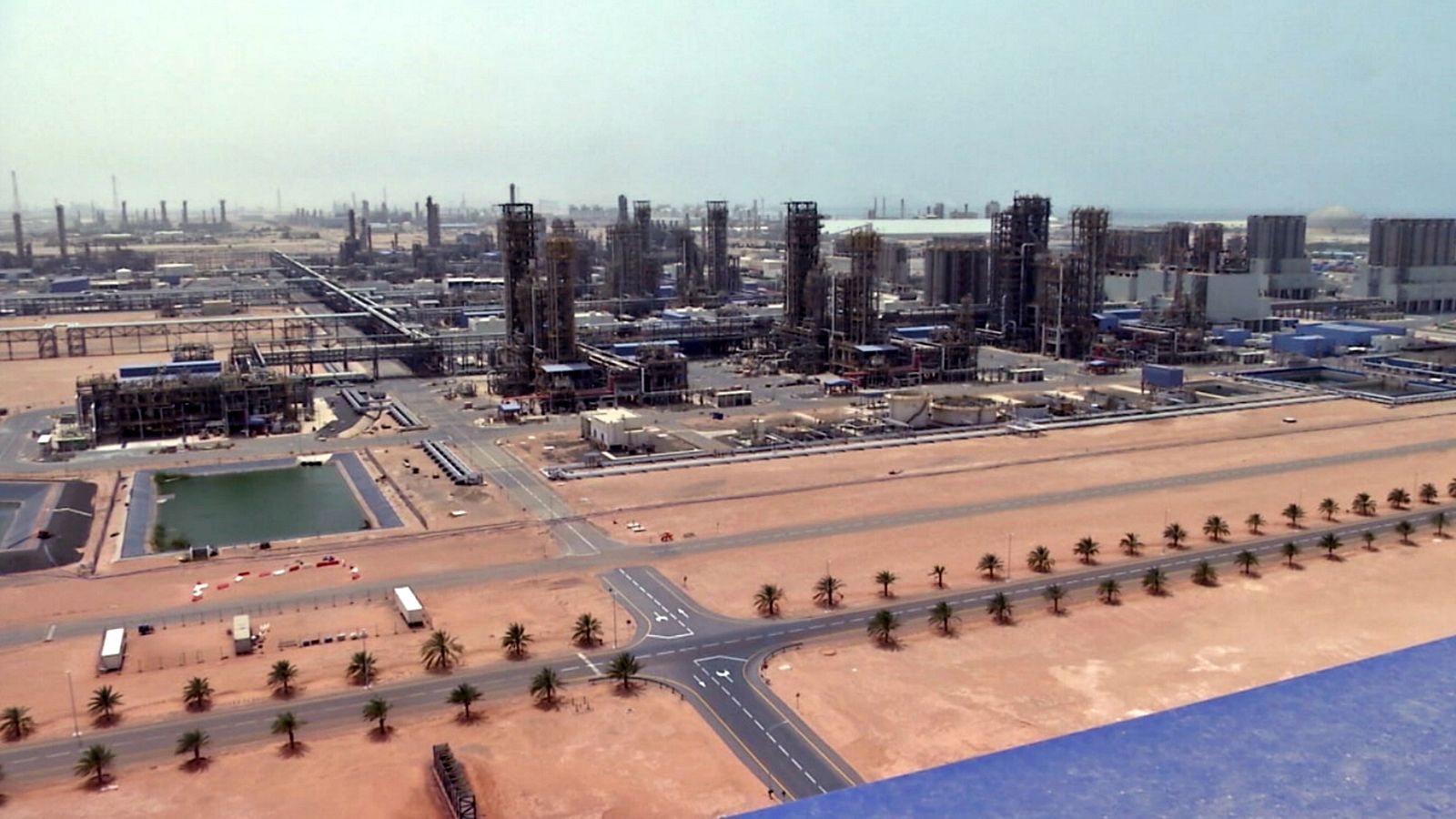 ADNOC's Ruwais petrochemicals complex in Abu Dhabi
With regards to general investment trends in the domestic industry, the UAE's Minister of Energy Suhail Al Mazrouei told Euronews (see article's main photo) that he had seen a significant improvement over the past 12 months.
"It's not an issue as it was last year," he says, "We have seen ADNOC announcing over the next five years an investment in the range of $132 billion, and the rest of the companies are going to announce many projects."
During ADIPEC, oil prices remained under pressure amid concerns of oversupply. Speaking ahead of OPEC's December 6th meeting, Al Mazrouei voiced his optimism that a balanced oil market would resume.
"I think a few months back everyone was worried about lack of supply, now everyone is worried about an oversupplied market – but I think it's going to be neither," he says, "We're going to keep the market well-supplied and well-balance as much as we can."
Speaking of the oil market's short and medium-term prospects, Al Mazrouei said that geopolitics and the prospect of trade wars were a concern.
"We have to deal with them, but they are a risk outside of our control," he says.
AHEAD OF OPEC, SAUDI MINISTER TALKS RUSSIAN COLLABORATION WITH OIL SUPPLY
The Organization of the Petroleum Exporting Countries (OPEC) will gather next month in Vienna to decide on oil production policy for the next six months.
Ahead of the meeting, Saudi Arabia's Minister of Energy, Khalid Al Falih, told Euronews that he believes a production cut of around a million barrels a day could balance the market.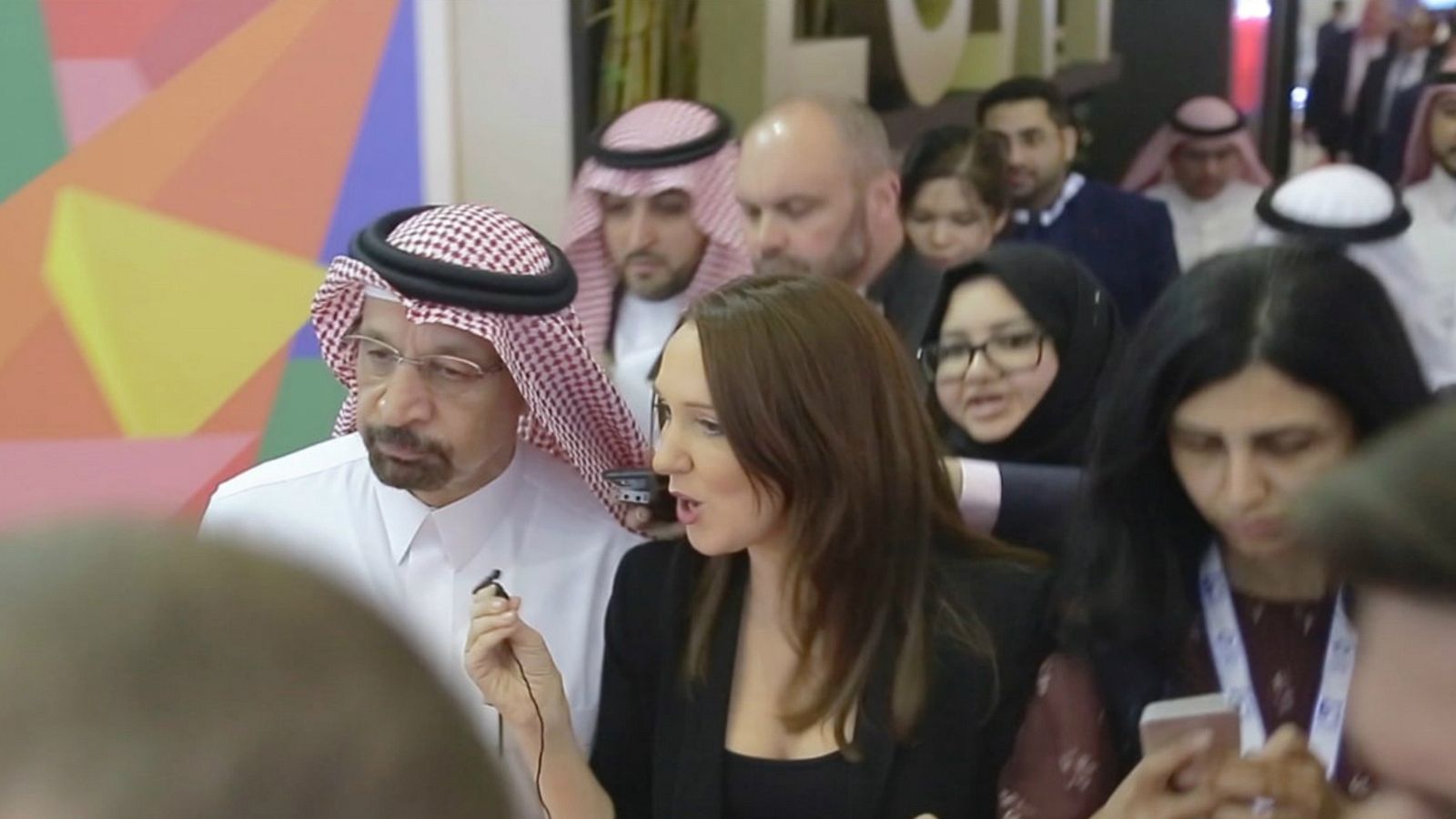 Saudi Arabia's Minister of Energy, Khalid Al Falih talks to Euronews at ADIPEC
"Things may change considerably between now and December," he added, "So, we have to wait for the best data that is available on projections."
Some analysts believe that reaching an agreement with Russia could prove a sticking point for Saudi Arabia, with Russia taking more of a "wait and see" approach to reducing supply.
Despite this, Al Falih told Euronews that he remained optimistic about the non-OPEC member country moderating output.
"I think Russia is happy with what has worked the last two years. That's for sure" he affirms, "And it's not just the [oil] minister, President Putin has said it publicly. And companies have also said it publicly – and have told me privately – that they're now convinced that this is the way going forward."
BEHIND THE SCENES OF THE OIL INDUSTRY ON SOCIAL MEDIA
Edgar from Mexico is a captain who has worked at sea on an oil rigs including those on UAE waters for 30 years.
View this post on InstagramA post shared by ΣDGΔR GΔRΠICΔ®⚓️ (@capt_barbanegra) on Sep 4, 2017 at 7:42am PDT
Mohammed in Saudi uploaded this snap of him on board the Zuluf oil rig located off the kingdom's Northeast coast.
View this post on Instagram #hes #Halliburton #CT #coiltubing #ctu #offshore #jobs #hrc262 #Hercules #oil #rig ⚠️⚓️

A post shared by Mohammed J Almuhaisin (@mjm_80) on May 21, 2016 at 10:15pm PDT
Adnan from Algeria captured this moment from his daily work at the Bursiba oil and gas field adding that he loves his job.
View this post on Instagram Work work ????

A post shared by Adnan Baltii (@adnanbaltii) on Feb 16, 2017 at 2:47am PST