As part of International Women's Day celebration, we take a look at Africa's richest women according to the 2017 Forbes magazine rich list.
Africa's two women billionaires are 'united' by the oil trade. Angola's Isabel Dos Santos and Nigeria's Folorunsho Alakija are under the spotlight.
They are the only two women to have made it to the general list that had Nigeria's Aliko Dangote sitting atop for the sixth year in a row.
Isabel Dos Santos – Oil-minded telecom and banking investor
The first daughter of the Angolan President, Jose Eduardo Dos Santos, is Africa's richest woman with an estimated wealth of $3.2bn as at March 8, 2017.
Even though she is currently the head of Angolan national oil firm, Sonangol, most of her wealth is believed to have been gotten from investments back home in Angola and in Portugal. She took the oil boss position in June 2016.
Her assets at home include 25% in the country's largest mobile phone network, 42% of a bank, Banco OIC.
Over in Portugal, she owns shares in an oil and gas firm and in the country's fourth largest bank. She is also a controlling stakeholder of cable TV and telecom firm, Nos SGPS.
A spokesperson for her father dispelled rumours that she benefitted from her father' position, he told Forbes that "Isabel dos Santos is an independent business woman and a private investor representing solely her own interests.
''Her investments in Angolan and/or in Portuguese companies are transparent and have been conducted through arm's length transactions involving external entities such as reputed banks and law firms."
She resides in the Angolan capital, Luanda and is married with three children.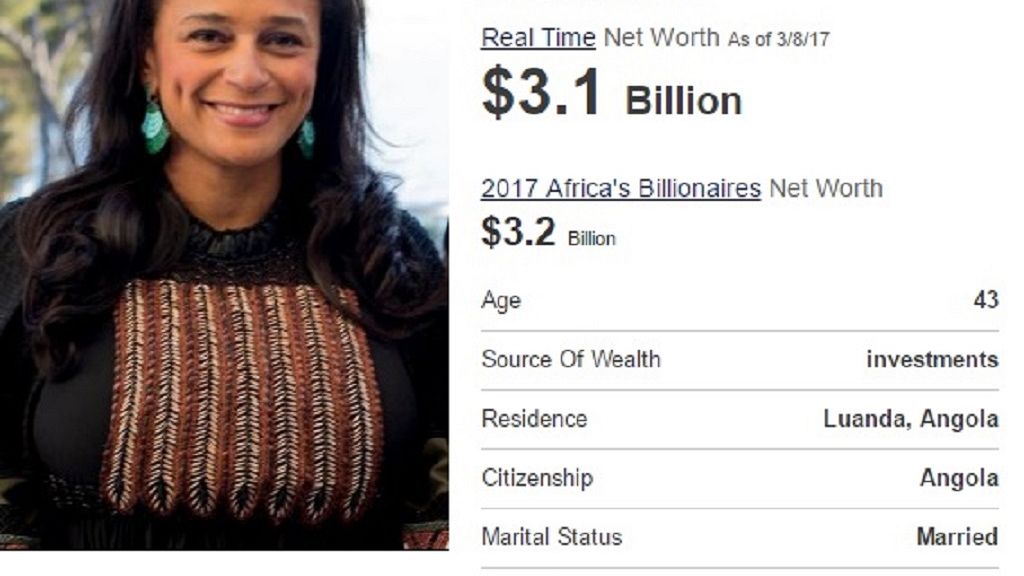 Folorunsho Alakija – Self-made Nigerian oil mogul
Folorunsho Alakija is the vice chair of a Nigerian oil exploration company, Famfa Oil. The 66-year-old's wealth is estimated at $1.63bn as at March 8, 2017.
Her company has a 60% participating interest in block OML 127, part of Agbami field, one of Nigeria's largest deepwater discoveries. Its partners include UK oil giants Chevron and Brazilian firm, Petrobras.
Her first company was a fashion label that catered to Nigeria's elite women, including the wife of a former military president, Ibrahim Babangida. Babangida awarded Alakija's company an oil prospecting license.
Famfa Oil Limited was incorporated in September 1991. Famfa Oil Limited was awarded the leasehold rights to OPL 216 on August 10, 1993. In February 1996, the name was changed to Famfa Oil Limited with the vision to be the leading indigenous oil and gas exploration and production company in Nigeria.
Famfa Oil Limited is currently one of the largest indigenous Nigerian owned exporters of crude oil in Nigeria. Famfa Oil is committed to developing one of the deepest and largest offshore discoveries in the gulf.
The Agbami field has been operating since 2008 and will be operating through till 2024 when the majority of its vast reserves would have been extracted.
She is based in the commercial capital of Nigeria, Lagos; she is married with four children.