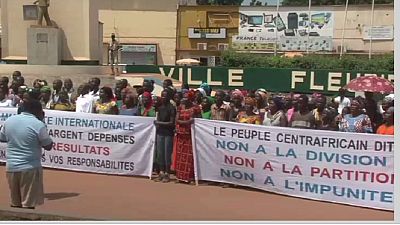 Hundreds of Central Africans Saturday took to the streets of Bangui to protest the deadly violence which has been raging for days.
The residents of Bangassou and Bria where there has been recurring violence for weeks, called for peace, justice and reconciliation in the country.
Despite a ceasefire deal signed between rival factions, hundreds of people were killed in clashes in June in Bria.
The security situation in the Central African Republic has steadily deteriorated in recent months.
In towns like Bangassou, Bria and Alindao , violence has displaced more than 100,000 people in the past weeks.
An estimated 450,000 have been forced to flee to neighbouring countries and over 500,000 people have been reportedly displaced across the country.