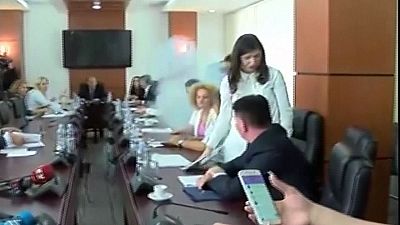 An opposition MP in Kosovo has used tear gas to disrupt a committee meeting voting on a border agreement with Montenegro.
In this video, he can be seen calmly placing the cannister under the table before his colleagues leave the room coughing and covering their faces. The footage was broadcast live on television.
Enough politicians stayed in the room to vote through the draft deal which would give neighbouring Montenegro 8,000 hectares of land in return for visa-free travel for Kosovans in Europe. Parliament will vote on the proposed pact later in the week.
The opposition Self-Determination Movement Party opposes the move and has been disrupting parliamentary work since September last year.