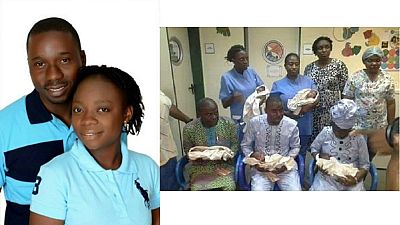 Parents of quintuplets born in Nigeria's capital, Abuja last month have been presented a three bedroom bungalow house.
Head of the Civil Service of the federation, Winifred Oyo-Ita, presented documents and key to the three bedroom bungalow promised the father of the quintuplets Imudia Uduehi.
Oyo-Ita, represented by Yemi Adelakun, Permanent Secretary (Common Services office) in the head of civil service of the federation, handed the items over to Mr Uduehi
Receiving the documents, Uduehi, said "from the moment the Head of Service visited us in the hospital, everything changed for us".
The female quintuplets were delivered through cesarean section at the National Hospital in Nigeria's capital.