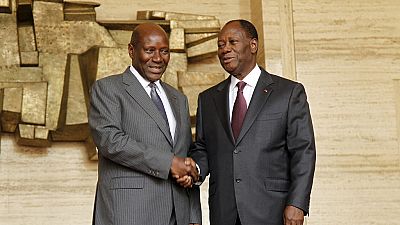 President Alassane Ouattara replaced some top ministers in the government in a cabinet reshuffle on Tuesday.
President Ouattara changed his justice and foreign ministers as well as the key deputy ministers of finance and defence.
The defence and finance portfolios are held by President Ouattara and Prime Minister Daniel Kablan Duncan.
Abdullah Toijeusse Albert Mabri has been appointed Foreign Minister. Hamed Bakayoko, Minister of State, at the Ministry of Interior and Security.
Sansan Kambilé is Minister of Justice, Adama Toungara,Minister of Petroleum and Energy with Moussa Dosso going to the Ministry of Employment and Social Protection among others.