President-elect of the United States, Donald Trump's first meeting related to Africa is connected to security, specifically the political crisis in Libya and other African issues.
And the first African leader he is meeting on the issue is President Denis Sassou Nguesso of the Republic of Congo.
The Congolese government spokesperson, Thierry Moungalla, disclosed the said meeting between the two leaders but failed to disclose any further details.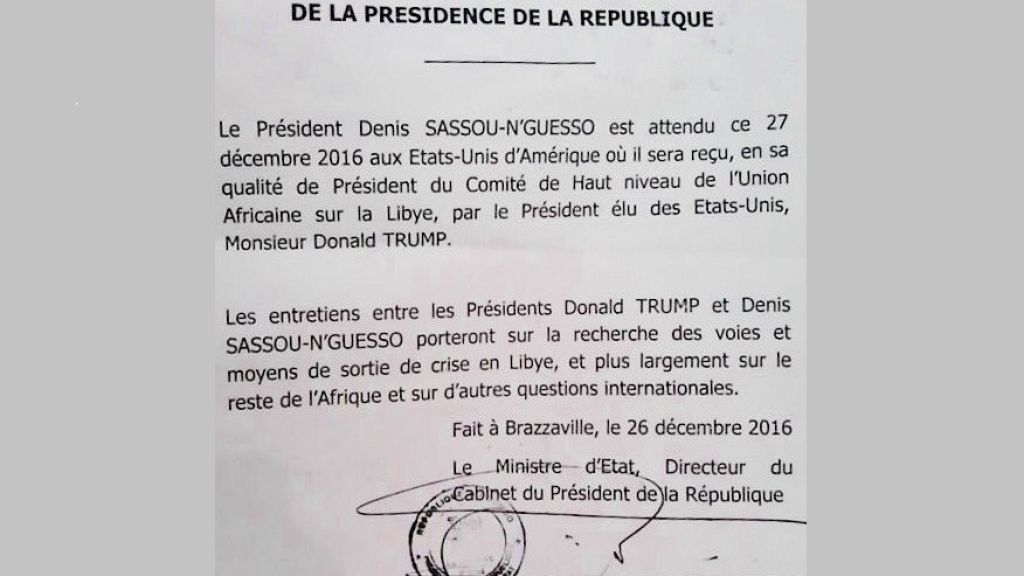 Trump officially takes office as President on January 20 after winning the polls in November this year. Much of the issues surrounding him since securing his seat in Washington has been around his cabinet.
He is also reported to have met with Japanese Prime Minister and had high level exchanges with his Russian counterpart, Vladimir Putin.
ARTICLE UPDATE Team Trump says no meeting was scheduled with Sassou
The north African country of Libya, was plunged into chaos following the forced ouster of long time ruler Muammar al Gaddafi. President Obama has described it as ''the worst mistake of his presidency'' revealing that there was no plan after the overthrow of Gaddafi.
READ MORE Obama: Aftermath of Gaddafi overthrow, 'worst mistake as president'
Gaddafi, who ruled Libya for close to five decades was killed in 2011 after western forces invaded the country. Libya has since been split among rivals governments ruling different parts. IS took advantage to seize parts of Sirte – the birthplace of Gaddafi and where he was killed. Government forces recently freed Sirte of ISIS insurgents.
Libya now has rival governments ruling different parts of the country, even though the UN backed government in Tripoli led by Fayez al-Sarraj has gained international trust and support over the last few months.
The Trump team has yet to confirm the meeting according to Reuters.