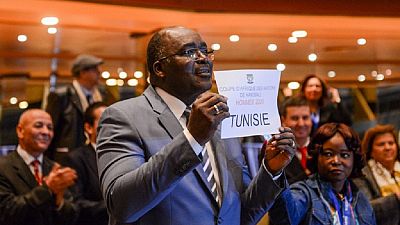 The African Handball Confederation has announced the countries which will host the 2018 and 2020 African Cup of Nations.
Gabon and Tunisia will host the 23rd and 24th male editions in 2018 and 2020 while Congo will host the female edition scheduled for 2018.
The decision was reached during a meeting by the board of directors of the African Handball Confederation on Thursday.
The continental handball governing body announced the arrival of expert teams in selected countries "to ensure compliance with terms designated in the respective protocols of engagement."
Egypt plays Angola while Tunisia faces Angola in semi-final matches slated for Friday.
The finals of the tournament, which has been ongoing since January 21, will be played on Saturday.