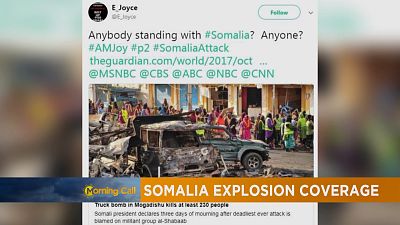 Somalia's three-day national mourning period for victims of the terrorists attack it suffered over the weekend is coming to an end.
The attack on the horn of Africa nation is the deadliest terrorist attack experienced in Somalia since islamist militant group al shabaab began carrying out attacks in the nation since 2007.
The death toll from that saturday bombing is now said to have risen to more than 320. Dozens are missing, hospitals are running out of blood and anger is growing.
But there is also something else that is fuelling anger? Many on social media are not satisfied with the response to the events in Mogadisghu;
bringing to fore yet again the debate on world information flow imbalance on third world countries.